The number of surgical cosmetic procedures has steadily declined over the past decade.
This common trend being seen across the UK and the globe may be due in part to the rise of popular non-surgical treatments such as Liquid Facelifts and Anti-Wrinkle Injections.
These procedures come at a lower price point, offer more subtle results and carry significantly less risk to the patient.
However, forsaking a pre-treatment consultation can negate these benefits. That's why at Dr Aesthetica, we offer a consultation to all our patients, whether new or existing.
We understand the importance of the consultation and believe it is the first step towards achieving your aesthetic goals safely and effectively.
This ensures that you do not undergo unnecessary or inappropriate procedures, that your preferred treatment is suitable for your skin type and that your desired look is achieved. To truly comprehend the importance of the consultation, we must first elaborate on the following three key points.
Analysis of the Facial Features
As we age, various factors contribute to the deterioration of our skin. For example, a loss of volume in the cheeks and temples can make the face appear hollow while sagging skin around the jawline can create the appearance of jowls.
It's also important to note that not all areas of the face age at the same rate. The eye area is often one of the first regions to show signs of ageing, while other areas, such as the forehead, may not show visible signs of ageing until later.
Many individuals seek aesthetic treatments to correct these concerns. But which treatments will best be suited to your needs?
This is where a comprehensive facial analysis comes in. Usually carried out during the pre-treatment consultation, this facial analysis serves several purposes.
It helps us understand the underlying anatomy of your face. This is important because the face is composed of various muscles, bones and fat pads, all of which play a role in the appearance of the face. As we age, these structures begin to change, leading to visible signs of ageing.
A facial analysis also helps to identify which areas are most likely to show the first signs of ageing. By identifying the specific problem areas, we can make individualised recommendations for the areas to treat.
At Dr Aesthetica, we take a conservative and natural approach to our treatments to ensure that the result is both subtle and natural looking. This means that we are hyperfocused, and no unnecessary treatment is performed on areas that don't really need it.
Facial analysis is an important aspect of aesthetics and shouldn't be rushed. Be wary of any aesthetic provider who skips the consultation or worse, the facial analysis altogether and goes straight to sticking needles in your face!
Medical History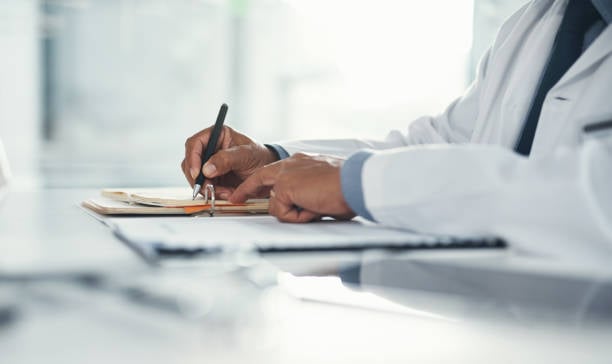 Obtaining a comprehensive medical history during the pre-treatment consultation is crucial to ensure that you are suitable for the proposed treatment. This information allows us to identify any medical conditions, allergies or medications that may pose a risk or militate against the treatment.
For example, people with metabolic disorders such as diabetes may be more susceptible to complications with certain cosmetic procedures, while those with inflammatory conditions such as lupus may be at increased risk of adverse reactions to certain products.
In addition to gathering medical information, it is equally important to assess the patient's mental well-being. The advent of social media and digital image editing tools has contributed to a distorted perception of beauty, leading many individuals to seek out cosmetic procedures unnecessarily.
By discussing the reasons for the procedure, we can gain insight into your motivations and ensure that the procedure is not performed to the detriment of your mental health.
This is especially important at Dr Aesthetica, as our medical director, Dr Farmah, has a background in psychiatry.
During the consultation, he'll ask open-ended questions to encourage the patient to be honest about their concerns and expectations. It is essential to find out if the expectation of the outcome is realistic and whether someone is mentally prepared for the process.
One aspect cosmetic doctors who are primarily money driven ignore is body dysmorphic disorder (BDD), which is characterised by an obsessive preoccupation with perceived flaws in one's appearance.
That's unfortunate because individuals with BDD may seek out multiple cosmetic procedures but remain dissatisfied with the results, leading to a cycle of compulsive and potentially harmful behaviour.
By gathering comprehensive medical and psychological information during the pre-treatment consultation, we can ensure that the proposed procedure is safe and appropriate for the patient.
Moreover, we may offer guidance to promote a healthy body image and outlook on cosmetic treatments. Ultimately, our goal is to enhance the client's appearance and self-confidence in a responsible and ethical manner.
Setting The Right Expectation
Setting the right expectation is crucial in any medical procedure or treatment, and this is especially true for cosmetic treatments. At Dr Aesthetica, we understand the importance of managing our patients' expectations and ensuring they have a clear understanding of what to expect before, during and after the treatment.
During a consultation, our experienced and qualified practitioners take the time to listen to your concerns and desires before recommending the most suitable treatment options.
We also provide a detailed explanation of the procedures and the results that can realistically be achieved.
This allows you to make an informed decision about whether or not to proceed with the treatment. Our patient's comfort and safety are paramount, and we take steps to ensure that you feel safe and well-informed before undergoing any treatment.
In fact, we encourage all our patients to ask questions and express any concerns they may have so that we can address them before treatment begins.
Any Cosmetic Treatment is Never A Simple Decision
We recognise that a cosmetic treatment, even though non-surgical, is still a significant decision, and we strive to create a comfortable and safe environment during the consultation process.
At Dr Aesthetica, we also believe that consultations are essential to building a trusting relationship with our patients. We take the time to listen to our patient's concerns, answer their questions and assess their suitability for the treatment.
Overall, our goal is for our patients to be satisfied with their results and feel confident in their decision to undergo aesthetic treatment. And a pre-treatment consultation helps us accomplish just that!