Décolletage: how often does this term come to mind during your skincare? I bet not often.
Although necklines have become more revealing on the runways and red carpets over the years, this area still doesn't seem to get the attention it deserves. So far, too many skincare routines often stop at the chin (or, if you're a little more diligent, the neck). Even the women who use sunscreen and anti-ageing serums do not necessarily extend this application to the neck and chest. Instead, there seems to be an imaginary line drawn at the skin of the neck… above which a lot of care is given and below which a simple body moisturiser (or nothing at all) is used.

As a result, too many women discover too little too late that their décolletage also needs some well-deserved TLC. We are always surprised at how many women we see in our clinic who have neglected their décolletage and think that skincare or sunscreen stops at the chin.
That's why we're here to advocate for this often neglected area.
What is The Décolletage?

Leave it to the French to come up with this sophisticated word for a woman's neck, shoulders and chest area. The origin of the word décolletage is the French word décolleter, which means to wear a low neckline. Décolletage usually means the area between the breasts, above the nipples, up to the neck. It can also include part of the shoulders, cleavage, and collarbone area. With such a large landscape, you can see why it's surprising that the décolletage is one of the most neglected areas of the body.
Does The Décolletage Age Like The Face?

Did you know that the skin on the décolletage area can age faster than the skin on the face? Although the skin of the décolletage is just as thin and delicate as that of the face, it's more susceptible to faster signs of ageing, especially sagging and the appearance of vertical wrinkles on the chest.
The skin on the neck and chest contains fewer sebaceous glands (resulting in drier skin) and fewer melanocytes (the cells that naturally protect the skin from UV rays), so damage is done more easily. In addition, the decolletage area is uncovered most of the time, especially for women. As if that wasn't enough, perfumes with high alcohol content often find their way to this area. Without adequate hydration and sun protection, dry skin, increased skin sensitivity and sun damage are the result.
All of this is amplified by the fact that the body produces less and less collagen and elastin as we age.
And as we get older, collagen and elastin begin to break down. These proteins keep your skin firm. When collagen and elastin break down, the skin sags inwards, and wrinkles appear, which eventually become vertical creases and skin folds.

If you notice a change in the texture or appearance of your décolletage - acne, dryness or a crepey feel, to name a few - your décolletage skincare could probably use an upgrade.
Décolletage At-Home Skincare
The first step is to provide your décolletage with as much attention as you'd your face and neck. This means:
Cleanse carefully and moisturise regularly.
Apply sunscreen daily, and make sure you take your sunscreen down to the chest area.

For even better décolletage care, turn to speciality serums. There are two main groups of active ingredients you should pay special attention to: antioxidants and cell regulators.
Antioxidants, such as vitamins, polyphenols and flavonoids, reduce collagen breakdown by decreasing the concentration of free radicals in the tissues.
Cell regulators, such as retinol, peptides and growth factors (GF), have direct effects on collagen metabolism and influence collagen production.
Some particular fantastic ingredients to look out for are:
Niacinamide (vitamin B3) reduces hyperpigmentation (dark spots and discolouration), diminishes fine lines and wrinkles, and hydrates the skin.

Vitamin C and E. Vitamin C stimulates the production of collagen. Vitamin E smoothes the skin and improves its ability to retain moisture. Use a product with a combination of vitamins E and C as this will result in greater antioxidant protection than one or the other vitamin alone. The best product we have found so far is AlumierMD EverActive C&E.
Professional Anti-ageing Treatments

Skin care at home mainly plays a preventive role. If you're a little older and already notice the first wrinkles and sagging skin on your décolletage, it's best to combine your skincare routine with 1 or 2 in-office treatments.
We must point out that the décolletage isn't suitable for a surgical solution. This part of the body is much more prone to the formation of thick scars known as 'keloids" and simply doesn't lend itself to incisions for lifting purposes. Therefore, we prefer non-surgical solutions to combat the signs of ageing in this area. There are many options you can try on the market, but here are our top two recommendations.

Radiofrequency Skin Tightening with NuEra™ Tight

Radiofrequency skin tightening with NuEra™ Tight offers an overall improvement in the appearance of the décolletage in terms of skin tightening, wrinkles and skin texture. This innovative in-clinic treatment uses radio waves to address stubborn skin sagging and loss of elasticity. It causes an immediate contraction of collagen fibres and promotes collagen synthesis for months after treatment. This reduces the appearance of crepey skin and makes the skin on the décolletage smoother and firmer.
Radiofrequency is superior to other forms of skin tightening, such as laser, as it causes little to no damage to the epidermis. As we have already mentioned, the skin on the décolletage is very delicate, so all treatments in this area must take this into consideration. At Dr Aesthetica, we chose NuEra™ Tight because it offers more safety and efficacy features than other RF devices. Some of the outstanding features include:

Unprecedented treatment depth control allows tissue to be treated at the exact depth, resulting in longer-lasting and more natural results.
Precise temperature control increases the power of RF to the target temperature based on the impedance measured in the skin tissue.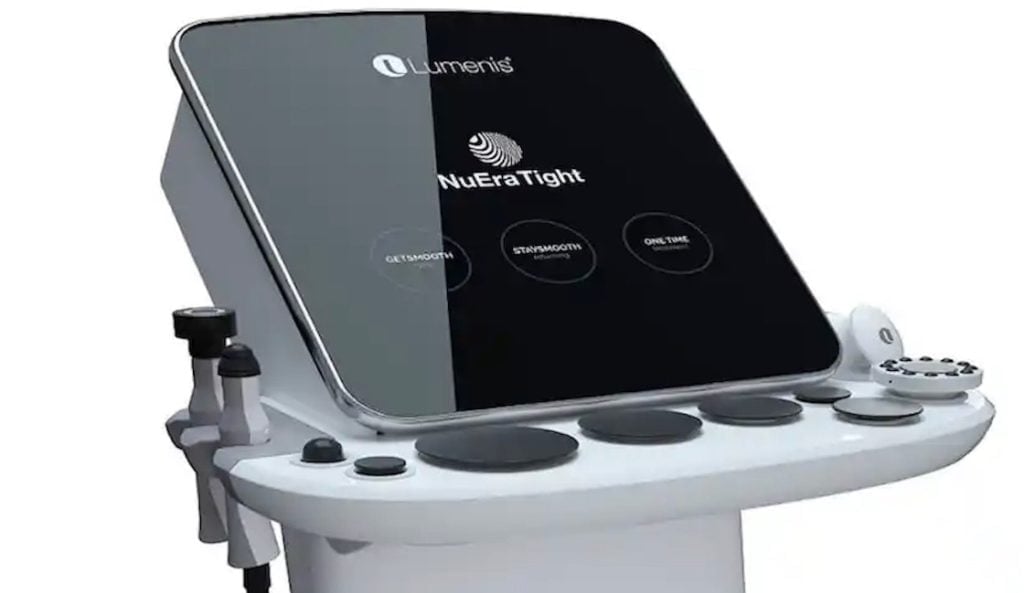 Read: Why tissue impedance is critical for skin tightening with radiofrequency.

Profhilo®

One of the biggest stressors on the skin of the décolletage is dehydration. This is because the outermost layer of the skin, called the stratum corneum, consists of 10-12% water as well as keratin, lipids and other components.
This first protective barrier needs this moisture to stay in top shape. Because the skin on the décolletage is thinner and constantly exposed to the elements, it can become more sensitive, delicate and vulnerable to external aggressions.
External factors such as cold or heat cause humidity levels to drop drastically during the winter and summer months, causing the skin to become more dehydrated.
At the same time, the natural hyaluronic acid level in the skin decreases with age. This, in turn, means that the skin renews itself more slowly and looks duller, lifeless, rougher and older.
This is why many dermatologists and doctors recommend moisturising creams. These are great, but if you want the ultimate hydration for your décolletage, there's nothing better than Profhilo®.

Profhilo® injections, which have the highest concentration of pure hyaluronic acid on the market, are placed in strategic locations on your chest and décolletage, depending on your individual needs. Keep in mind Profhilo® isn't a dermal filler.
Profhilo® doesn't add volume to the area but acts as an injectable moisturiser that hydrates the skin from within while boosting collagen production to create a firming effect. Due to its unique composition and special injection technique, Profhilo® distributes itself throughout the area from a handful of injection sites.

The result: smoother, firmer skin and a naturally fresh appearance with youthful radiance. A Profhilo® treatment cycle consists of at least two applications, each four weeks apart. A booster treatment is recommended after six months.

Fight The Signs of Ageing on Your Décolletage

Your skincare routine doesn't stop at your neck. Your décolletage, which includes your neck and chest, deserves just as much care and attention as the other areas of your body.

With a skincare routine that includes cleansing, moisturising, gentle exfoliating and speciality topical treatments for your décolletage, you can greatly improve the appearance of this area.

In addition, in-office treatments such as NuEra™ Tight and Profhilo® can be another step in the fight against skin ageing.
If you have any questions or concerns about the care for the skin on your décolletage, call us on 0121 769 0242 or email us at [email protected]