Profhilo is quickly becoming a favourite aesthetic treatment among young UK citizens in their 20s, offering subtle enhancement and rejuvenation to a variety of skin types. Learn why this non-invasive approach is particularly appealing to those looking to maintain their natural beauty while addressing the first signs of skin ageing.
Key Takeaways
Profhilo is an innovative aesthetic treatment offering subtle, natural-looking skin rejuvenation for young adults.
Its dual-action formula effectively hydrates the skin and promotes collagen production, making it a preferred alternative to Botox or dermal fillers.
The treatment's versatility and non-invasive procedure contribute to its growing popularity among young UK citizens.
The Rise of Profhilo
Profhilo is gaining popularity among young people in the UK and is quickly becoming their favourite aesthetic treatment. As a revolutionary hyaluronic acid treatment, Profhilo is designed to improve hydration and skin laxity, restoring firmness to the skin.
This non-surgical treatment not only boosts and hydrates the skin but also remodels ageing and sagging tissue.
Its prominence on social media platforms, especially TikTok, has played a significant role in the treatment's popularity. TikTok users across the UK are sharing their Profhilo experiences, providing before and after footage, and offering honest reviews. This has piqued the interest of young adults who are looking for subtle yet effective ways to enhance their skin.

Related: Will Meta's New App Threads Rival TikTok?
Moreover, Profhilo has won several awards within the aesthetic industry, which has further cemented its reputation as a top treatment choice. These accolades add credibility to the treatment and also reassure potential users of its effectiveness and safety.
When comparing Profhilo to dermal fillers, you'll find that Profhilo provides hydration and improved skin texture rather than adding volume or altering the structure of your face. This offers a more natural outcome, which is highly desirable to young adults who want to maintain a fresh and healthy appearance without undergoing invasive procedures.
Lastly, the positive reviews of Profhilo have significantly contributed to its rise. People who have undergone the treatment often rave about its effectiveness, quick recovery time, and minimal side effects.

This word of mouth, combined with the growing number of celebrities and influencers trying Profhilo, has given it a boost among UK citizens in their 20's.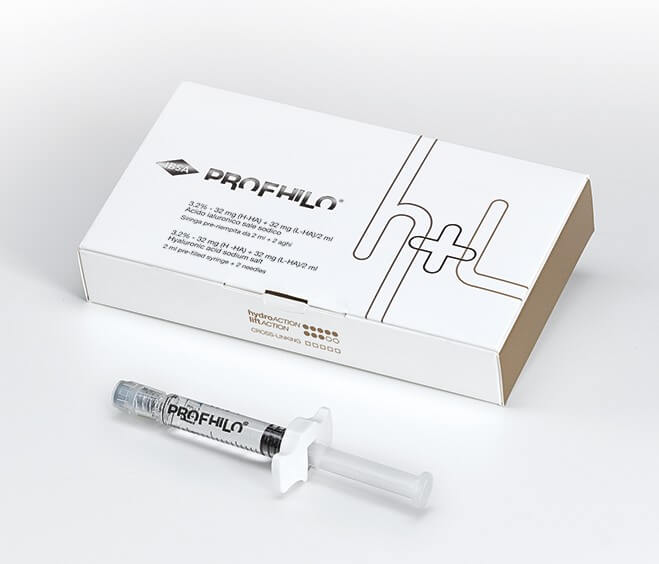 What is Profhilo
Profhilo is an innovative aesthetic treatment that has gained popularity among young UK citizens in their 20s. As an injectable treatment, it utilises hyaluronic acid (HA) to provide hydration, improving skin laxity and restoring firmness to the skin.

Unlike other injectables like dermal fillers or wrinkle-relaxing botox, Profhilo is a gentle, regenerative alternative that does not add volume or contour to your face.
Through a series of injections, Profhilo delivers this specially-formulated hyaluronic acid into your skin. Its primary function as an injectable moisturiser helps achieve a youthful glow while simultaneously remodelling ageing and sagging tissue.

The treatment works by bio-remodelling collagen and elastin whilst maintaining skin hydration, resulting in an anti-ageing effect on multiple levels.
Profhilo is versatile in its application and is not limited to facial treatments. You can also benefit from its effects on your neck, hands, and even various regions of your body, such as your stomach. Keep in mind, Profhilo is not the same as filler, as it does not add volume nor alter the structure of your face in the same way as dermal fillers.

Why Young Adults Choose Profhilo
As a young adult in your 20s, you may have already started noticing the first signs of ageing, such as fine lines and subtle wrinkles. Taking action to keep your skin in optimal condition is a step in the right direction. One of the popular aesthetic treatments among young UK citizens is Profhilo, and here are some reasons why you may want to consider it for your skin care regimen.
Non-invasive hydration and rejuvenation
Profhilo is a non-invasive hyaluronic acid treatment that works to improve your skin's hydration, helping to plump, smooth and firm your skin. The treatment can address a range of skin concerns, including ageing, sagging, and wrinkles, while also improving skin texture and radiance.
Stimulating collagen and elastin production
Profhilo actively works to increase the production of collagen and elastin in your skin. These proteins are essential for maintaining elasticity, reducing fine lines and sagging, and promoting a youthful appearance.

Related: Demystifying Collagen and Skin Antiageing
Versatility and broad suitability
Profhilo can benefit both men and women in their 20s and beyond by promoting healthier skin, giving it a dewy and radiant glow. The treatment is suited for various parts of the body, including the face, neck, décolletage, and other areas of skin laxity.
Natural and visible results
Unlike some other aesthetic treatments that may entail more drastic changes, Profhilo offers natural and visible results without altering the contours of your face or relaxing facial muscles. This makes it an appealing option if you want to enhance your skin quality and achieve a subtle tonal improvement without looking "overdone."
To sum up, Profhilo is becoming the treatment of choice among young adults because it addresses multiple skin concerns, provides natural results, and promotes long-term skin health. As a busy and goal-oriented individual, you can benefit from this non-invasive treatment to maintain a youthful appearance while keeping up with your daily activities.
Procedure for Profhilo
Before beginning the Profhilo treatment, you will have a consultation with one of our qualified injectors to discuss your concerns and desired outcomes. This will allow them to assess your skin and determine if Profhilo is the most suitable treatment for you.
On the day of the treatment, if you prefer we can apply a numbing cream to the injection sites to minimise any discomfort. Profhilo is injected in small amounts at strategic points on your face, neck, décolletage, or other areas of the body. The specific injection sites are chosen to target areas with skin laxity and optimise the distribution of the hyaluronic acid.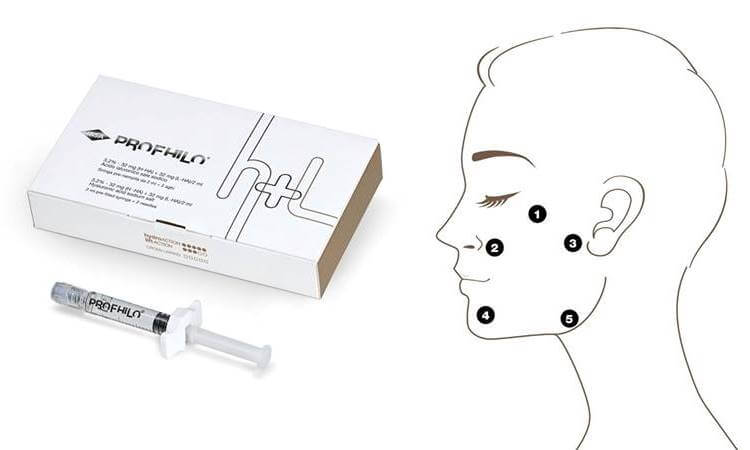 The procedure should take around 30 minutes, with minimal downtime. Following the treatment, you may experience some redness or swelling at the injection sites, which should subside within a few hours. It is advised to avoid strenuous exercise and exposure to extreme heat or cold for a day or two following the treatment.
Profhilo injections are typically administered in a series of two sessions, spaced four weeks apart. This helps to build up the levels of hyaluronic acid in the skin gradually, ensuring the best results. You may start to notice an improvement in your skin's hydration and elasticity within a few days of the first treatment, with more significant results becoming apparent after the second session. Book Your Profhilo Treatment with our qualified and experienced practitioner as this will significantly impact the overall success and safety of the procedure.
Results and Aftercare
Upon receiving Profhilo treatments, you may notice a gradual improvement in your skin's firmness, radiance, and overall hydration. The outcomes are not as immediate or visible as those attained from Botox or dermal fillers, as Profhilo is designed to remodel the skin from within rather than making instant adjustments.
It's essential to acknowledge that the expected results won't be evident until roughly 8 weeks after your initial treatment. This is because Profhilo requires two treatments, four weeks apart, to achieve optimal results. In some cases, a third session may be necessary for the best outcome.
As with any aesthetic treatment, there might be some side effects to consider. Common minor side effects of Profhilo include pain, redness, swelling, and bruising at the injection site. These should subside within a few days, and you may apply a cold compress to minimise discomfort.
Aftercare is a crucial component in ensuring successful treatment. It's advisable to keep the treated area clean and dry for at least 24 hours following the procedure. Additionally, avoid wearing makeup for a day to prevent irritation. If you experience swelling, try to sleep with your head elevated.
During the first few days post-treatment, it's essential to avoid exposing yourself to extreme heat or cold or participating in heavy exercise. Moreover, steer clear of consuming alcohol, as it may exacerbate bruising or swelling.
Following the aftercare recommendations and maintaining a healthy lifestyle will contribute to achieving the best possible results from your Profhilo treatment. As your skin progressively transforms, you'll soon understand why this innovative treatment has become a favourite among young UK citizens in their 20s.

Profhilo vs Other Treatments
When it comes to aesthetic treatments, you have several options to choose from, such as Botox, dermal fillers, and Profhilo. While each treatment has its benefits, Profhilo is quickly becoming the favourite among the younger demographic.
Botox, which is widely recognised for its wrinkle-reducing capabilities, works by temporarily paralysing the muscles that cause specific facial lines. Although Botox is effective for smoothing out the skin, it doesn't address hydration, and some may find it too invasive or drastic for their needs.
On the other hand, dermal fillers are used to provide extra volume and structure to your face, by injecting substances such as hyaluronic acid into the skin. These treatments target specific areas of the face and offer a more targeted solution but may not be suitable for general rejuvenation and hydration.
Profhilo is a unique treatment designed to improve hydration and skin firmness. Instead of primarily addressing wrinkles and volume like Botox and dermal fillers, Profhilo works by delivering hyaluronic acid (HA) deep into the skin to restore firmness and boost skin hydration. This treatment also has the benefit of remodelling ageing and sagging tissue.
Unlike dermal fillers, Profhilo doesn't alter the structure of your face or add volume. It's more focused on maintaining your natural appearance while giving your skin a healthy, hydrated glow.
In conclusion, Profhilo stands out from Botox and dermal fillers due to its focus on hydration and skin firmness. For young UK citizens in their 20s wanting to maintain their natural appearance and promote overall skin health, Profhilo may be the ideal choice over other treatments.
Areas of Application
Profhilo is an aesthetic treatment gaining popularity among patients in their 20s for its versatile applications and effectiveness. As a second-generation injectable hyaluronic acid treatment, it offers skin hydration, tightening, and a natural-looking rejuvenation for various areas of the body.
The face is a common area for Profhilo treatment, targeting skin laxity and providing a subtle lift and improved texture. Profhilo supports facial skin, making it useful for the cheeks as well. The treatment enhances cheek volume, giving you a more youthful appearance.
In addition to the face, Profhilo effectively treats the neck and chin. It addresses sagging skin around your jawline, resulting in a more sculpted and contoured look. As skin laxity is a common concern in these areas, the treatment's bio-remodelling action assists in boosting collagen and elastin production which in return, combats ageing signs.
Moving beyond the face, Profhilo is also excellent for treating other parts of your body, such as the hands, arms, chest, and decolletage.
Related: Your Guide to Smooth Neck and Decolletage
This versatility makes it a favourite among young individuals seeking to improve their overall skin appearance and maintain a more youthful look. When applied to these areas, Profhilo offers hydration, tightening, and rejuvenation – enhancing your skin's natural glow.
Cost and Accessibility
Profhilo has become a popular aesthetic treatment among young UK citizens in their 20s, thanks to its cost-effectiveness and easy accessibility. This injectable skin treatment provides noticeable results without requiring surgical intervention or excessive downtime.
In Birmingham, the price for a non-surgical treatment like Profhilo can range from £200 to £600, which is significantly more affordable than many invasive cosmetic surgeries. This cost-effective alternative allows you to achieve similar results without being burdened financially, making it an attractive option for those in their early adult years. Profhilo is also known to be less painful compared to certain cosmetic procedures, making it a more appealing choice for many.
As a well-recognised treatment within the UK, Profhilo is accessible in numerous clinics across the country. Just make sure the treatment is performed in an aesthetics clinic regulated by the Care Quality Commission, ensuring your safety and the quality of the procedure.
Book Profhilo with Dr Aesthetica
Profhilo is a revolutionary hyaluronic acid treatment designed to improve hydration and skin laxity, restoring firmness to the skin. It has become a favourite aesthetic treatment among patients in their 20s due to its ability to rejuvenate the skin without the need for synthetic additives or invasive procedures.
When you book Profhilo with Dr Aesthetica, you can expect professional treatment tailored to your individual needs. The process involves injecting Profhilo into 5 specific areas on each side of the face, known as the BAP (bio aesthetic points), ensuring even and efficient results.
The treatment consists of two initial sessions spaced one month apart. With minimal downtime, you can return to work the next day for face and neck treatments or even the same day for arm and hand treatments. With Profhilo, you can trust that your skin will be in safe, expert hands, and the results speak for themselves. Embrace the professional, effective, and youthful results that Profhilo can offer by booking your appointment with Dr Aesthetica today!