We all wish there was that one treatment that could deal with all skin issues. Sadly, that's not the case. The good thing is that minimally aesthetic treatments have come a long way. Technological advancements in the field of medical aesthetics now allow us to treat almost every skin problem imaginable.
If you've been wondering if there's a nonsurgical treatment for your specific skin concern, look no further! After scouring the internet, we have compiled the 30 most popular nonsurgical cosmetic treatments you can try today. This is the only guide you'll need to read.
To make this guide easier to peruse through we have broken it down into the following categories (you can click on any to jump directly to that section):
* The average cost stated is for a single treatment.
Injectables
1. BOTOX COSMETICS
Main treatment concerns: Dynamic wrinkles
No. of treatments needed: 1 session every 3-4 month
Average cost: £100 to £350
Popular brands: Botox®, Azzalure®/Dysport®, Xeomin® & Jeuveau®
Botox cosmetic is the variant of this treatment that is more widely known.
Botox cosmetic injections aim to improve the appearance of crow's feet, frown lines, and other wrinkles that may appear on the face as a byproduct of facial movements and the natural ageing process.
It works by blocking specific chemical signals from nerves, mostly signals that cause muscles to contract. This can temporarily relax the facial muscles that cause wrinkles, which helps smooth out the wrinkles.
2. BOTOX THERAPEUTIC
Main treatment concerns: Excessive sweating, Chronic migraines, Neck spasms, Overactive bladder & Lazy eye
No. of treatments needed: Case-by-case basis
Popular brands: Botox®, Azzalure®/Dysport®, Xeomin® & Jeuveau®
Botox therapeutic injections can address the symptoms of medical conditions such as chronic migraines, bruxism, an overactive bladder and hyperhidrosis.
Botox has also been used for problems with the eyes, such as strabismus (misaligned eyes) and uncontrollable blinking.
If you are suffering from any of these conditions, find out if a botox treatment is covered under your medical insurance.
3. DERMAL FILLERS
Main treatment concerns: moderate-to-severe wrinkles and facial volume loss.
No. of treatments needed: 1 session every 9-24 months
Average cost: £200 to £800
Popular brands: Juvéderm, Restylane, Intraline, Radiesse, Sculptra and Bellafill.
A dermal filler is a gel-like substance that's injected beneath the skin to restore lost volume, smooth ageing lines, soften creases, or enhance facial contours. The most popular fillers by far are those made with hyaluronic acid which helps keep your skin plump and hydrated.
The other kind is biostimulatory fillers. While these have some volumizing effects, their primary focus is to stimulate collagen production. The results of most dermal fillers are temporary, lasting 6 to 24 months before the body gradually and naturally absorbs the filler particles.
4. PROFHILO
Main treatment concerns: skin texture & skin laxity
No. of treatments needed: 2 sessions one month apart (every 6-9 months)
Average cost: £400 to £600
Profhilo is an injectable containing one of the highest concentrations of Hyaluronic Acid (HA) in the market. Unlike HA fillers, whose primary goal is to plump up the skin, Profhilo's slow release of its HA stimulates collagen and elastin production.
In turn, this improves skin texture and the appearance of fine lines. Profhilo is also deeply hydrating and can transform dull-looking skin into glowing and radiant skin in a few days.
The results last for up to 6 to 9 months.
5. NONSURGICAL RHINOPLASTY
Main treatment concerns: Dorsal humps and asymmetry
No. of treatments needed: 1 session every 9-12 months
Average cost: £350 to £1100
Popularly known as nonsurgical nose job, liquid rhinoplasty is performed using injectable hyaluronic acid fillers. However, its goal is not to reverse signs of ageing.
This nose reshaping treatment allows someone to change the shape of their nose without going under the knife.
The injector uses dermal filler to smooth out bridge bumps, refine the nose tip or create a balanced and symmetrical nose shape, so it suits the rest of the face.
6. JAWLINE SLIMMING
Main treatment concerns: Overly large masseter muscle and squared shaped jawline.
No. of treatments needed: 1 session every 3-4 months
Average cost: £300 to £550
Jawline slimming or masseters reduction is a procedure that transforms a broad square-shaped jawline into a narrower, more contoured lower third of the face.
By injecting Botox into the jaw, the large masseter muscles relax and shrink over time to create a slimming effect.
This treatment is very similar to the therapeutic Botox procedure for painful teeth grinding and clenching.
In both instances, Botox is injected into the overactive masseter muscles.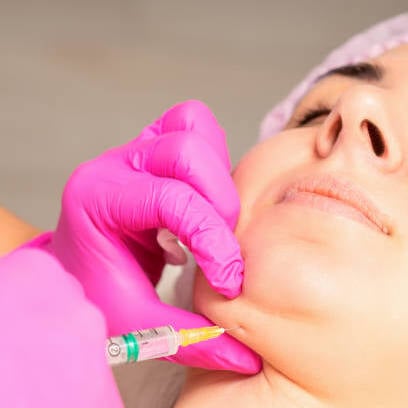 7. KYBELLA
Main treatment concerns: Double chin
No. of treatments needed: 3-6 sessions spaced 1 month apart
Average cost: £900 to £1500
Kybella is a non-surgical injectable technique that targets and destroys submental fat — the stubborn fat just below the chin.
The body gradually absorbs the damaged fat cells and naturally flushes them out through the metabolic process.
The active ingredient in Kybella is deoxycholic acid, a synthetic form of one of the bile acids that aid in the breakdown and absorption of dietary fat.
Energy-Based Treatments
8. LASER HAIR REMOVAL
Main treatment concerns: Unwanted facial and body hair
No. of treatments needed: 4 to 10 sessions spaced 4-6 weeks apart.
Average cost: £30 to £300
Popular brands: Lumenis Splendor X, Candela Gentle Pro Series and Soprano Titanium
Laser hair removal is the number one permanent hair reduction method globally. This treatment uses concentrated beams of light to target the pigment in the hair. The (laser) light then converts to heat, damaging the hair follicle and hair bulb. After treatment, the hairs will grow back finer and weaker.
Results will become more noticeable and impressive with each additional treatment until all follicles are destroyed, halting up to 90% of the hair growth.
9. RADIOFREQUENCY SKIN TIGHTENING
Main treatment concerns: Skin laxity, cellulite and excess fatty tissues
No. of treatments needed: 5 to 6 sessions spaced 2-4 weeks apart
Average cost: £350 to £1200
Popular brands: NuEra® Tight with FocalRF® Technology and Thermage®
Radiofrequency (RF) uses electromagnetic waves that bypass the skin's surface to heat up the underlying tissue to between 50–75°C (122 and 167°F).
This thermal reaction triggers the body to release heat-shock proteins. These proteins stimulate the production of new collagen fibres. The result is tighter, firmer, and lifted skin. This procedure requires no incisions to be made in the skin and poses a low risk of side effects.
10. ELECTROLYSIS
Main treatment concerns: Stubborn hair
No. of treatments needed: 8-30 sessions
Average cost: £20 to £100
Popular brands: Apilus
Electrolysis is a permanent hair removal treatment. A trained electrologist inserts a very fine needle (thinner than a hair strand) into the natural opening of the hair follicle. Then they send an electric current down the wire to the bottom of the follicle, destroying the hair root.
The damaged follicle causes the existing hair to fall out and prevents hair from growing again. Electrolysis will permanently remove any unwanted hair. The downside is you can only treat one hair at a time.
11. INTENSE PULSED LIGHT
Main treatment concerns: Vascular lesions, age spots, unwanted hair, freckles and rosacea
No. of treatments needed: 4 – 6 treatments 4 weeks apart
Average cost: £50 to £350
Popular brands: Lynton Lumina IPL and Clear + Brilliant.
IPL works in a similar way to laser therapy. The difference is that where laser therapy delivers a single wavelength of light energy, IPL has multiple wavelengths.
The light energy is converted to heat energy, which destroys and breaks down photodamaged cells. The body reabsorbs these destroyed skin cells. IPL is also used to destroy the hair follicle to prevent the hair from growing again.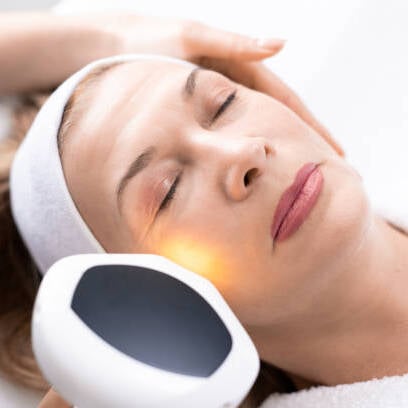 12. ABLATIVE LASER RESURFACING
Main treatment concerns: Scars, deep-set wrinkles, warts and extensive sun-damaged skin
No. of treatments needed: Once
Average cost: £1500 to £2500
Popular brands: Fraxel® Repair & Lumenis
Ablative lasers literally vaporise the epidermal layer down to the dermis. The body responds by triggering a healing process by producing more collagen fibres and generating new layers of skin for a tighter, younger-looking complexion.
The two types of ablative lasers are the carbon dioxide laser (CO2) and the newer erbium YAG (Er: YAG), which provide similar benefits but with fewer side effects than the CO2 laser. Note that ablative lasers can trigger cold sores and fever blisters.
13. NON ABLATIVE LASER RESURFACING
Main treatment concerns: Fine lines, uneven skin tone, photodamaged skin and rosacea
No. of treatments needed: 3-4 sessions spaced one month apart
Average cost: £700 to £900
Popular brands: Clear + Brilliant®, Vbeam®
On the other hand, nonablative lasers don't remove any skin layers.
Instead, the energy produced by this type of laser penetrates the skin and reaches the deeper layers, stimulating collagen and elastin production.
Nonablative lasers are best for treating mild-to-moderate photodamage and early signs of skin ageing.
They also don't come with long recovery periods and a high risk of side effects like the ablative kind.
14. FRACTIONAL LASER SKIN RESURFACING
Main treatment concerns: hyperpigmentation, acne scars, dullness & fine lines
Popular brands: Fraxel laser
The fractionated laser delivers the light energy in a pixelated fashion.
Instead of burning 100 per cent of the skin, a fractionated laser will drill numerous narrow columns of holes deep into the layers of the skin while leaving the surrounding skin untreated and intact. This will lessen the appearance of fine lines on the face. It can also treat uneven skin tone and improve your complexion
Both ablative and nonablative treatments can be delivered with a fractional laser, which leaves microscopic columns of untreated tissue throughout the treatment area.
Fractional lasers were developed to shorten recovery time and reduce the risk of side effects.
15. ULTHERAPY
Main treatment concerns: Skin laxity
No. of treatments needed: Once
Average cost: £2000 to £4000
Ultherapy uses ultrasound imaging, which allows practitioners to see layers of tissue targeted during the treatment.
This ensures that the sound energy is directed precisely to the target areas and at the appropriate tissue level.
The treatment jumpstarts a natural process known as neocollagenesis to produce fresh, new collagen. The result is a lift and tightening of the skin of the lower face, chin, neck and décolleté.
16. COOLSCULPTING
Main treatment concerns: Stubborn fat
No. of treatments needed: 1-3 sessions spaced 2 months apart
Average cost: £1000 to £2599
Popular brands: CoolSculpting® and CoolSculpting® Elite
Marketed as the noninvasive alternative to liposuction, CoolSculpting is a cosmetic treatment that targets excess fat in stubborn areas. The procedures use rounded paddles to suction the skin and slowly crystallise the fat cells in the target area, killing them in the process.
The body clears out the dead fat cells slowly over the next couple of months. Since fat freezes at a higher temperature than skin, CoolSculpting will leave your skin and other tissues unharmed.
Advanced Skincare
17. MICRONEEDLING
Main treatment concerns: acne scarring, enlarged pores, wrinkles & uneven skin tone
No. of treatments needed: 3-6 sessions spaced out two to six weeks apart
Average cost: £150 to £450
Popular brands: SkinPen® and DermaPen®
Also known as collagen induction therapy, microneedling involves creating microscopic injuries on the surface of your skin tissue. These tiny wounds stimulate the body's healing response and increase blood flow to the skin to prevent infection. The skin's natural repair system also stimulates the production of collagen and the growth of new, healthy skin cells. As a result, the skin becomes firmer, tighter, and more youthful-looking. Wrinkles and lines become less noticeable, and the skin is noticeably softer and has a smoother texture.
18. CHEMICAL PEELS
Main treatment concerns: wrinkles, discoloured skin and scarring
No. of treatments needed: Once for Deep, every 6 months for Medium and monthly for Light peels.
Average cost: £75 to £600
Popular brands: AlumierMD Skin Peels
Chemical peels are one of the oldest non-surgical cosmetic treatments, having been around since the mid-1800s. Chemical peels use acid to break down the outer layers of skin to help diminish the appearance of fine lines, wrinkles and uneven skin tone.
The skin layers eventually peel off, revealing more youthful, vibrant skin. There are three types of chemical peels ― superficial, medium-depth and deep-depth.
Depending on the severity of the skin concern, the patient might opt for the more aggressive treatment. Keep in mind the higher the concentration of the acids used, the longer the recovery time.
19. OXYGEN FACIALS
Main treatment concerns: Dull skin, uneven skin tone and acne flare-ups
No. of treatments needed: As many as needed
Average cost: £50 to £150
Oxygen facials involve spraying a highly-concentrated stream of oxygen molecules to the skin's epidermis. The oxygen is infused with vitamins, minerals, essential nutrients, and botanical extracts.
This treatment nourishes the skin and boosts collagen synthesis for a smoother and plumper complexion. Oxygen facials are considered a "nonmedical" procedure since nothing is injected into the body and no chemicals are used.
This is one of the few treatments on this list that can be carried out at a beauty salon or spa instead of a medical aesthetic clinic or dermatologist's office.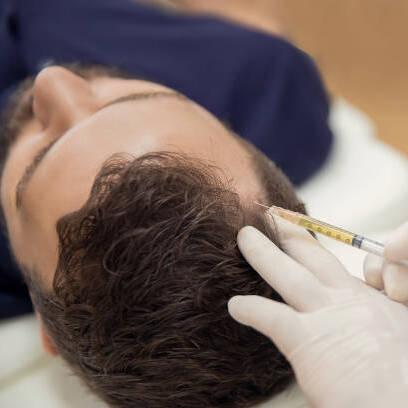 20. MESOTHERAPY
Main treatment concerns: loose skin, hair loss, cellulite and hyperpigmentation
No. of treatments needed: 2 to 6 sessions 1 to 2 weeks apart
Average cost: £200 to £450
Popular brands: Messoessence
Mesotherapy is a non-invasive cosmetic technique that involves multiple injections of pharmaceuticals, vitamins, homoeopathic hormones or enzymes to tighten the skin, minimise cellulite, and lighten pigmented skin.
The exact formulation of the injection varies in accordance with each unique case and specific area to be treated.
21. PLATELET-RICH PLASMA (PRP) INJECTIONS
Main treatment concerns: alopecia,
No. of treatments needed: 2-3 sessions one month apart
Average cost: £400 to £1100
PRP injections, popularly known as "vampire facial," involve taking a blood sample (usually the arm ) and putting it into a centrifuge to isolate the platelet-rich plasma (PRP).
The PRP solution can be applied topically or injected directly into the skin. After your skin heals, you can expect to have a nice glow for a few weeks. The results will just get better with time.
Some doctors inject it into the scalp to promote hair growth or rub it on the patient's face after microneedling.
Skin Treatments
22. PDO THREAD LIFT
Main treatment concerns: Sagging skin and jowls
No. of treatments needed: once or twice a year
Average cost: £800 to £3200
Popular brands: Mint™ PDO Threads & PDO Max®
PDO thread lift is a non-surgical facelift that uses dissolvable Polydioxanone (PDO) threads to lift and tighten facial skin. These threads are anchored and inserted into different layers of the skin using needles. Then they are pulled to achieve a subtle skin lift and instantly tighten sagging skin. Anywhere from 1-15 threads may be used per section.
The newer generation threads are also biostimulators, which means they can revive the skin's production of collagen.
23. CARBOXYTHERAPY
Main treatment concerns: cellulite and stretch marks
No. of treatments needed: 7 to 10 sessions one week apart
Average cost: £50 to £150
Popular brands:
Carboxytherapy is a non-surgical treatment used to treat and improve the appearance of cellulite and stretch marks. Carboxytherapy uses infusions of purified carbon dioxide that are injected beneath the skin.
The introduction of carbon dioxide tricks the body into thinking that there is an oxygen deficiency in that area. The response is to increase blood flow to that part of the body. This helps restore cells, eliminate toxins, improve skin elasticity and reduce the appearance of cellulite.
24. MICRODERMABRASION
Main treatment concerns: clogged pores, uneven skin pigmentation and dull skin
No. of treatments needed: flexible with at least a week between sessions
Average cost: £75 to £200
There are two types of microdermabrasion—crystal and diamond. Crystal microdermabrasion uses super-fine crystals to sandblast the skin in a gentle, controlled manner.
The used crystals and exfoliated skin particles are simultaneously suctioned away. Diamond microdermabrasion uses a handheld device embellished with a diamond tip to abrade the skin.
Both treatments exfoliate the skin's outer layer to improve tone and texture and reveal the smoother, softer skin underneath.
25. LIP BLUSHING
Main treatment concerns: thin lips, uneven pigmentation and desaturated lip colour
No. of treatments needed: Once
Average cost: £350 & £1200
Lip blushing is a semi-permanent cosmetic tattoo that can enhance the natural lip colour, improve the shape of the lips, and give the illusion of fullness.
This is done by depositing colour ink into your lips and along your lip line to improve the overall look.
A tiny mechanised needle manually creates small cuts in the skin and deposits pigment into the lips.
This builds subtle layers of colour to give natural-looking results for one to two years.
Combination Therapy
Combination therapy is becoming very popular in the aesthetics world since different procedures can complement each other nicely. Medical aesthetic clinics are constantly looking for new ways to pair non-surgical treatments and achieve even more dramatic results for their patients.
26. MICRONEEDLING WITH GROWTH FACTORS
Stem cells growth factors are naturally occurring proteins that stimulate growth, healing and regeneration in the body's tissues. When injected into the skin, growth factors can stimulate and accelerate the process of cell regeneration.
They can also stimulate collagen fibres in the skin to help restore fullness and elasticity. MicroNeedling with Growth factors uses a clinical-strength growth factor serum (produced in a lab) along with the microneedling technique.
This allows the growth factors to penetrate deeper into the skin than they would with topical application. The result is a much more enhanced collagen production than you would get with microneedling alone.
27. BOTOX WITH DERMAL FILLERS
Combining the top two non-surgical aesthetic treatments in one session allows the injector to address multiple areas of the face simultaneously. The filler tackles static wrinkles by restoring volume.
At the same time, Botox relaxes muscles contractions that create dynamic wrinkles such as frown lines, crow's feet, and horizontal forehead lines. This approach may actually prolong the effects of the fillers.
The hyaluronic acid in many fillers tends to break down faster in areas of the face that are very animated and active (such as around the mouth). The Botox reduces muscle movement, so fillers remain in place longer and are less likely to break down as quickly.
28. RADIOFREQUENCY (RF) MICRONEEDLING
This treatment doesn't employ two different devices (a microneedling pen and a radiofrequency skin tightening machine).
Instead, it uses a single device with specially insulated needles to deliver radiofrequency energy once the needle tips have broken through the skin.
This dual mechanism stimulates collagen remodelling in the dermis, resulting in tighter skin and fewer fine lines. This procedure can also be used to treat acne scars.