Life can be tough - especially on our skin. Late nights, long golf outings, and raising kids can all take a toll on the appearance of your skin. And getting older does not help either. Ageing skin loses the natural support structures (collagen and elastin) that keep skin supple and youthful.
As the years go by and the support structures diminish, and the skin loses its ability to bounce back and rejuvenate itself. Wrinkles and creases are unfortunate results.
But now there is a way to reverse some of the unfortunate impacts. Injectable fillers are used to plump up the skin and erase evidence of years of skin neglect and abuse.
Dermal fillers are a minimally invasive procedure that your doctor can perform in the office in less than 30 minutes (over your lunch hour break even). Using a fine needle, they inject the filler under the skin to instantly rejuvenate your skin!
The best part is that there are so many wonderful options available now.
We have created this comprehensive list of more than 50 dermal fillers currently offered by plastic surgeons, dermatologists and medical aesthetics clinics across the UK.
Table Of Content
Intraline
Intraline's dermal fillers are specially formulated at a molecular level to deliver some of the smoothest, most natural results available today.
Intraline's non-animal derived hyaluronic acid is produced through bacterial fermentation. The result is HA, nearly identical to the hyaluronic acid found in the human body and is of very high quality and purity.
Although Intraline is not the most popular brand of dermal filler, here at Dr. Aesthetica it is our preferred brand of dermal filler.
And we are not the only ones who think Intraline offers fantastic dermal fillers.
Many aesthetic medicine clinics in the UK report better and more consistent results for their clients with this lesser-known dermal filler brand.
There are two product ranges, the M range, a monophasic range (M2, M3, M4) and the biphasic range (Intraline One).
Most fillers go through the same manufacturing process: a mixing process, a reaction phase, and a blending phase before the hyaluronic acid is washed and sterilised.
The mixing phase is where most brands make a change to create a unique aspect of their product.
The two main structures produced in the reaction phase are monophasic and biphasic. A monophasic structure is when cross-links form between the hyaluronic acid chains, resulting in a uniform gel-like structure.
A biphasic structure is when the hyaluronic acid is not only gel-like but also contains free HA particles in the mixture that are not part of the cross-linked structure.
This type of structure is not as smooth as the monophasic but historically provides more volume.
Monophasic series
The M-Series contains lidocaine, an analgesic that relieves discomfort during the procedure and has been shown to cause less bruising and swelling after injection.
M2 Plus
M2 Plus is designed to treat fine to moderate wrinkles in the frown line, cupid's bow, lips, and neck area as well as improve lip definition.
M3 Plus
Intraline M3 has a lower viscosity than M2 Plus, making it more suitable for filling medium nasolabial folds and marionette lines, subtle cheek and chin augmentation, and filling temple hollowing.
M4 Plus
M4 is Intraline's densest filler product. It is best suited for deep-set wrinkles and facial contouring in the cheeks, chin, and jawline. It is also ideal for non-surgical rhinoplasty and high definition of the lips.
Biphasic
Intraline One
Intraline one is used under the eyes to fill tear troughs and for lip augmentation.
This biphasic filler is characterised by high G-prime, meaning it can resist changes in shape brought on by external forces such as facial movement.
Intraline is, therefore, more suitable for areas such as the lips and under eye area where definition and longevity are required.
Intraline for Men
This is a unique filler product because it is one of the only fillers made specifically for men.
If you have read our series on fillers for men, you already know that men's skin needs are very different from women's.
Intraline for Men is used to treat deep-set wrinkles, marionette lines, nasolabial folds, and "smoker's lines," in men.
Intraline For Men can also be used for non-surgical rhinoplasty and facial contouring of the cheeks, chin, and jaw.
Restylane

Restylane family of fillers are made with a clear gel formulation of hyaluronic acid specifically formulated to act like the body's own naturally produced hyaluronic acid.
Their role is to help visibly correct moderate to severe facial wrinkles and folds on the face and the back of your hands.
Restylane® Silk
Restylane® Silk is a soft gel that is ideal for smoothing lines around the mouth and adding subtle volume to the lips.
Restylane® Silk is great for patients who want a gentle and subtle correction or just a slight augmentation on other areas of the face.
Restylane® Lyft
Restylane® Lyft is a high G-prime hyaluronic acid, meaning it has great firmness for lifting the midface and moderate correction.
Restylane® Lyft is great for patients who are starting to show the signs of ageing, or for those who have naturally less plump cheeks they want to accentuate.
Restylane® Kysse
Restylane® Kysse is a popular lip filler that can be used to give your lips natural-looking volume while keeping their normal, flexible movement.
Kysse allows for precise, targeted results and can last up to a year. In addition to adding volume, this lip filler also improves lip color and smooths upper lip lines
Restylane Refyne
Restylane Refyne is a hyaluronic acid dermal filler designed to smooth or minimize the appearance of moderate to severe facial wrinkles and folds while allowing you to maintain a natural look and normal facial expressions.
This product features Galderma's proprietary XpresHAn Technology, which uniquely cross-links hyaluronic acid particles for superior support and more natural movement.
Restylane Refyne contains a small amount of lidocaine to minimize discomfort during treatment. It is After injection, this product can be gently massaged and molded to naturally blend with the surrounding tissue.
Restylane Defyne
Like Refyne, Restylane Defyne features Galderma's XpresHAn technology. The smooth, relatively thick filler is designed to smooth deep wrinkles and folds on the face.
It is particularly suitable for the treatment of nasolabial folds and marionette lines.
This product also contains a small amount of lidocaine to minimize discomfort and the injector can massage and mold the underlying filler so that it naturally conforms to the surrounding tissue.
Restylane Volyme
Restylane Volyme is a cheek filler with XpresHAn Technology™ for cheek augmentation and correction of midface contour deficiencies in adults over the age of 21.
This unique injectable hyaluronic acid gel can help create natural-looking, subtly rejuvenated cheeks that are reminiscent of your younger self.
Juvederm

Juvéderm® is a line of dermal fillers from the leading aesthetics manufacturer, Allergan. These facial fillers are commonly used to revitalise the face by filling the lines and wrinkles to restore lost volume to the skin.
Juvederm Ultra
Juvederm Ultra, the original Juvederm formulation, is versatile. It is a relatively thin filler that can be easily used in areas where only subtle amounts of volume are needed.
Juvederm Ultra is most commonly used for lip enhancement and to smooth out mild to moderate laugh lines, also called nasolabial folds and marionette lines, that form around the nose and mouth.
Juvederm Ultra Plus
Juvederm Ultra Plus is a thicker version of Juvederm Ultra and is used in areas that need a little more volume. Ultra Plus is occasionally used for cheek enhancement, but it is most commonly used on the laugh lines around the nose and mouth, which are more pronounced.
If you have deep nasolabial folds and marionette lines, your dermatologist or aesthetics doctor may recommend Juvederm Ultra Plus.
Juvederm Voluma
Juvederm Voluma main purpose is cheek augmentation. It is thicker than Juvederm Ultra Plus and created to lasts longer. It provides a natural-looking augmentation of the cheeks with the added benefit of lifting the cheeks and providing a subtle lower facelift and smoother jawline.
Juvederm Volbella
Juvederm Volbella, one of the newest Juvederm products, is a very thin and soft hyaluronic acid filler. This makes it a perfect solution for lip enhancement, as it provides subtle, natural-looking results.
It is also suitable for treating vertical lip lines, also known as smoker's lines. Thanks to Volbella's thin, smooth texture, these very fine lines are easily smoothed without looking "overdone."
Juvederm Volift
Vollure, known as Volift in the UK, is the newest filler in the Juvederm family. While Juvederm Ultra is thin, Vollure is even softer and achieves very subtle results on smile lines around the nose and mouth.
Bellafill
Bellafill is a long-lasting dermal filler approved by regulatory bodies to treat wrinkles and skin folds. It is also the only filler approved for the treatment of acne scarring.
It is now widely used for off-label concerns such as plumping or contouring of facial areas.
Bellafill is manufactured by Suneva Medical, Inc, a U.S.-based privately held aesthetics company focused on developing novel products for the regenerative aesthetic markets.
Unlike hyaluronic acid fillers, Bellafill consists of tiny polymethyl methacrylate (PMMA) microspheres suspended in a base of smooth collagen gel.
Over time, the skin uses the microspheres to form a "scaffold" on which the body's own collagen can develop. This collagen forms a foundation that adds volume to wrinkles and reduces their appearance.
While many fillers often dissolve within a few months, Bellafill® provides an enhancement that can last up to five years.
Radiesse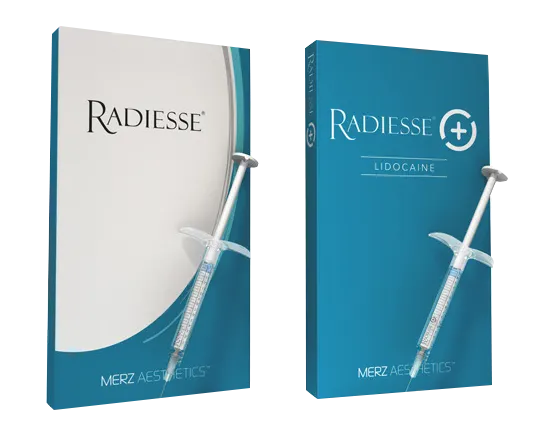 Radiesse is a range of dermal fillers that provide instant volume and an immediate lifting and contouring effect to the face by stimulating the skin to produce its own natural collagen.

Originally developed by Merz Aesthetics in 2006, Radiesse has long been a popular alternative to hyaluronic acid fillers.
Its main component is synthetic calcium hydroxylapatite microspheres suspended in a sterile gel carrier. When injected into the skin, the calcium-based microspheres slowly stimulate the skin to produce collagen.
The products are ideal for restoring skin volume, smoothing moderate to severe wrinkles, and improving skin quality around the cheeks, nasolabial folds, marionette lines, jawline, and chin.
Radiesse is also used to correct volume loss in the back of the hands.
Radiesse Plus™
Radiesse+ refers to the addition of lidocaine to numb the treatment areas to minimize patient discomfort and increase patient satisfaction.
Belotero Balance

Belotero Balnce® is another dermal filler from Merz Aesthetics, the manufacturer of Radiesse®. While Belotero Balance is made of the same material (hyaluronic acid) as some other dermal fillers, it has unique properties that allow it to blend into the skin and provide a smooth and even correction.
The versatility of the product makes it strong enough to treat deep treatment areas such as nasolabial folds (smile lines around the mouth), and marionette lines, as well as more delicate areas such as vertical lip lines (thin lines that appear above the lip line).
Ellanse

Ellanse is a non-hyaluronic acid filler that is developed by AQTIS Medical in Holland from non-animal and non-human sources.

Ellanse fillers consist of precisely engineered microspheres of a biodegradable synthetic material called polycaprolactone (PCL), homogeneously suspended in a custom aqueous gel carrier of carboxymethylcellulose (CMC).
When injected into the skin, Ellanse instantly fills the volume-deficient areas on the face.
At the same time, the PCL microspheres contained in Ellanse stimulate neocollagenesis, resulting in long-lasting volume enhancement as your body produces collagen to replace the filler that is naturally absorbed by your body over time.
This combats and slows the further effects of ageing.
The product range includes four products that differ only in their duration of the performance. All other product features are identical across the Ellansé™ product line.
Ellansé® S - Formulated for a duration of action of up to 12 months.
Ellansé® M - The effect lasts for two years.
Ellansé® l - Results expected to last three years.
Ellansé® E - The longest-lasting product in the range with results lasting up to four years.
Revolax

Revolax is a high-quality hyaluronic acid (HA) dermal filler specifically designed for sculpting and enhancing various facial areas. It was introduced in 2017 by Across, an medical aesthetics company based in Seoul, South Korea and is one of the latest HA fillers to enter the UK market.
Revolax Fine
Revolax Fine is the thinnest and lightest dermal filler in the Revolax range. It lasts between 9 - 12 months and is suitable for delicate areas of the face such as superficial lines, neck wrinkles and lip augmentation.
Revolax Deep
Revolax Deep is thicker and longer lasting (12-18 months) and is suitable for treating nasolabial folds and rejuvenating the chin and cheeks.
Revolax Sub Q
This is the thickest dermal filler in the Revolax product line. It is best suited for bony augmentation and structural support in the midface area and jawline.
Teosyal

Teosyal from Teoxane Laboratories in Switzerland is an HA-based dermal filler line distributed in the UK by Teoxane UK.
It consists of several monophasic hyaluronic acid-based products that support the skin's structure, softens it, and help maintain facial vitality and hydration. Teosyal products act by preserving and/or replacing the content and properties of the naturally occurring HA found in the skin.
Teosyal Global Action
It is injected into the mid-dermal layer of the skin and is suitable for mild to moderate facial wrinkles, nasolabial folds, glabellar (frown lines) and periorbital and perioral areas.
Teosyal Touch Up
Designed for touch-up treatments after completion of Teosyal Global Action treatments.
Teosyal First Lines
Teosyal First Lines is injected into the superficial dermis and is recommended for the treatment of fine lines and superficial wrinkles (such as crow's feet).
Teosyal Deep Lines
Teosyal Deep Lines is injected into the mid to deep dermis and is a dense and voluminous implant used to treat deep nasal wrinkles, lip augmentation, and facial contours of the cheeks and jawline. It is injected into the deeper layers of the dermis.
Teosyal Kiss
Teosyal Kiss is highly viscous and has high filling power for the lips. It is designed for reshaping lip contours, increasing lip volume, treating wrinkles around the mouth, supporting lip corners and rehydrating lips.
Teosyal Ultra Deep
It is injected into the deep layer of the skin and is the densest product in the Teosyal range, providing an immediate volume-enhancing effect.
It is designed to create or restore facial volume, reshape facial contours, treat deep wrinkles in thick skin, erase wrinkles in the skin, correct minor ptosis and restores the original curves of the face.
It's one of the longest-lasting filler among the dermal fillers on the Teosyal range.
Teosyal Ultimate
Teosyal Ultimate is injected into the subdermal layer and is recommended for facial reconstruction that requires large amounts of filler product. It is designed to create volume in the upper cheeks, jowls and chin and to correct deep skin depressions.
Teosyal Meso
It is injected into the superficial dermis and is recommended for rehydration of the dermis (skin), face, neck, hands and décolleté.
Teosyal RHA® 1
For the treatment of fine wrinkles on the face, neck and décolleté1.
Teosyal RHA® 2
For the treatment of moderate wrinkles in the upper facial area such as the glabella, forehead and crow's feet, or to give the lips more volume and/or improve their contour.
Teosyal RHA® 3
For the treatment of deep wrinkles on the face such as nasolabial folds, vertical lip lines, deep lines and creases, cheek augmentation and to restore facial shape.
Teosyal RHA® 4
Designed to create volume in dynamic, extended areas such as the cheeks and facial contours, and to correct deep skin depressions.
Hydrafill

Hydrafill™ is a transparent, viscoelastic gel that is integrated into the dermis to replenish natural hyaluronic acid. Consequently, Hydrafill™ follows the natural cycle of skin breakdown and regeneration.
Hydrafill™ is available in three formulations, depending on the type and severity of the wrinkles to be treated.
Hydrafill Grade 1: This formulation is suitable for very fine lines such as smile lines and smoker's lines.
Hydrafill Grade 2: This is suitable for treating medium wrinkles and lines. For example, it can effectively treat nasolabial folds, glabellar lines, and oral commissures at the corners of the mouth.
Hydrafill Grade 3: This product is specially designed for the treatment of deep wrinkles and lines such as nasolabial folds.
It can also be used to enhance the chin and corners of the mouth.
There are two other Hydrafill products.
Hydrafill® Softline was developed for the treatment of vertical lip lines, nasolabial folds and forehead wrinkles, among others.
Hydrafill® Softline Max is designed to increase the volume of the lips, nasolabial folds, corners of the mouth, chin wrinkles, deep jaw lines and areas around the lower cheeks.