What do most people considering any cosmetic procedures for the face want? Often, it boils down to these three things:
The individual wants to make an alteration to their physical appearance.
This change needs to be cost-friendly, as pain-free as possible, and carry little to no recovery time.
The new-look accomplished shouldn't be overtly obvious.
Tweakments tick all three boxes! In case you didn't know, a tweakment basically refers to a non-surgical, minimally invasive treatment that can enhance your look but in a very subtle and natural way. Tweakments are also loosely classified as procedures that achieve more noticeable results than simple makeup applications but are less dramatic than cosmetic surgeries.
While the shifting beauty trends due to COVID-19 have led to a rise in the popularity of tweakments, this trend has been around for longer. A 2019 report from the British Association of Aesthetic Plastic Surgeons found that men now want to look "tweaked" rather than "tucked" Like their female counterparts, men too want to appear youthful and refreshed without looking 'done'. We can attest to this trend. More and more men are coming to our aesthetic clinic for cosmetic procedures that will help them look and feel their best.
The Top Tweakments For Men
Profhilo
What It Is: Even if you've not tried it, chances are you've heard of this revolutionary treatment, thanks in no small part to its ability to make the skin glow, reduce fine lines and leave you with smoother, tighter skin. Profhilo is a game-changing skin remodelling treatment that contains one of the highest concentrations of Hyaluronic Acid (HA) on the market. A single course of Profhilo involves 2 injectable treatments 4-6 weeks apart.
How Does Profhilo Work: Profhilo acts as a hydrator rather than a filler. Rather than plumping and filling wrinkles, Profhilo slowly releases hyaluronic acid into the skin. By attracting water into the deeper layers of the skin, Profhilo offers an unmatched level of hydration. The hyaluronic acid also acts like scaffolding within the skin to trigger a response in the tissue known as 'bioremodeling'. This process creates lots of new, bouncy collagen and elastin, which helps combat the signs of skin ageing and encourages skin rejuvenation.
Why Is Profhilo Great For Men: For men who are tired of complaining of tired, lacklustre or dull skin., Profhilo will work harder for you than any topical serum could. More than that, the collagen stimulation properties will combat saggy skin and fine lines, two of the most common skin ageing-related concerns among men.
Due to its runny consistency, Profhilo distributes smoothly and evenly without the risk of forming any lumps. This means it can be used in areas that are difficult to treat with traditional fillers, such as the neck and forehead.
Related: Non-surgical hand Rejuvenation.
* Profhilo is not a replacement for fillers and Botox and can be combined with these non-surgical aesthetics treatments or used as a stand-alone treatment.
Brotox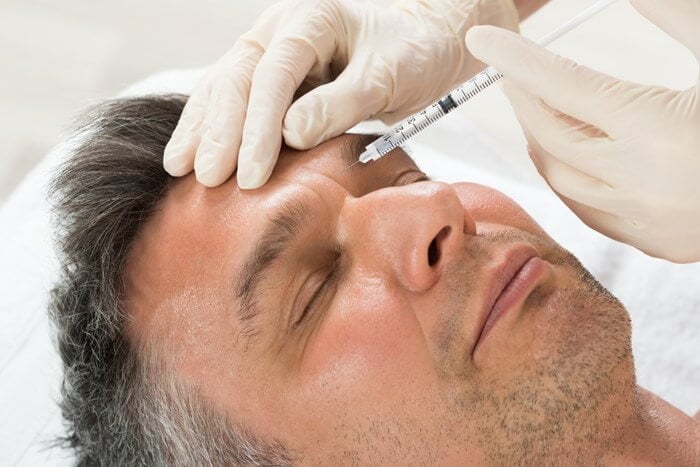 What It is: As its nickname might suggest, "Brotox" refers to Botox procedures for men. In 2020, UK plastic surgeons reported a 70 per cent rise in men requesting video consultations, with tweakments such as Botox and fillers proving most popular. This phenomenon was coined 'the Zoom effect' as endless video meetings forced men to become more conscious about their appearance and signs of ageing.
How Does Brotox Work: The principles of Botox are the same for men and women. Botox injections block the chemical signals from nerves that cause muscles to contract. This temporarily relaxes the facial muscles that cause wrinkles. Generally, men often require more units than women due to having thicker and stronger facial muscles. However, even with the higher doses, they do not come anywhere close to the toxicity threshold.
Why Brotox Is Great For Men: Society likes to paint a picture where one is easily perceived as vain for wanting to look pretty, but everyone wants to look good! So it's not surprising that botox is becoming more and more normalised as a popular cosmetic procedure among men. More than that, botox can help treat some medical conditions like hyperhidrosis, chronic migraines and bruxism.
Jaw Contouring
What It Is: A well-defined, "chiselled" jaw is a coveted feature for men in today's society. This feature is believed to convey a sense of power, masculinity, and control—characteristics that are often associated with success and desirability. However, as men age, the shape of their face goes through changes that can result in a less defined jaw as the previously sharp angles soften. Essentially, this ageing process is a loss of the so-called 'superhero jawline'. Also, some men are born with a "weak or receding chin". A jaw contouring treatment offers a quick and painless way to restore shape, definition and smoothness to the chin and jawline area.
How Does Jaw Contouring Work: When you think of jawline enhancement, you might picture a complicated and painful surgical procedure or a treatment that involves liposuction or insertion of an implant. But that's not the case here. Non-surgical jawline contouring uses a mix of injectable treatments to improve signs of ageing and sculpt a more aesthetically appealing chin and jaw. The procedure often involves applying a dermal filler around the mid-face and outer edges of the face first to lift these areas back up before injecting directly into the jawline. This helps to generate the most balanced and natural-looking results without over-emphasising the jaw.
Why Is Jaw & Chin Fillers Great For Men: Jawline contouring is a versatile tweakment that can achieve a stronger facial profile without the need for invasive surgery. At Dr Aesthetica, this procedure stands out as one of our most in-demand procedures among men. The results will be more-or-less instant, with the final outcome being seen within 2 weeks.
The benefits of jaw contouring include:
Create a chiselled, square-looking jawline
Improve the structure of the chin
Frame and underpin the face
Improve the appearance of double chins
Improve jawline strength and structure
Liquid Nose Job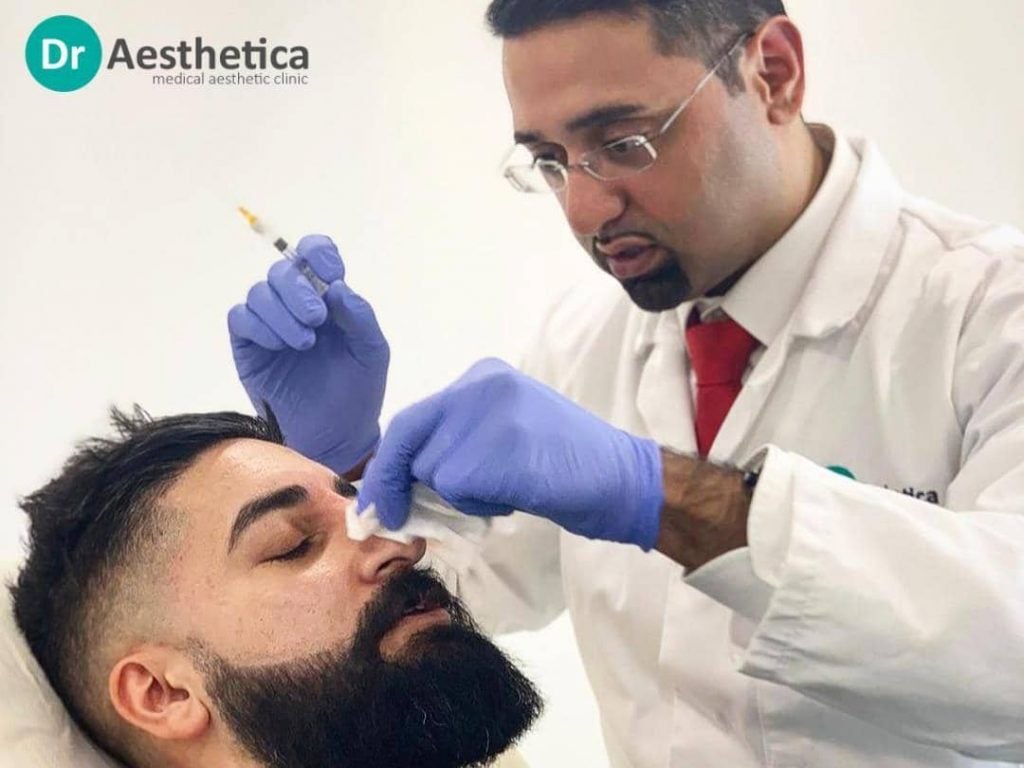 What It Is: A liquid Nose Job (also known as non-surgical rhinoplasty) involves contouring, reshaping, sculpturing, and re-modelling your nose using hyaluronic acid Dermal Fillers.
How Does Non-surgical Rhinoplasty Work: The doctor uses the filler to smooth out unevenness and create a better shape and profile for your nose. For instance, carefully injecting dermal filler above and below the 'bump' on the nose can easily make the most 'hooked' of noses appear straight. This treatment is relatively pain-free, thanks to the use of very fine needles. What's more, the hyaluronic acid filler is laced with lidocaine (local anaesthetic) to keep the discomfort at a minimum.
Why Is Liquid Nose Job Great For Men: Many men suffer from low confidence due to the appearance of their noses. They want to do something about it. For many, the best option will be a liquid nose job. Compared to surgery, this treatment is a fraction of the cost, comes with minimal downtime, and carries less risk. Whether it's straightening a nose bump, lifting the tip or fixing irregularities after a surgical rhinoplasty, a liquid nose job can be personalised and tailored to your unique situation. The results are instant and tend to last around 12-18 months.
If you don't like the results, you can wait for th filler to be broken down by your body or have the procedure reversed using hyaluronidase.
Final Thoughts
With more men receiving tweakments and being more open about it, the trend will only continue to grow. Remember, you need to do your due diligence when it comes to any cosmetic treatment. Never skip your research – that goes for both your practitioner and the treatment itself. Take time to ensure it's right for you, and don't be afraid to have multiple consultations with different experts for peace of mind.