While maintaining a youthful, plump, and wrinkle-free face was once thought of as a women's concern, today men are also defying their age by turning to various aesthetic treatments.
From rhinoplasty to chin and jawline augmentation, male patients want to enhance the masculinity of their face while restoring the lost youthful facial proportions.
That being said, when it comes to cosmetic surgery, men are often more reluctant than women - which is why so many men opt for non-surgical options.
One of the most popular non-surgical cosmetic procedures men are currently turning to is cheek fillers. Surprising, right?
Why would a man want to fill in his cheeks? After all, that would make them look feminine!
Well, not at all. Dermal filler products and injection techniques have advanced to the point where they can deliver exactly the result you want, whether you are male or female.
These products also offer the very benefits men want most: immediate, long-lasting improvements without having to go under the knife and limited downtime for recovery.
Below are some guide points specifically for men considering injectable fillers, especially cheek fillers.
Why Get Dermal Fillers in The First Place?
Appearance naturally changes with environment, age, and everyday activity.
Men need to understand how their facial skin is likely to do the same, and how to deal with it.
The harsher the work, the longer the hours, the higher the stress, and the harder the play - the more the skin suffers.
Some illnesses can also cause the skin to age prematurely. Dermal fillers may not be able to solve every age-related skin problem, but they have proven to be very effective in addressing some major concerns.
Injectable fillers can rapidly replace lost volume in the face when gaunt, sunken cheeks and eyes have become apparent.
They can also reduce or remove the appearance of indented acne scars and stress lines in men of all ages.
Other fillers can be used to reduce the appearance of wrinkles and sagging skin caused by aging, collagen loss, or sun damage.
Depending on how the filler is formulated, it can be used to re-plump and improve the shape of specific areas such as the lips and nose.
The list goes on….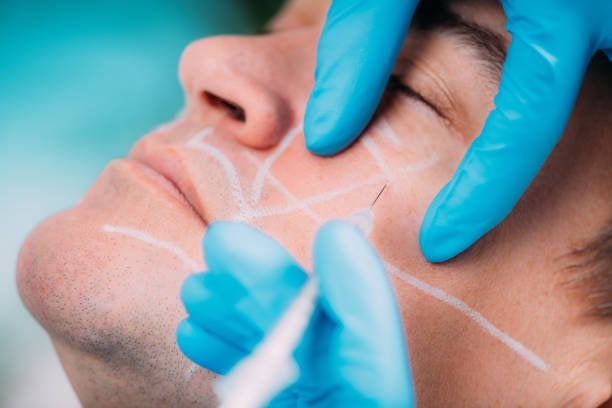 Understanding Male vs. Female Facial Anatomy
Men and women have different facial anatomy and proportions, and these differences signal the perception of masculinity or femininity in facial features.
In general, a man's cheeks are flatter but more angular than a woman's.
Women have rounded, higher "apple" cheeks that are more prominent than the male face, and the apex of the male zygomatic bone is lower, more medial, and more subtle.
MRI studies have also shown that subcutaneous fat compartments are 1.5 times thicker in females, whereas they are more evenly distributed in males.
Consequently, the cheeks are an area where things can often go wrong.
Too much or inaccurately injected filler can give the patient's face a feminine appearance.
A Disclaimer About Cheek Fillers for Men

The goal of cheek filler treatments for the male face address two important aspects: Restoration and Enhancement.
Restoration aims to improve and rejuvenate a facial area or structure that has changed due to the effects of ageing.
Enhancement on the other hand, is about improving a feature or area to make the male face more attractive.
Cheek fillers are great for achieving both goals.
Want to restore a younger, more youthful appearance?
Want a natural-looking result that does not look like you have had too much work done?
Want to change your facial structure, improve facial contours and make your face appear more symmetrical
Cheek fillers can get you there.
So what's the disclaimer?
Balanced volume and correct placement of a filler in the cheek area is one of the most difficult things to achieve in non-surgical facial cosmetic procedures.
However, Dr. Aesthetica has extensive experience with cheek fillers and understands that these features must be balanced to achieve a natural-looking result.
He is also well versed in achieving a natural, masculine look in the midface region of his patients.

He believes a good injector needs to know how cheek filler injections work and how that translates into achieving balanced cheek volume in men.
The injector needs to know how to feel in the upper cheeks to reduce the shadowing under the eye area and gaunt mid-face while maintaining the sharpness of the male facial angles.
This expert approach can help restore proportion and vitality to a "tired" male face without making the result look "overly plumped" or feminine.
Choosing the Right Products

An experienced physician will be up to date with the latest products and will recommend options based on the patient's goals.
At Dr. Aesthetica, we conduct a comprehensive consultation to help our patients visualize potential results before settling on th treatment.
When deciding which types of fillers to use on the cheeks, calcium hydroxyapatite and hyaluronic acid fillers are the generally accepted industry standard.
Most people are familiar with hyaluronic acid fillers, as they are simply the most commonly used.
Hyaluronic acid occurs naturally in the body (though the one found in fillers is synthesised from non-animal sources).
As men get older, they lose volume and definition on the cheeks through the natural ageing process.
Restoring the lost volume through HA fillers offers an opportunity to regain the more youthful, attractive, and sharp facial appearance they had in their twenties.
Examples of Hyaluronic acid fillers used in the cheek area are:
Restylane

Restylane was the first filler brand developed by Galderma, a Swiss pharmaceutical company specialising in dermatological treatments and skin care products.
Restylane now offers a range of filler types designed for different aesthetic needs and areas.
Restylane is granular and more cohesive in texture, which allows it to stay in place better and is ideal for volumizing and contouring the cheek area.
Juvéderm
Juvéderm is designed to provide both volume and hydration, as it contains a higher concentration of hyaluronic acid compared to other cheek fillers.
Some dermal fillers in this line, such as Juvederm VOLUMA® XC, are specifically designed to add volume to your cheeks.
The filler adds volume beneath the skin's surface to lift your cheeks and give you a younger, fresher appearance.
This was the first FDA-approved injectable gel that instantly adds volume to the cheek area.
It gives a subtle lift and can restore a youthful appearance by helping to contour the face and cheeks.
It is one of the more long-lasting HA fillers and many people are still pleased with the visible results of their injections up to two years after treatment.
The other alternative is Calcium hydroxylapatite (CaHA), of which Radiesse is the most common.
Radiesse
Radiesse is a bio-stimulating filler made from calcium hydroxylapatite, a mineral found in human bones and teeth that stimulates the production of collagen and elastin.
The material also contains microspheres that reduce any inflammatory response in the body.
This option is somewhat different from other cheek fillers in that it works to trigger natural collagen and elastin production!
Eventually, the CaHA absorbs back into your body, leaving your collagen in its place.
This new collagen offers deep structural support and leaves your cheeks looking plumper and smoother than ever.
Initial results can last up to two years or longer in some patients.
Unlike hyaluronic-acid fillers, however, Radiesse cannot be dissolved once injected. So that's something to keep in mind.
Consultation With Top Birmingham Medical Aesthetics Doctor
Your cheeks are one of the most prominent facial features. Their shape, symmetry, and proportions play a role in shaping a harmonious face.
As a medical aesthetics doctor with knowledge of the latest non-surgical facial cosmetic techniques, Dr Farmah's goal is to sculpt your facial features that match your aesthetic goals.
He will provide a cheek filler treatment that helps bring your vision of the ideal face to life.
My fellow guys, if your looking to:
restore your younger, more youthful appearance
improve facial contours and make your face appear more symmetrical
Address volume loss from ageing or weight loss in the cheek area
And on top of this:
Want results in 7-14 days!
Want only 24 hours of downtime
And results that last up to 18 months
Then feel free to fill out a consultation form here, or call us on 0121 769 0242. Additionally make sure to get more information on cheek fillers (click this) .
We will be happy to answer any questions you may have if you are considering cheek filler treatments for men.
Our medical aesthetics clinic office is located on Bristol Rd S, Birmingham in the United Kingdom
To see Doctor Farmah and his team in action, visit Dr Aesthetica's Instagram page.
Frequently Asked Questions
See below if any queries you have can be answered, if not contact us here.
How soon will I see results?
Cheek filler injections offer instantaneous results, which is one reason why they're so popular among our patients. That said, your final results will be apparent within a few weeks. For the best results, we recommend you avoid applying too much pressure to your cheek or strenuous exercise for the first few days to prevent any displacement of the filler and allow the swelling to go down. as our professional injectors
How do I know if I'm eligible for cheek fillers?
This treatment is excellent for anyone who would love to add definition and volume to their cheeks. If you are unhappy with the appearance of your cheeks or you would like to have plumper contoured cheeks, this is the perfect treatment for you.
Below are a few important considerations to take into account:
Volume loss in the cheek area tends to particularly affect slimmer people who naturally have less facial volume, to begin with.
Sunken cheeks can also be more pronounced on people who have lost a lot of weight.
It would be best if you are generally in good health. That's why we carry out a full medical before carrying out the procedure on the patient.
Are Cheek Fillers Safe?
Cheek fillers are quite safe and do not pose any serious complications —especially with proper injection technique. That's why it is crucial to only work with a highly skilled doctor who has extensive experience injecting cheek fillers. Here at Dr Aesthetica, we only use the highest quality dermal fillers with a proven safety track record. Common but minor side effects include swelling, bruising or tenderness on the injection site. But these usually pass away within a few days after the treatment.