Welcome to round two of our cosmetic treatments face-off. In the first round, we ranked dermal fillers against thread lifts. Fillers emerged as the winner. You can read the entire post here.
*Disclaimer: Both are great treatments, but dermal fillers seem to be preferred more by most clients. Learn why.
This post compares two of the most popular cosmetic treatments: dermal fillers vs surgical facelifts. In recent years, social media has pitted the two procedures against each other, pigeonholing people into taking sides. But is this really necessary? Is either treatment better than the other?
Let's find out:
Dermal Filler vs Surgical Facelift basics
As you can see from the table below, dermal filler is a babe in arms compared to the facelift -- it has only been on the market since 1981. Nevertheless, facial filler procedures have overtaken surgical facelifts in popularity across the UK.
| | | |
| --- | --- | --- |
| METRIC | DERMAL FILLER | FACELIFT |
| Year first performed | 1981 | 1916 |
| # of  treatments worldwide (2020) | 3.4 M | 234 K |
| Invasiveness | Non-surgical | Surgical |
| Procedure time | 5-20 minutes | 3-6 hours |
| Longevity of Results | 6-18 months | 7-10 years |
Date sources: BAAPS Annual Audit Results & ISAPS Global Survey
What Fillers and Facelifts have in common
Most of us want to slow down the ageing process but do so in a way that still looks natural. The good news is that ongoing advances in aesthetic medicine have made it easier than ever to fight the visible signs of ageing and preserve a more youthful appearance.
Facial fillers and facelifts are leading the charge on the assault against facial ageing. Throw Botox into the mix, and you have the three most popular anti-ageing procedures in the world.
Dermal Filler
Dermal filler injections are used to replace lost volume and keep skin plump and youthful-looking. They also smooth out fine lines and wrinkles. Some fillers even trigger natural collagen production. Collagen is the dense protein fibres that provide support, strength, and cushioning to the skin.
Dermal filler procedures and techniques are constantly evolving. Currently, there are at least 10 different filler treatments, each targeting specific problem areas on the face.
Facelift
A facelift is an elective cosmetic surgery that also treats and corrects the signs of ageing. A plastic surgeon will tighten the loose skin around the lower face/jawline and readjust the facial tissues to help reduce the appearance of wrinkles, natural creases, and sagging skin.
Facelifts can create a more contoured jawline, improve the appearance of jowls and also tone the neck area.
Plastic surgery techniques have come a long way since the 'super-taut' look of the mid 20th century. Today aesthetic surgeons focused more on tightening up the underlying tissues rather than just pulling on the skin. This leads to a more natural-looking result.
What sets them apart
The biggest difference between facelifts and dermal fillers are expected downtime, longevity and ideal client.
Fillers have little to no downtime. The injection can even be administered during a lunch break!
Any side effects that you experience should be mild and temporary.
Because there's no surgery involved, there's no post-op scarring or healing to deal with.
This means you can return to your daily routine straight after the treatment.
Another reason that makes dermal fillers so popular is how quickly you see the change in your appearance.
The improvement in your facial contours is immediate and as the filler settles under the skin, the full effect is visible in a matter of days.
The caveat is that you have to be vigilant to maintain that look by following your doctor's recommended injection schedule (often annual or biannual).
Also, dermal fillers are best used to correct the early signs of ageing. If the patient begins filler treatments early in the ageing process (in their 20s & 30s), they can eliminate the need for more invasive surgical procedures down the line.
Dermal fillers can be combined with Botox injections to simultaneously address multiple areas of the face and achieve more impactful results.
Must read: Botox at 30: Does Preventative Botox Work?
In contrast, facelift surgery offers long-lasting results that can often last well over a decade. That said, patients should consider the extensive post-operative care and recovery time when contemplating a facelift.
A facelift is advisable only when less-invasive facial rejuvenation methods no longer suffice.
When is it the right age to get a facelift? For patients considering a facelift, the general recommendation is to get it done in their 50s. At this age, you're beginning to see much more skin sagging, and it's only going to get worse.
However, it's important to note that a facelift does not add volume. Oftentimes, filler injections will still be needed to restore lost facial volume, such as hollow-looking cheeks.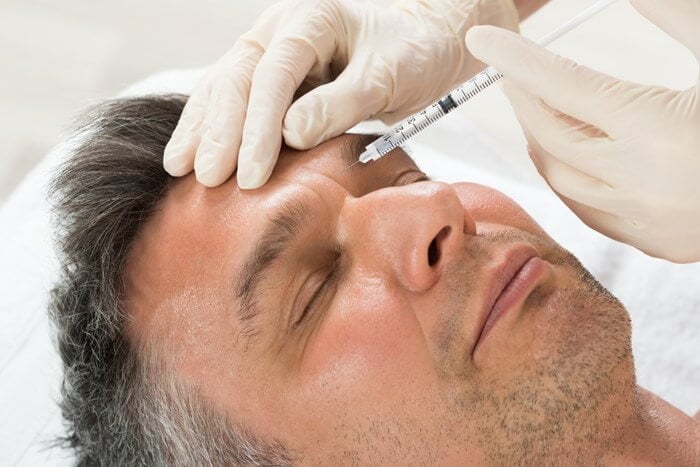 Bottom line:
Dermal fillers are best for those who:
Are new to cosmetic treatments and prefer a non-surgical solution
Want to restore facial volume
Like having the option to reverse their results
Are fine with scheduling touch-up treatments every 6 months to 2 years
Facelift surgery is best for those who:
Are ready to invest in a surgical procedure
Want to correct severe skin laxity
Can afford to take more time off for recovery
Want a long-term solution to their facial ageing problems
Another argument for or against either treatment is pricing. While procedure costs can vary from patient to patient, a facelift is much more costly (upfront cost) compared to a dermal filler treatment. On the other hand, with fillers, you'll need future touch-ups so the total cumulative costs can add up over the years.
The important thing is to find out the average cost of each to determine if the treatment is within your financial means.
Must read: How Much Do Dermal Filler Treatments Cost?
Which procedure to get?
If you're considering a facial cosmetic procedure, you might wonder whether surgery is necessary or if an injection will suffice.
Some believe dermal fillers will eventually replace surgical facelifts, while others hold that facelifts will always be the king of cosmetic procedures. The truth is that the two treatments serve different roles -- it isn't an either/or scenario.
Much depends on your aesthetic goals and facial anatomy.
The best way to know if you are more ideally suited for fillers or facelift surgery is to have an in-person consultation with a cosmetic doctor. Book an appointment with our friendly, skilled and reputable aesthetics doctor.