When you mention dermal fillers, most people automatically think of lip fillers, but this non-surgical cosmetic treatment offers many more possibilities. In addition to the plumping benefits, different types of fillers are a great way to contour, tighten, and reshape your face.
The team at Dr Aesthetica's specialize in helping our patients determine which type of dermal filler will be most beneficial for them. Before any treatment, we carry out a consultation in which we will analyse whether this form of treatment is right for you.
What are dermal fillers?
Dermal fillers are gel-like substances injected into the skin to reduce the signs of ageing by filling in lines and wrinkles and adding volume to areas such as the tear troughs and cheeks.
Only the affected areas are targeted, while all other areas of the face continue to age as normal.
Types of dermal fillers
Fillers for facial contouring
Facial contouring has become a popular makeup technique that aims to enhance your facial structure by highlighting your best assets and concealing your perceived flaws.
However, thanks to facial contouring fillers, you no longer have to go through the hassle of applying contouring makeup on a daily basis.
This type of filler can be used for:
You can choose to focus on a specific area or choose a combination of treatments for a harmonious result. The effect of fillers for facial contouring is practically immediate and lasts for about 6-12 months. However, this depends on the area you are targeting.
Related: Top 30 Non-Surgical Cosmetic Treatments You Can Get Today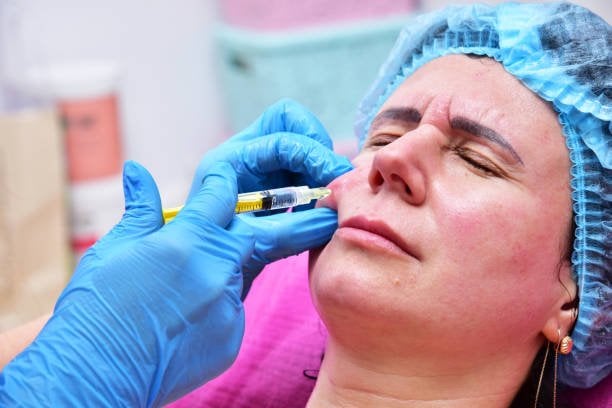 Fillers for sagging face
As we age, our skin loses collagen and fat, resulting in sagging skin. There are several areas where dermal fillers can be used to counteract this, such as:
Cheekbones
Under the eye
The middle part of your face
The corners of your mouth
Lines on both sides of your mouth
Lower cheeks
Jawline
Pre jowl
You can either treat these areas individually or invest in a non-surgical full facelift. If you do opt for this package, make sure your injector takes a customised approach. At Dr Aesthetica, we do not offer a filler treatment "just because." We will custom-tailor our procedure based on an initial assessment of your face.
Depending on the area we treat, 80% of the outcome will be visible after treatment, with full results visible after two weeks.
This treatment is effective for 12 to 18 months, after which you should schedule another appointment
Face reshaping fillers
In addition to using different types of facial fillers to contour certain areas of the face, they can also be used to reshape the nose. As a prominent feature, reshaping your nose with a non-surgical rhinoplasty can drastically affect your face and your self-confidence.
The following concerns can be treated with this procedure:
The following can be treated with this procedure:
Small noses can be built up
Slightly crooked or hooked noses can be straightened
Dropping nasal tips can be corrected
And much more.
This type of rhinoplasty will last for 12 to 18 months, at which point you can easily book another appointment. Similar to fillers for facial sagging, expect around 80% of the effects on the same day with the full results visible in approximately two weeks once any swelling has subsided.
Fillers for plumping
Plumping fillers, especially lip fillers, are probably the most well-known application of dermal fillers. However, other areas can also benefit from a little plumping, such as:
Whether you are hoping for fuller lips or cheeks, or a reduction in dark and tired under-eyes, hyaluronic acid fillers are the best option.
How long will the filler last?
Your injector should be able to provide specific information about which factors can affect the longevity of the treatment.
Related: How to Choose the Right Doctor for Your Filler/Botox
Frequently asked questions about dermal fillers
How long does filler last?
On average, results will last between six and 18 months; at which point an additional appointment can be booked. The exact period to which treatment will be effective will depend on the area targeted, the results envisioned, external factors and skin genetics.
Are dermal fillers safe?
No cosmetic procedure is ever risk-free. However, as long as you choose a registered and experienced practitioner, the risks should be minimal.
For people with certain allergies or health conditions, the risks are higher. Therefore, you need to be open and transparent at all times. We recommend that you ask your doctor about the risks of the specific type of soft tissue fillers they recommend during your initial consultation.
We've written an entire post on this exact topic. You can read it here.
How much do dermal fillers cost?
The cost for dermal fillers will vary depending on the area targeted. Prices for this type of treatment at Dr Aesthetica begin at £250. You can find a full rundown of prices here.
At what age should you get fillers?
The legal minimum age to invest in all the different types of fillers is 18. However, this does not mean that you should get treatment at this age or any other specified age. Due to our unique skin genetics, everyone ages differently. You may benefit from dermal fillers, while someone else the same age as you may not.
Although dermal fillers can increase self-confidence and self-esteem, our team at Dr Aesthetica will never agree to a procedure that we do not believe is the right choice for you.