As the weather gets warmer, it's the perfect time to consider getting a laser hair removal treatment. After all, how can you say no to the prospect of never having to shave, tweeze, or wax your body hair—or deal with painful ingrown hairs. This is because the laser light pulses target the dark pigment in your hair follicles, damaging them and stunting the potential growth of future hair. But to ensure permanent hair removal and get the best results, there are several things you need to do or stop in preparation for your laser treatment.
Choose The Right Doctor
Laser hair removal is all about choosing the right laser for your skin type. Make sure to choose a board-certified doctor who specialises in cosmetic procedures and has extensive laser hair removal experience. At Dr Aesthetica, we offer the most effective, painless, and super fast hair removal for any part of the body from upper lips, bikini area to legs.
We are able to offer the best treatment because we have invested in Splendor X, the world's first Hybrid Laser Hair Removal that uses an innovative blend of two wavelengths simultaneously and square beam application, instead of round (which leaves gaps or overlaps and causes pain and slower treatments.)
1-2 Months Before - Stop Waxing
Laser hair removal works by targeting the hair follicles which means the roots need to be intact. Therefore you mustn't pluck or wax the area for at least four to six weeks before your first appointment.
6 Week Prior - Put Down The Hair Bleach or Color
When you bleach or color your hair, the hair pigment is altered making the hair more difficult to target with laser. Giving your hair at least a six-week break from hair bleach provides enough time for the hair roots to grow back in their natural colour. This will enable the hair follicles to absorb the laser energy, a critical step in ensuring the treatment works.
4 Weeks Before - Avoid UV Light Exposure
Exposure to sunlight can cause your skin to become photo sensitive to the light energy used in the laser beams. This can put you at a higher risk of ending up with hyperpigmentation, burns or even scarring. If you have a tan wait until the it fades completely before scheduling your first laser hair removal session. Remember to always use a broad-spectrum sunblock with an SPF of 30 or above on a daily basis.
24-48 Hours Before - Shave Well
Cleanly shave the area within 24 hours prior to the treatment. Using a clean new razor ensures that no bacteria lingers on your skin before your laser treatment, mimising the risk of infection. Also, electric razors are not recommended as the hair is typically left too long. When the hair is too long, you risk the laser burning your skin. Don't be concerned even if the hair is not visible to the naked eye; the laser can still target the pigment located in the hair's root.
Day Of Treatment - Cleanse
Cleanse the skin at the treatment site and leave it free of all makeup and topical skin care products, including deodorant, lotions, creams, and ointments. These should be removed before treatment as they might cause irritation to the skin. Be sure to wear loose-fitting clothing as tight or abrasive clothing will feel uncomfortable, especially if your skin is sensitive after treatment.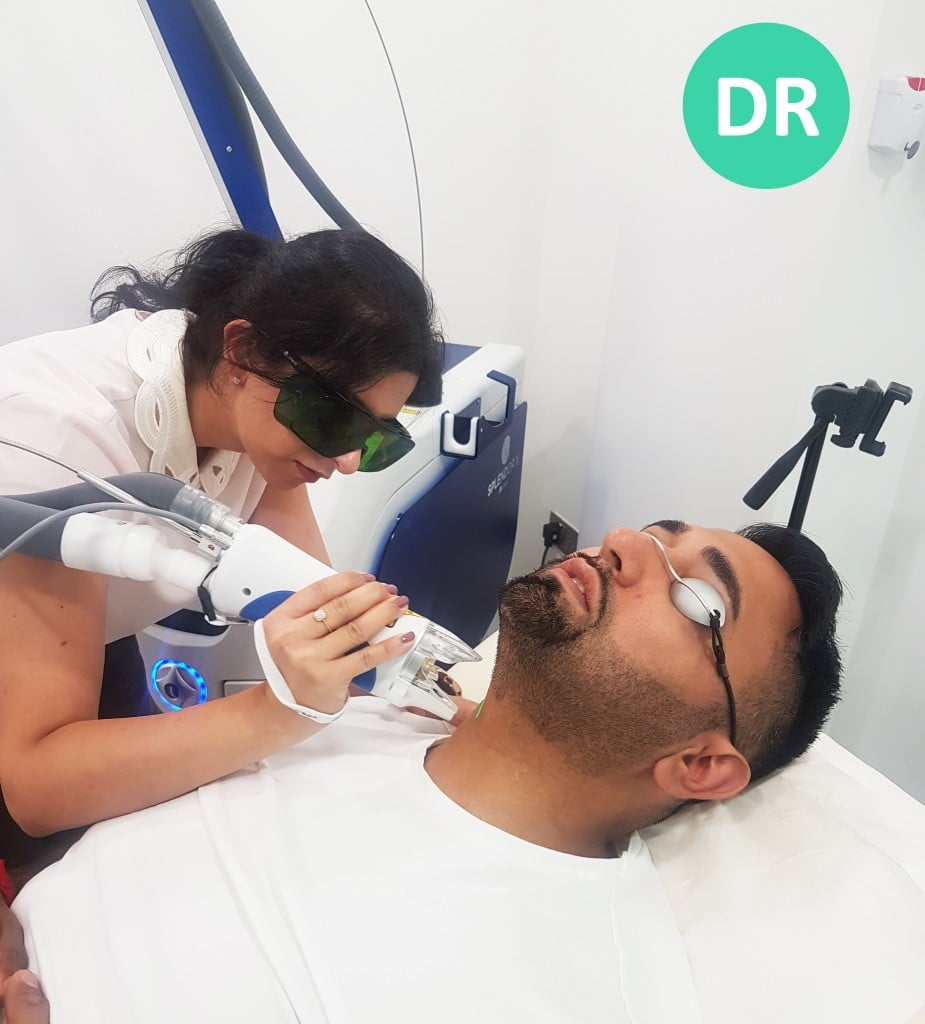 After The Treatment
You should also avoid sun exposure to the treated area for about two weeks. This gives your skin a chance to heal while also reducing your risk of having hyperpigmentation or other complications occur. To minimise the risk of infection, avoid the gym, saunas and hot showers for the first few days.
Sometimes people come for 1 or 2 sessions, only to come back a few months later complaining that all the hair as grown back. You need to be consistent with the follow-up sessions. The standard time between appointments is four to six weeks. And it usually takes five-six sessions to achieve satisfactory hair reduction(usually 85%-90%).
For All Your Laser Hair Removal Needs
Want to learn more about laser hair removal? Schedule your consultation today by emailing or calling our friendly staff at Dr Aesthetica. During the consultation, we can discuss your goals, the areas that you'd like to target, and how many treatments you may need to do in order to see the results you hope for. Dr Aesthetica is proud to offer laser hair removal using Splendor X by Lumenis. Thanks to new technology, laser hair removal treatment is now available for every skin type.