Natural beauty can often feel like a nebulous concept. Some people find it hard to define, and others can not quite put it into words. Maybe it's the no-makeup makeup look that's just right. Or the perfect glow you get when you leave your profhilo appointment.
Natural beauty can mean looking good without makeup (or filters), but it can also simply mean loving the skin you are in and taking care of it. You look at yourself in the mirror and embracing what you see is exactly how you are: nothing more, nothing less.
Yet, our outer appearance usually reflects what's going on the inside. When we are stressed, sleep-deprived, or have neglected our skincare, we often wear the outcome right on our faces.
On the other hand, you may have noticed that when you take the time to give yourself a little skincare and indulge in some self-love, it does your skin a world of good, boosts your confidence, and generally improves your mood.
It's so easy to fall into a slump and let self-care fall by the wayside, but trust us, it's worth it to stop and give yourself some love: buy that fancy mascara you've been eyeing, take up a stress-relieving activity, book a lunchtime a filler appointment for a dermal filler - whatever it takes for you!
Here are our 3 simple steps to enhance your natural beauty and fight the signs of ageing skin.
1. Be Cautious, Do Your Homework

There is too much generalisation in the cosmetics and beauty industry. Just because it works for your friend or that one Instagram blogger you follow does not mean it's right for you.
There are many times when a person uses the wrong products for their skin and for those products to end up doing more harm than good.
If you know which products are best suited for your skincare, you can get effectively address of various problems like premature ageing, acne, dryness and oily patches that cause your skin to lose that natural youthful glow.

However, there is only so much we can do to take care of our skin ourselves, and a lot of people get frustrated when their at-home methods do not produce the desired results. This is why professional skin care is so important when you are seeking a real improvement in the condition of your skin.
When you engage the services of a professional skincare expert, they can tell you things about your skin that you are simply unable to determine on your own.
For instance, many people believe that their skin falls into one of three categories: dry, oily or combination. The reality, however, is no two people have the same skin and will often call for specialized treatment.
What about anti-ageing? Same thing! Everyone's skin ages differently and therefore require a unique approach to address the issues, be it wrinkles, sagging skin, etc.
When you seek professional skin care, you can take the exact steps you need to maintain, enhance or restore your natural beauty. Obviously, all this comes down to actually choosing the right person to take care of your skin.
For people in Birmingham, UK and nearby towns, we encourage you to consider getting your skincare and beauty services at our aesthetics medical clinic.
At Dr. Aesthetica, we believe our philosophy and patient testimonials speak to our dedication and commitment to helping everyone who walks through our door achieve their skincare goals.

With that out of the way, the next two points are about two habits you should cultivate. These can never be stressed enough!
2. Catch Up On That Beauty Sleep

You may not consider sleep a part of your beauty routine, but this is essential. Not getting enough sleep is a surefire way to develop bags under your eyes and even breakouts, but it's also unhealthy for just about every system of the body.
The National Sleep Foundation recommends 7-9 hours of sleep for adults between the ages of 26-64 years old. Getting less than that for long stretches of time can affect our mental health, immune system, and even our skin.
Needless to say, that's not conducive to "natural beauty." Making sleep a priority is number one.
For extra credit, here are some sleep tips for enhancing your natural beauty:
Try to sleep on your back

If you sleep on your stomach or side, your skin will be pressed against the pillow for hours at a time, which can cause cyclic swelling and over time, accelerates the development of permanent glabellar lines (or more commonly forehead furrows ) as well as general facial wrinkles.
Not to mention the fact that pillowcases carry hordes of bacteria and germs, which is definitely bad news from an acne perspective.
The supine position is all around the best position to maintain the youthfulness of your skin.
Not only does it prevent wrinkles because there is no friction to cause creases, but it also prevents the skin from feeling the pressure of your face "folding" into the pillow.

When you sleep on your back, it is advisable to sleep with your head slightly elevated (20 to 30 degrees).
Propping your head with an extra pillow to prevent fluid from accumulating during sleep since your head and heart are no longer at the same level. This prevents puffy eyes in the morning.
What if you are not lucky enough to sleep naturally on your back? We recommend investing in some high-quality silk pillows.
About 99.9% of the population sleeps on cotton pillowcases. The problem with cotton is that it does not slip and the fabric constantly rubs and pulls on the delicate parts of the face and neck.
As we age, our skin becomes more fragile, less elastic and the "sleep wrinkles" take longer to disappear. They slowly but surely develop into permanent lines.
On the other hand, pillowcases made of a very soft, non-abrasive fabric like natural mulberry silk limit the friction of the fabric on the skin and minimise the appearance of sleep wrinkles. Moreover, the absorption rate of silk is only about 11% compared to 30% for cotton.
Therefore, it dehydrates the epidermis much less than cotton.

These two sleeping tips will help your skin look better, stay softer and, of course, maintain your natural beauty.
3. Hydrate and Hydrate Some More

When we say hydrate, we mean that from within and from the outside. You may be tired of hearing it, but the truth is that you probably should be drinking more water than you are.
Research shows that skin loses elasticity and feels rough when the outermost layer of the epidermis does not have enough water. Water keeps your body hydrated and refreshed and helps maintain your skin's elasticity.
People who drink enough water are less likely to suffer from acne scars, wrinkles and fine lines and show fewer signs of ageing than people who drink little amounts of water.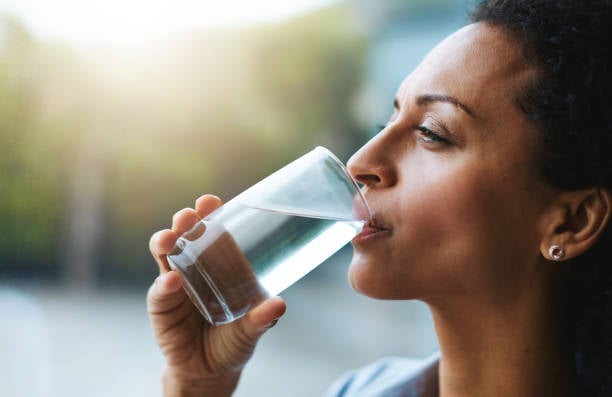 But that's not all! You should also hydrate externally with products that support your skin's natural moisture levels, such as HydraDew by AlumierMD.
This intensely hydrating night cream nourishes and improves skin texture with soothing and moisturising ingredients such as sodium hyaluronate, shea butter, aloe and niacinamide.
Highly effective peptides firm and strengthen the skin, reducing the appearance of fine lines and wrinkles, while antioxidants protect against free radical damage.
You'll see an instant glow after just one application, and over time these results will become permanent.
For people who want to take skin hydration to the next level, the Profhilo is just what you need.
Profhilo has become one of the most popular and trusted treatments on the market in recent years. It is the first BDDE-free, stabilised injectable that offers one of the highest concentrations of hyaluronic acid on the market.
Because Profhilo is made from pure hyaluronic acid with no chemical additives, it is extremely safe and un-reactive, with negligible downtime and side effects.

Profhilo works by slowly releasing hyaluronic acid over 2 treatment sessions (4 weeks apart), gradually hydrating and improving the elasticity of the skin. Just 1 to 2 weeks after treatment, you may notice that your skin is more hydrated and has more tone.
An improvement in fine lines and a tightening of the skin occur over the course of 4 weeks, with the best results being seen from 8 weeks onwards. These anti-ageing effects can usually last 9 months or longer.
You can learn more about this powerhouse treatment here.
Enhancing Your Natural Beauty At Any Age
The reality is that as we get older we have to work even harder to maintain our natural beauty or bring out our best features. Regular skin care, getting enough sleep, and drinking enough water is the foundation.

The benefits you reap from these steps go far beyond " skin deep," affecting your hormones, immune system and pretty much everything in between.

What's more, professional skin care treatments have now become a staple in skincare. Long gone are the days when Botox and fillers were frowned upon.
Even if you are not interested in injections, the realm of non-surgical cosmetic treatment goes beyond that. There are now excellent treatments like radiofrequency skin tightening and micro-needling that are just as effective.
Whatever your skin concern, be it enhancing your natural beauty or something else, there is definitely something for you. Fill out a consultation form here, or call us on 0121 769 0242. We will be happy to answer any questions you may have if you are considering getting a non-surgical cosmetic treatment.
And always remember that the ideal skincare regimen should not be one size fits all. It needs to be tailored to fit you and not the other way around.