Menopause is generally (and wrongly) seen as something that happens to "women of a certain age", causing them to constantly open the window to cool down or fan themselves with whatever is at hand. But it's precisely this kind of simplistic view that's led to menopause (which affects millions of women in the UK) not being given the serious attention it deserves.
Here are some stark statistics on menopause:
The average age for a woman to reach menopause in the UK is 51.
There are currently at least 5.87 million women in the UK of menopausal or premenopausal age (45-55).
Symptoms range from cognitive to physical to psychological. In total, at least 34 different symptoms are reported. And we haven't even taken into account the impact menopause has on the skin (more on that later).
Around 16,000 women were admitted to the hospital with menopause-related symptoms in England in 2019/20.
Around one in 100 women will go through menopause before the age of 40. In a few exceptional cases, women can go through menopause in their 30s or even earlier.
About two-thirds of women say there's a general lack of support and understanding around the topic of menopause. Almost half of menopausal women say they feel depressed. One-third of women say they suffer from anxiety.
Perfect Skincare Routine? I Don't Think So!
By the time you get to your 50s, you've probably figured out your skincare and dealt with all sorts of curveballs, thrown your way.
Change of weather or season? No problem! What about the occasional skin flare-up or breakouts due to your period. Been there, done that! Your skin doesn't glow like it used to? My bathroom cabinet is probably choke-full of the latest skin brightening creams.
But then you find yourself saying:
"I thought I had my anti-ageing routine locked down. Now I don't even know what's going on!" Sadly, this is a common complaint I hear from my female patients at my Birmingham-based medical aesthetics clinic.
All the skincare tips and tricks that have worked for them over the years don't seem to be so effective anymore. Truth be told, we don't have to look far to find the culprit.
It's often due to menopause. There are few things in a woman's life that will take her skin on a roller coaster as menopause.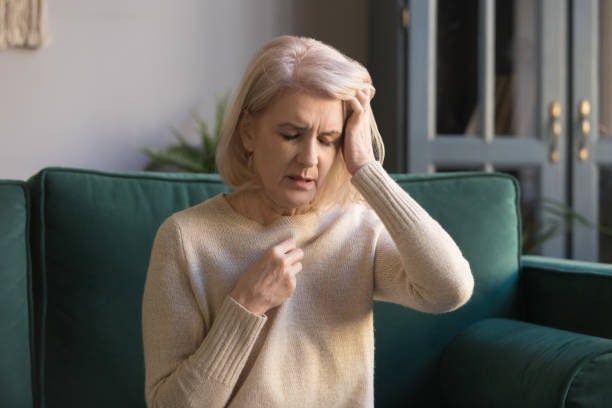 Ultimately, that means it might be time for some simple (or radical) adjustments to your home skincare routine. But it's easier said than done because menopausal hormonal skincare often requires some pretty specific solutions.
But not to worry.
We'll show you how to best care for your skin during menopause in two simple steps.
2 Impactful Changes You Can Make Today
1. Incorporate Hyaluronic Acid Products
At Dr Aesthetica, we inject hyaluronic acid into the deeper layers of the skin to restore lost volume. Still, it can work wonders for rejuvenation and hydration when applied topically.
This is because your skin's level of hyaluronic acid (HA) decreases after menopause. So if you want to maintain your moisture barrier and ramp up hydration levels, you should include products based on HA in your daily skincare routine. Hyaluronic acid can hold a staggering 1,000 times its own weight in water. It draws in moisture, making it perfect for hydrating the skin and giving it a youthful glow. When it comes to moisturising the skin, very few products do it as well as a quality hyaluronic acid serum.
Hyaluronic acid serums are best applied to slightly damp skin before applying other products, locking in moisture with your prefered moisturiser or cream.
Related: Secret to Layering Skincare Products
When you apply a hyaluronic acid serum to your skin, you'll notice an immediate difference in the hydration levels. Your skin will feel softer, smoother and plumper. In the long term, you'll see a reduction in the appearance of fine lines and wrinkles.
If you have dry skin, you'll notice that your skin is better able to retain moisture and is less prone to dryness and flakiness. For those with oily skin, you may find that your skin becomes less oily, and there are fewer breakouts. Regardless of your skin type, you'll notice that your overall skin texture and tone will improve.
Our Recommended Hylauronic Acid Serums
2. Incorporate Microneedling Sessions (with Stem Cell Growth Factors)
When women go through menopause, the drop in oestrogen greatly reduces collagen and elastin production, making the skin thinner, more prone to drying out and more likely to sag (this is particularly noticeable on the cheekbones and jawline). The skin also becomes less supple and more likely to show wrinkles and age spots.
*In case you missed it, we wrote a whole post about 7 different ways menopause can affect your skin. In this post, we go into more detail about why and how your skin changes during menopause.
If you want to reverse some of the negative effects of menopause on your skin, stem cell microneedling is one of the best options available today.
And why is that?
Microneedling has been proven by countless studies to directly boost collagen production, which has been compromised by the drop in oestrogen. Micro-needling is great on its own, but when you add stem cells, the positive effects of this treatment are doubled.
Stem cell growth factors are a unique ingredient that not only helps restore the skin's moisture barrier but also restore its optimal function so it can better respond to everyday environmental stressors. Stem cells also reinforce the architecture of the skin and redefine the skin by helping to strengthen the collagen and elastin structure.

While you can apply growth factors on their own, they are best combined with a microneedling treatment.

The microneedling process allows for immediate epidermal delivery of stem cells to the skin. The thousands of micro-channels created directly in the epidermis during a microneedling treatment ensure that any active ingredients applied to the skin can penetrate the epidermis immediately.
Then the growth factor's own delivery systems take over, working the active ingredients into the deeper skin layer. As a result, the products not only deliver cumulative, long-lasting, skin-remodelling results but also enable a dramatic immediate effect.