Often the terms dry skin and dehydrated skin are used interchangeably. But do they really mean the same thing? Well, yes and no. While dehydrated skin often appears dry, it's not the same as having dry skin. Your skin can be both dry and dehydrated. Even worse - you could have an oily skin type and be dehydrated! Confused? Let's take a closer look because it will make a big difference in your approach to treating your skin.
What Is Dehydrated Skin?
Dehydrated skin is a skin condition that occurs when there's a lack of enough water in the skin. This is not a permanent condition and is largely caused by weather and seasonal changes, inadequate water intake, and lifestyle choices (e.g. excessive alcohol consumption). All of these factors deplete your skin's water content, resulting in a less supple appearance.
Signs Your Skin Is Dehydrated
To tell if your skin is dehydrated, you can use the 'skin pinch test'. Gently pinch one of your cheeks and see if it wrinkles or holds its shape. If the skin forms fine lines or takes longer than usual to bounce back, it could be a sign of dehydration.
Other common signs of skin dehydration to watch out for include:
Itchy skin is often one of the first signs of dehydrated skin.
When your skin is dehydrated, you likely also have compromised skin cell turnover, which results in a dull skin appearance.
You may also notice a network of fine, triangular lines all connected together. These are different from the typical wrinkles.
Dehydration is a common culprit behind sunken or dark skin around the eyes.
Depletion of the skin's natural moisture barrier makes it more sensitive and susceptible to irritants like wind, smoke, and other pollutants.
When the skin is dehydrated, it often tends to produce more oil to compensate for the lack of hydration,.which is why dehydrated skin can be easily mistaken for oily skin. Yet, this only exacerbates other conditions like acne breakouts.
How To Treat Dehydrated Skin
While dehydrated skin can be a nuisance, it's relatively easy to treat with the right lifestyle changes.
Drink more water. You can add a sprig of mint and a slice of lemon to spruce it up. Fancy something hot during the cold weather? Go for a mug of hot water, ginger, and lemon.
Take more fruits and vegetables. Research suggests we can get 20 to 25 per cent of our daily water intake through food.
Minimise intake of alcohol and nicotine, which are two of the worst offenders for dehydrated skin. Both compromise your skin's health by depleting its water content.
Treat dehydration topically with a Hyaluronic acid-based moisturiser or serum. I recommend AlumierMD Ultimate Boost Serum which you can pick up our clinic or order online from our VIP portal.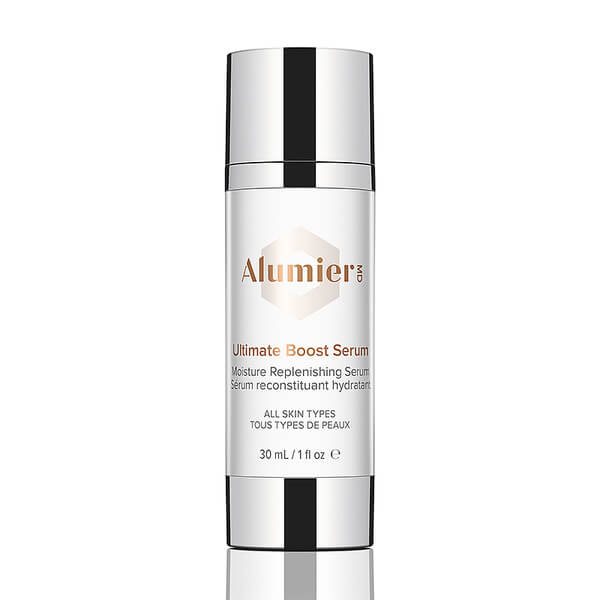 A point to note, using the wrong treatment on dehydrated or dry skin will only make things worse. If your skin is showing any signs of dehydration, you're not sure how to handle it; get in touch with our skin specialist for a proper diagnosis and a personalised treatment plan.
What Is Dry Skin?
Dry skin is a skin type that's characterised by a lack of natural oils (also called sebum) in the skin.
Unlike dehydrated skin, water isn't the issue. Your sebaceous glands don't produce enough lipids when you have a dry skin type. Also, dry skin is largely a product of genetics i.e. you are born with a specific skin type—generally categorised into dry, oily, normal or combination skin.
Nevertheless, it can also be triggered by the ageing process, underlying health conditions, season or lifestyle changes. For example, as we get older, we experience a drop in the production of hyaluronic acid— the skin's natural moisturiser. This can be the onset of dry skin in people who previously had a different skin type.
Signs Your Skin Is Dry
So how can you tell if you have dry skin? One of the easiest ways is to do a 'blotting test'. Thirty minutes after cleansing your face, gently pat a tissue or blotting paper to your cheek. Hold up the sheet to light. If you see no oil and your skin feels tight, you have dry skin.
Here are a few more symptoms of dry skin:
At times, dry skin can appear flat and dull due to the lack of natural oils or sebum on the skin.
When the skin is dry, it often starts to flake and may feel rough to the touch.
Sebum transports antioxidants, such as vitamin E, to the skin's surface. This action offers a protective skin barrier and helps prevent oxidative skin damage. If your skin is dry, it can become prone to irritation and redness.
Sebum locks in moisture. So dry skin with minimal oils tends to lose a lot of moisture. Consequently, dry skin is more prone to become loose and wrinkly as a person gets older.
How To Combat Dry Skin
Dry skin is often a lifelong condition that can't be fully eliminated. That said, there's a lot of things you can do to alleviate most of the symptoms.
A thick, emollient moisturiser will create a protective seal on the surface of the skin and help lock in the moisture. I recommend AlumierMD Essentials Kit for Dry Skin.
Use mild, gentle soaps or cleansers. Avoid deodorant soaps that tend to have a drying effect and will only worsen the symptoms. I recommend SensiCalm Cleanser for those with sensitive and redness-prone skin and HydraBoost Cream Cleanser if you suffer from extra dry skin. You can order either on our online store.
Winter Skin: A Common Enemy of Dry or Dehydrated Skin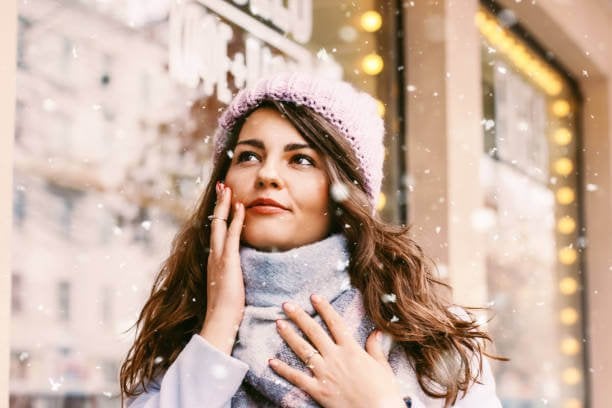 December, January and February are the coldest months in the UK. While most of us appreciate the holiday season, winter traditions, cosy sweaters, and hot chocolate, there's one major let-down--the havoc it can wreck on our skins!
During winter, it's naturally less humid due to the environment and abrasive conditions, like the wind. Indoor factors like central heating can also decrease the moisture level of the air.
The less moisture in the air, the more moisture will evaporate from your skin. For that reason, our skins become more prone to dehydration. If that's not bad enough, the adverse symptoms people with dry skin type experience get amplified!
Automatically, the skincare routine you used year-round will probably no longer work so well. But not to worry, here are 5 expert-backed winter skincare hacks.
Use a humidifier to keep the humidity at an ideal level (about 40-60%). This will help protect your skin from dehydration when you're indoors.
Lips and the skin under the eyes can get extremely dry in the winter, as this skin is thinner and constantly exposed to the elements. I recommend AluminEye, which you can pick up in person from our clinic or order online from our VIP portal. Also, get a good lip balm to rehydrate and protect your lips on the go.
Drink lots of water. Yes, I have to remind you of this again as many people forget to drink water when it's cold out. Just because you are not sweating as much does mean your skin won't get dehydrated.
Don't skimp on hand care and generously moisturise your hands throughout the day. If you've read our post on why many people complain about their hands ageing prematurely, you'll understand why hand care is crucial during winter.
If there's one non-surgical in-office skincare treatment I would recommend everyone gets during winter is Profhilo. This one of a kind injectable treatment has an incredible capability to provide intense hydration to the skin. Profhilo has a high concentration of ultra-pure, natural Hyaluronic Acid, which is stabilised without the addition of chemical cross-linking agents. This significantly reduces the risk of adverse reactions, making it one of the safest professional treatments you can get.