The ageing process is unavoidable. But that doesn't mean you can's slow it down. If you are an avid reader of our skin antiageing content, you probably know this is one of our favourite phrases. And it's true.
With researchers rapidly making inroads into the skin ageing conundrum, cosmetic treatments for all skin concerns are only getting better. From wrinkles to sagging skin, long gone are the days when the only option was going under the knife. The focus of today's post is the latter. How do you firm up sagging skin? The short answer is: it depends on your end goal. The long answer? Let's find out together!
The Different Ways You Can Tighten Sagging Skin
What exactly causes sagging skin? While this is a question we hear a lot here at Dr Aesthetica, it's not the focus of this post. We go in-depth into the science behind sagging skin here.
For now, let's answer an even more frequently asked question: how do you tackle skin laxity?
As I've already mentioned, you'll come across plenty of skin tightening tactics online. You've probably heard of some of the ones we will talk about. There are more out there that seem to pop out of nowhere every day!
That said, we've limited ourselves to mainstream options. Why? Because these are verified by many clinical studies and medical reviews. Does that make them the best? Not necessarily.
However, since they have been researched thoroughly, you know 100% upfront what to expect. That's very important with cosmetic treatments!
We have also classified them on a scale from the ones with the mildest effect to the more drastic ones. Quick disclaimer: Every person's skin is unique, so is the approach they need to take (another one of our favourite phrases).
Enough said! Here's the lowdown of some of the most popular skin tightening methods.
Subtle (if any) Skin Tightening Effect
Skin-firming creams
Go to your favourite search engine search bar, input "the best firming cream" and press enter. I bet it won't take more than five minutes before you start feeling overwhelmed as you scroll through the different pages.
While I'm a firm believer in the transformative powers of amazing skincare, a few of the claims made by some of the brands out there are borderline snake oil.
Firming body products help "firm" the appearance of the skin. How taut they will make your sagging skin is subtle at best. It's also possible that you won't see any results. If you see an immediate tightening effect, it's probably due to the moisturizing element of the product.
A good moisturizer can plump up your skin, making fine lines and wrinkles less noticeable. However, such benefits are temporary. (Speaking of which, if your goal is to hydrate your skin, your best bet is the formidable skin remodelling treatment Profhilo.)
Also, to continue seeing any benefits with a firming cream, you probably need to apply the product every day. Not necessarily a bad thing if only the results were substantial.
So why are firming creams so limited in their skin lifting power?
The molecules in most skin-firming lotions are not small enough to pass through the dermis and cause change to the underlying skin muscular structure.
Not to seem like I'm berating firming creams, they are still a good addition to any skin firming arsenal. While they aren't going to transform your skin overnight, find a quality one and give it time. With daily use, you'll see a difference in the upper layers of skin. That's better than not doing anything!
Another alternative is skin firming exercise. We share a couple of exercises you can try on this feature about turkey neck eradication.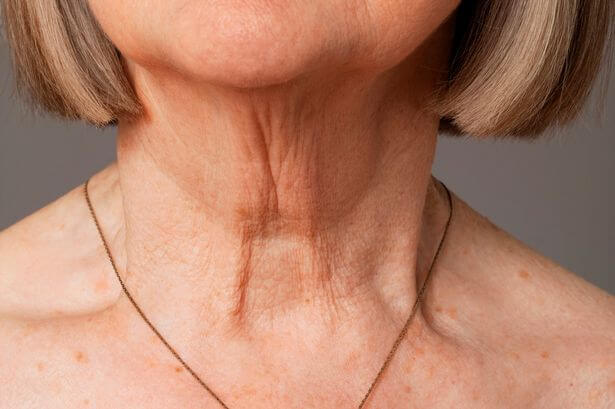 Modest Skin Lifting
Collagen Stimulating Fillers
As the demand for innovative anti-ageing treatments continues to rise, injectable fillers have become the go-to, quick and safe non-surgical alternative to cosmetic surgery.
Here at Dr Aesthetica, we primarily stick to Hyaluronic Acid fillers due to the fantastic result and the fact they are reversible with Hyaluronidase.
That said, we do understand that some patients are looking for something different from dermal fillers. After all, we did say that one of our favourite phrases is that every person's skin needs are unique!
Instead of adding volume to the skin, collagen-stimulating fillers focus on inducing the production of new collagen in the skin. Hence their alternative name-- bio stimulators.
These products contain ingredients that stimulate the body's natural collagen production process to restore firm and youthful skin. Common examples include Poly-L-lactic acid (PLLA) Fillers and Calcium Hydroxylapatite (CaHA) Fillers.
But there's a caveat: the result is modest and very gradual, occurring over many months. Also, the results of collagen-stimulating injections are not reversible. Even if you don't like the outcome, you have to wait for your body to break down and absorb the filler.
Related: Is Intraline a Good Filler? Everything You Need to Know about this Dermal Filler Brand
Microneedling or Collagen Induction Therapy with SkinPen
This collagen-inducing treatment is an excellent option for tackling skin laxity head-on.
This minimally invasive cosmetic procedure creates thousands of precise micro-injuries to the dermis. Don't worry; it's not as painful as it sounds!
The purpose of treatment is to stimulate the body's self-healing mechanism, reinvigorate cell turnover and generate new collagen for smoother, firmer, more toned skin.
Microneedling goes beyond firming up sagging skin. It's also effective in reducing the appearance of skin issues, such as:
Acne scars
Enlarged pores
Fine lines and wrinkles
Rough skin texture
Sun-damaged skin
Hyperpigmentation
For our Microneedling Collagen Induction Therapy treatments, we use SkinPen® Precision, the latest advancement in microneedling technology. It is the only FDA-approved microneedling device on the market. With Skinpen, your skin will heal smoothly without the risk of scar formation.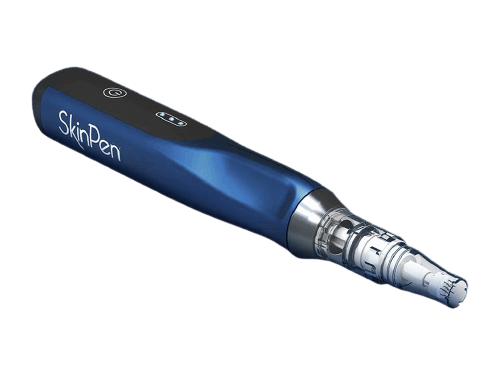 Following microneedling, we may recommend a supplemental treatment with Stem cell growth factor (SCGF).
As we've already mentioned, one of the limitations of framing creams is their inability to penetrate the skin's barrier. Applying a serum, vitamin infusion or straight after a microneedling overcomes this limitation. It allows the growth factors to penetrate deeper into the skin.
The purpose of growth factors is to act as a healing agent as well as amplify everything microneedling is meant to accomplish.
Related: 4 Top Ways To Boost Collagen Levels in Your Skin
Most Skin Tightening (without surgery)
Radiofrequency (RF) Skin Tightening
Radiofrequency has quickly been gaining prominence in the non-surgical cosmetic industry. 
Rather than trying to be a 'jack of all trades' and address multiple skin concerns, radiofrequency has a singular focus--tightening the skin on the face and body.
This makes radiofrequency the No.1 skin tightening treatment on this list for several reasons:
RF can be used to treat the entire body – all the most common areas of lax or sagging skin can generally be treated by RF. From under eyes to jowls and neck, décolleté to upper arms, abdomen to thighs and more!
It's painless and non-invasive – making it a great alternative to invasive surgery. There is also no downtime required post-treatment. Clients can get on with their day as usual.
Results are satisfying. You will notice an instant improvement in your skin after an RF treatment, and the results only get better with time.
How does this skin tightening treatment work?
RF treatments emit energy waves to heat the deepest layers of the skin (the dermis). The result-- your body releases heat-shock proteins that kick your body's collagen production into overdrive. And since collagen (along with elastin) is the protein that gives your tissues and skin its strength, structure, and elasticity, it can promote tighter, younger-looking skin.
Laser Resurfacing
Laser resurfacing treatments have also gained popularity. Two specific types of lasers -- carbon dioxide and erbium: YAG -- belong to the category known as ablative lasers. These lasers literary burn through the epidermis and into the dermis, encouraging new tissue growth and collagen synthesis. While it's very effective and requires only one session, this option is painful, poses an increased risk of complication, and requires substantial aftercare and recovery period.
Totally understandable why this is unacceptable for the majority of patients!
Yet, as we mentioned in the introduction, cosmetic technology has grown in bounds and leaps.
The first is fractioned ablative lasers which can be used in microscopic areas of the skin while leaving other areas untouched. This results in fewer side effects while still reaping the benefit of visible improvements in skin laxity. This procedure also allows you to recover more quickly than a traditional ablative laser.
We've recently seen the development of nonablative lasers, which stimulate collagen and elastin production in the dermal layer without disruption to the epidermis.
For fractionated ablative and nonablative laser, you should start seeing improvements in your appearance within about a month or so. However, it could take up to six months before you see the full results. Also, a series of treatment sessions may be necessary to achieve the desired results.
Non-Surgical Skin Tightening With Dr Aesthetica
If you have further questions about any of these non-surgical skin tightening treatments, we encourage you to schedule an appointment with Dr Aesthetica in Birmingham. Our friendly staff are more than ready to answer any questions you might have. Please use our convenient online booking platform today to book a consultation.