It's no secret that filler-dissolving procedures are becoming more common among patients in the United Kingdom. This can largely be attributed to the influence of celebrities and social media influencers who have been open about their experiences with fillers and the process of having them dissolved.
One reason for this increased demand is due to potential complications such as overfilling or migration of the filler. These can arise when inexperienced practitioners administer fillers. In such cases, patients may seek out filler dissolving procedures to correct any issues or complications that may have arisen.
But another reason for this shift in attitude towards fillers is due to changing trends and preferences among clients. People's desires and expectations when it comes to facial aesthetics are constantly evolving, and as a result, some patients are now seeking a more natural look and are steering away from excessive volumisation of the face.
Instead, treatments like Profhilo and NuEra Tight are gaining popularity as patients seek out more subtle and natural-looking results.
Overall, it's clear that there are a variety of factors driving the increase in demand for filler dissolving procedures, from concerns over complications to changing trends and preferences among patients.
Whatever the reason, it is important that patients understand the process to achieve the best possible outcomes for their individual needs and goals.
Can all fillers be dissolved?
When it comes to dermal fillers, not all of them can be dissolved. Some fillers are designed to be long-lasting or permanent, and as a result, they are not meant to be reversible. For instance, silicone fillers and certain semi-permanent fillers like Sculptra and Radiesse cannot be dissolved.
Related: Comparing all types of filers
The reason for this is twofold. First, some fillers are designed to stimulate collagen production in the skin, which means that they need time to work and are intended to be a longer-lasting solution.
Second, there are no known enzymes or chemicals that can break down these types of fillers.
On the other hand, temporary fillers made from hyaluronic acid (HA) can be easily dissolved. This is because HA fillers are designed to be a short-term solution and will naturally break down in the body over time.
It is important to note that the ability to dissolve a filler is an essential consideration when choosing the right type of filler for your needs. If you are interested in a temporary solution, a HA filler might be the best choice for you.
However, if you are looking for a longer-lasting solution, you may want to consider a semi-permanent or permanent filler that cannot be dissolved.
What is the process of dissolving fillers?
If you're considering having your filler dissolved, it's important to understand the process involved. Typically, the first step is a consultation with a qualified practitioner, who will aim to understand your reasons for wanting the filler dissolved and explore different options that may be available to you.
During the consultation, the practitioner may ask questions such as why you're unhappy with the filler, how long ago it was injected, and what you hope to achieve by having it dissolved. It's important to be honest and open with your practitioner. This will help them determine the best course of action for your unique situation.
If it's decided that filler dissolution is the best option for you, the procedure will typically start with the application of numbing cream to the area being treated.
This helps to minimize any discomfort you may feel during the injection process. The next step is to use, Hyalase is a specific product that contains hyaluronidase.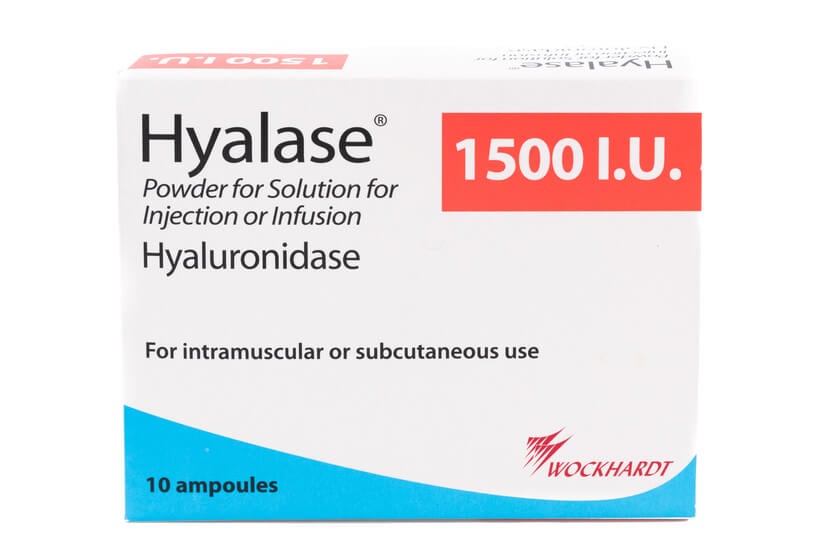 Before the hyaluronidase is injected, a skin prick test may be performed to check for any risk of allergy. If there is no allergic response, hyaluronidase will be injected into the desired area.
The hyaluronidase works by breaking down the hyaluronic acid molecules in the filler, causing it to dissolve. Over time, the dissolved filler is reabsorbed by the body.
It's important to note that the process of filler dissolution can vary depending on factors such as the type and amount of filler used, as well as individual differences in how the body responds to hyaluronidase.
As such, it's crucial to have the procedure performed by a qualified and experienced practitioner to ensure the best possible outcome.
Will my skin look deflated after the filler is dissolved?
When it comes to dermal fillers, one of the concerns that patients have is what will happen to their skin once the filler is dissolved. The good news is that in general, the skin should return to its previous appearance once the filler is dissolved. However, there are some factors that can affect how your skin reacts to the dissolving process.
One of the most significant factors is how long you've had the filler. The longer the filler has been in place, the more likely it is that your skin won't snap back as quickly once the filler is dissolved.
This is because, over time, the filler can stretch out the skin, and it may take some time for the skin to regain its elasticity.
In the case of the lips, it's essential to note that they are particularly prone to stretching out with filler use. If you've had filler in your lips for a long time, there may be some deflation or loss of volume once the filler is dissolved.
However, this doesn't mean that your lips will look deflated permanently. Instead, your lips may need to be refilled gently to restore their natural volume.
It's important to work with a skilled and experienced injector who can help you understand the risks and benefits of using fillers and guide you through the process of dissolving them.
Your injector can also recommend other treatments, such as Radiofrequency skin tightening, that may help you achieve your desired results if your skin doesn't snap back as quickly as you'd like after filler removal.
Are there downsides to dissolving fillers?
Dissolving fillers with hyaluronidase can be an effective way to address issues with previously injected fillers, but like any medical procedure, it is not without potential downsides.
While the procedure is generally safe, there may be some temporary redness, swelling, and bruising at the injection site. Additionally, there is a risk of allergic reaction to the dissolving agent, which is why a skin prick test is usually performed prior to treatment to minimize this risk.
One possible downside of the treatment is the potential for the hyaluronidase to break down some of the natural hyaluronic acid in the skin, which could cause some unevenness or puckering.
However, this can generally be avoided by using the correct concentrations and dilutions of the dissolving agent. If any natural hyaluronic acid is lost during the treatment, the body will naturally replace it over time.
In addition to the physical side effects, there may also be psychological side effects to consider. Some patients may find it difficult to adjust to changes in their appearance during the dissolving process.
This can be especially challenging for those who have become accustomed to their previous appearance and may require some patience and understanding from both the patient and the practitioner.
Overall, while there are some potential downsides to dissolving fillers with hyaluronidase, many patients find it to be a safe and effective solution for addressing issues with previously injected fillers.
As with any medical procedure, it's important to carefully consider the potential risks and benefits before deciding if it's the right choice for you.
To learn if you are a suitable candidate for filler dissolving or find out alternative options, call us at 0121 769 0242 or send an email to [email protected]. We're happy to answer any questions you may have. Don't hesitate to reach out – we're here to support you every step of the way!