Why Do We Lose Hair?
Hair loss is multifactorial; we lose hair due to:
Natural ageing of the scalp tissue
Nutrient deficiencies
Non-professional hair product chemicals
Pollution
Diet & Nutrition
The scientific community acknowledges that the main factor of hair loss is a hereditary imbalanced hormonal activity in our hair follicles. To phrase it in simple English – our genes.
Although you should point the blame finger towards one hormone called: Dihydrotestosterone, or DHT.
The Role of DHT in Hair Loss
DHT (dihydrotestosterone) is a hormone that comes from testosterone, it is present in both men and women but it is more prevalent in men - which explains why male baldness is more common. It helps develop male sexual characteristics, such as body hair growth, deepening of the voice, and increased muscle mass, but, it is also the hormone responsible for androgenic alopecia (male pattern baldness).
DHT binds to hair follicles on the scalp and causes them to shrink, which can lead to hair thinning and eventually hair loss. This is called miniaturization, and it can affect both the growth phase and the thickness of the hair.
As DHT binds to the hair follicles, it shortens the growth phase of the hair, known as the anagen phase. This results in shorter, thinner hair that is more prone to falling out. Additionally, it can also reduce the size and thickness of the hair follicles, which accelerates hair thinning and hair loss.
This article was read and reviewed by the face of DR Aesthetica himself - DR Baldeep Farmah.
Microneedling for Hair Loss Treatment
The same process of creating wounds in the skin is also thought to regenerate the health of the hair follicles. It's thought that this can result in new hair growth, or it may thicken thinning hair as seen in androgenic alopecia or male pattern baldness.
It's thought that Microneedling for hair loss can also help induce stem cells in the hair follicles which may lead to hair growth.
A study in Mumbai on 100 men even showed men who used Microneedling in conjunction with minoxidil resulted in greater hair count changes and patient satisfaction. Even Eight months after the study participants still showed positive results.
Microneedling could also help promote the absorption of products into your hair, such as:
Minoxidil (Rogaine)
Topical steroid's
Platelet rich plasma's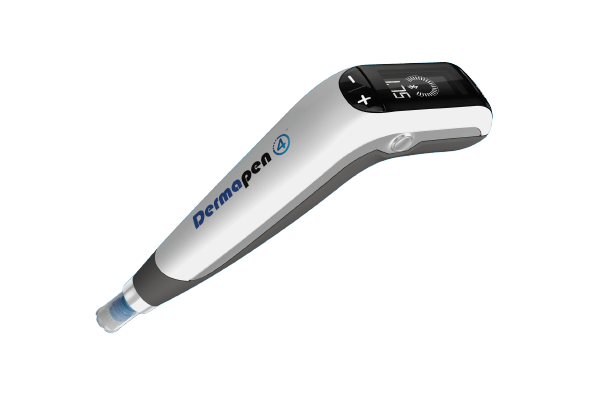 How Microneedling for Hair Loss Works?
Microneedling involves the use of a skin roller with small needles that causes minor skin injuries.
Before the treatment begins, your aesthetician or healthcare provider will apply numbing cream to the area which is about to be treated.
The treatment itself will take between 30 - 60 minutes.
If you want to get a more in-depth look into the process of Microneedling click here.
Side Effects of Microneedling for Hair Loss
Side effects include:
Bruising
Oozing from the wounds
Redness
Swelling
Pain
Microneedling Near Me
If you live in Birmingham feel free to talk to us about a Microneedling treatment, if you're looking to :
Reduce the appearance of stretch marks, pitting and acne
Reduce fine lines
Even skin tone and decrease hyperpigmentation
And Have glowing self esteem
If this is you a stem cell Microneedling treatment may be for you, all of the above can be achieved with Microneedling. Additionally Microneedling:
Takes only 30-60 minutes
Has results which last up to 200 days
Is done with anaesthetic for a painless treatment
Has a downtime of only 24 hours
Feel free to contact us about Microneedling or to view more information on this procedure click here: