The ageing process is unavoidable. Hopefully, one day, we'll invent an age-reversal machine that allows us to appear younger automatically. Until then, we have to settle for the second-best option—anti-ageing cosmetic treatments. And we don't mean cosmetic surgery—far from it! 
Recent research shows that non -surgical cosmetic treatments have surpassed their surgical counterparts in popularity across the globe.
Despite the surging demand for minimally invasive treatments, you shouldn't wrongly assume that every procedure that promises to correct telltale signs of ageing is ideal for you. Which one do you choose? In this article, we've narrowed our focus to only two-- Dermal Fillers and PDO Threads -- and compared their characteristics.
Must read:
This isn't a one-size-fits-all competition. You'll need to decide which factors matter most to you, and from that, you can choose which treatment you want to get.
And with that, let's dive in.
Filler vs Thread Lift: Aesthetics Goals
Facial fillers are designed to restore volume to specific problem areas of your face and diminish the appearance of wrinkles and fine lines, creating smoother, youthful-looking skin. Thanks to the outstanding breakthroughs in facial filler technology, different dermal fillers can now be tailored to give distinct outcomes.
Thread lifts tighten the skin and produce a subtle but visible "lift" on the entire face, creating a more youthful appearance. The threads also induce the body's "healing response", which encourages new collagen in the skin. This is a good thing because low collagen production is a significant contributor to ageing.
There's no outright winner here as it really depends on your individual aesthetic goals. If you want most of the benefits of a surgical facelift minus the months of downtime, thread lifts are a good option. If you have a single or a few areas of concern (thin lips, sagging jowls, sunken cheeks etc.), dermal fillers are a terrific option.
Winner: Tie
Filler vs Thread Lift: Treatment Duration
Dermal filler treatments are simple and usually take between 10 and 30 minutes, depending on the area being treated. A skilled facial filler injector can complete most filler procedures in less than 20 minutes.
PDO thread lift is a relatively more complex and intricate procedure. It may take up to one hour to complete the treatment. This is because the threads have to be shaped and moulded underneath the skin before being pulled back and tightened.
Winner: Dermal Filler
Filler vs Thread Lift: Risks and Complications
Dermal fillers have a proven safety record, and severe complications are uncommon. That said, in some rare cases, the filler has accidentally been injected into the blood vessels.
In a worst-case scenario, this could block blood flow (vascular occlusion) and lead to tissue death or even blindness if the treatment area was around the eyes. In the event of a complication, hyaluronic acid fillers can be dissolved using Hyaluronidase.
PDO thread lift is considered a low-risk procedure. It uses bio-absorbable threads, which are eventually broken down by the body. There is minimal risk of scarring, bleeding or other severe complications after having a thread lift.
In rare cases, patients may experience irritation, infection or their sutures becoming visible under their skin. However, if this occurs, the sutures can simply be removed, and the patient's face will return to its initial state.
Like any non-surgical cosmetic treatment, finding a trained, licensed provider is the key to a safe, effective thread lift or dermal filler procedure.
Winner: PDO Thread Lifts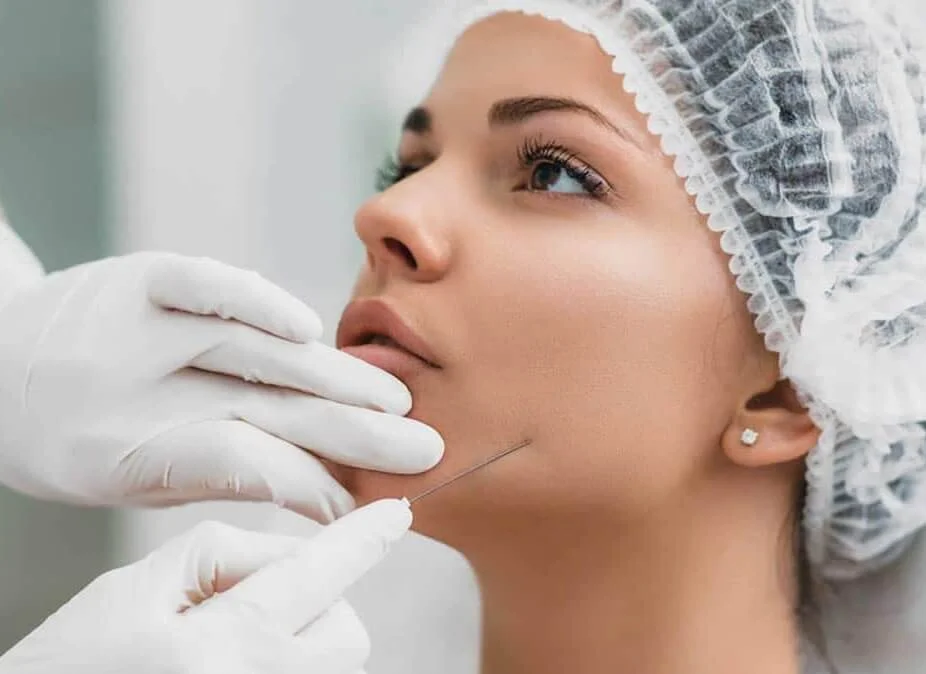 Filler vs Thread Lift: Pain Levels
Most patients equate the temporary discomfort of facial filler injections to a rubber band snap or bug bite. Many dermal filler products also contain lidocaine, a mild pain-numbing agent to reduce the discomfort further. If you have really high pain sensitivity, you can request your injector for a topical anaesthetic during the treatment.
PDO thread lift is relatively more invasive than fillers. So the pain level will be slightly higher. This is why the procedure is performed with a local anaesthetic. Even then, many patients report experiencing pain. Discomfort is generally greatest at the beginning of the procedure when the anaesthesia is being administered and in some cases after the procedure when it wears off.
Winner: Dermal Filler
Filler vs Thread Lift: Expected Downtime
After a dermal filler procedure, the majority of patients resume their routine activities right away. Swelling, redness and bruising may develop on the injection sites, although these usually go away within a few days.
During this time, avoid strenuous activities like swimming or intense workouts should be avoided. Find details on how to ensure you have the best recovery below.
Read: 10 Essential Aftercare Tips for Lip Filler Treatment
While patients can resume most activities after a thread lift procedure, they still have to take some precautions. This often means avoiding some routine activities during the first few weeks.
For example, you should sleep with your head propped up to avoid dislodging the suture. You also need to avoid intense facial expressions.
Both treatments have minimal downtime but, the aftercare requirements for thread lifts are generally more restricting than those for dermal fillers.
Winner: Dermal Filler
Filler vs Thread Lifts: Immediacy of Results
Following a dermal filler procedure, expect to see immediate results. The anti-ageing effects will continue to improve over the next two weeks as the filler settles and any swelling subsides.
Once your thread lift procedure is complete, you'll notice initial firming right away, thanks to the subtle but physical "lift" that the PDO threads provide. Results continue to improve over the next several months.
Generally, the results of dermal fillers are more immediate, while those of a PDO thread lift is fully visible when the body starts generating new collagen. This can make it more challenging to know if you've achieved the desired results the first time around.
Winner: Dermal Filler
Filler vs Thread Lift: Longevity
Since most dermal fillers aren't permanent, you'll have to get follow up treatments if you love and want to keep the results following your procedure. The results can last for anywhere from six months to two years, depending on the type of filler you choose. For example, most hyaluronic acid fillers last 6-12 months as the body gradually breaks down the hyaluronic acid.
PDO thread lift effects typically last for 1-2 years. However, this is dependant upon the patient's age, lifestyle, skin type and how quickly their body breaks down the sutures. Also, 3- 6 months after your appointment, your results will get an extra boost as collagen production ramps up.
Winner: PDO Thread Lift
Filler vs Thread Lift: Cost
The cost of dermal fillers in the UK ranges from £200 to £1500. We have written an entire article on factors that influence dermal filler costs. You can read it here.
On the other hand, a PDO thread lift procedure can range from anywhere from £800-£2,400, depending on how many threads are needed.
Winner: Dermal Filler
So, Which Is Better Dermal Filler Or Thread Lift?
So, now, let's decide:
With the cosmetic industry experiencing new advancements every year, dermal fillers and thread lifts have only gotten safer and more effective. Both treatments can be ideal under different circumstances.
However, for the majority of our patients, dermal fillers are the preferred choice thanks to more immediate, predictable results, cost savings and reduced downtime.
Dermal fillers are also great if you have several areas of concern and the best part is not much filler needs to be administered to see aesthetic-pleasing results. Talk to us today to learn more about dermal filler treatments.