Most of us worry about our faces and necks showing the signs of ageing. To ensure that we look youthful, we wear make-up and get facials or even cosmetic facelifts. But what about other areas of our skin that can impact how we look as we age? This is especially true for our hands, which are often very telling of our actual age.
When you think about it, our hands are out there exposed to the elements 24/7.
They are often caught in back pockets or folded under armpits all throughout the day, the skin is constantly being tugged and pulled and squeezed.
Our hands are forever being abused, yet we tend to neglect them compared to the face or body.
For many of us, our hands are often a bit of an afterthought, lucky to see a bit of hand cream after the shower, or a pair of gloves in the winter.
Sometimes we cover them in cold weather, or we apply sunscreen to protect them and a moisturiser to keep them hydrated. But most of the time, our hands bear the brunt of our negligence.
Soon enough, the telltale signs of general ageing and/or sun damage start to show on our hands. They start to suffer a loss of tissue volume between the flexor tendons. Veins and tendons in the hands may become more prominent.
Wrinkles, spots, and a crepe-like texture may develop and our hands take up a bony and frail appearance. Sometimes they are covered in age spots or mottled with liver spots.
It comes as no surprise that many celebrities wear gloves and long sleeves to try to hide their hands at red carpet events.
Because their real hands are a different story. If you search for "celebrity wrinkled hands," you see that even the brightest stars of today will show signs of ageing and often more than their faces.
Is it the same for you? Have you noticed the aged appearance of your hands contrasts with your rejuvenated face
It does not have to be that way. Fortunately, there are ageing hand rejuvenation treatments that can make a significant, long-lasting difference, giving you more youthful hands with minimal effort.
For example, with hand fillers or a Profhilo injection for ageing hands, you get an amazing cosmetic treatment that instantly gives your hands a youthful appearance.
The results of these hand rejuvenation are impressive and long-lasting, and there is no real downtime.
More on that later.
For now, why do hands age the way they do?
Intrinsic Ageing
Ageing of the hands can be divided into two categories: intrinsic and extrinsic ageing.
Intrinsic ageing alters the deeper soft tissue planes, decreasing skin elasticity, soft tissue volume (dermal and fat atrophy), and dermal vascularity.
It inevitably occurs as a natural consequence of physiological changes that are largely determined by a person's genetic predisposition.
As the skin of our hands ages, it can become baggy and wrinkly.
Wrinkles usually start on the sides of the index fingers and around the base of the thumb and then spread across the hand. This is due to a loss of collagen.
In many cases, veins and tendons become more prominent as the soft tissue in the hands recedes and blood vessels become more visible through the thinner skin.
Also as your skin finds it harder to retain moisture and this can lead to dry, itchy skin.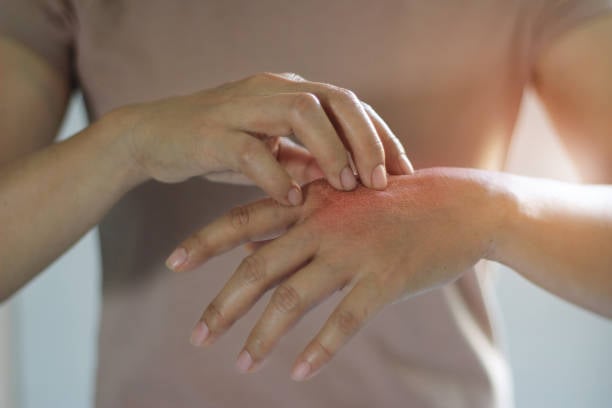 Extrinsic Ageing

Extrinsic factors include exposure to sunlight or nicotine, repetitive muscle movements, and lifestyle components such as diet, sleep position, and general health.
However, by far the two biggest external factors, both of which take a heavy toll on the skin, are smoking and exposure to UV light.
Smoking damages the skin primarily by reducing capillary blood flow to the skin, which in turn leads to a lack of oxygen and nutrients in the skin tissue.
Smokers have been shown to have fewer collagen and elastin fibres in the dermis, making the skin on their hands saggy, hardened and less elastic.
In addition, c-reactive protein is significantly higher in smokers. This substance can cause direct damage to collagen.
The effects of sunlight on the skin are profound and are estimated to be responsible for up to 90% of visible skin ageing. Sunlight is composed of three different types of radiation: UVC, UVB, and UVA. UVC (100-290 nm) is largely blocked by the ozone layer and has little effect on the skin. UVB (290-320 nm) only penetrates the epidermis and causes a sunburn within hours.
UVA requires a higher amount of radiation to cause sunburn, which is why it was long considered insignificant to skin damage. Today it is known that UVA, as it penetrates the dermis, may cause most of the chronic skin damage associated with photo-ageing.
Sunlight damages the skin across a spectrum of physiological processes, ultimately leading to an increase in matrix metalloproteinases (enzymes that degrade collagen and elastin, and other components of the skin's extracellular matrix).
The cumulative effect of repeated sun exposure eventually becomes visible to the naked eye in the form of sagging skin and wrinkles on the hands.
How To Treat Ageing Hands
There are a number of ways to restore the youthful appearance of the hands. Most hand rejuvenation treatments focus on extrinsic ageing by unifying pigmentation and skin resurfacing.
These treatments include topical acids, bleaching agents, microdermabrasion, chemical peels (light and medium peels) and intense pulse light treatments (IPL). However, some of these temporary treatments carry the risk of pigmentation and scarring.
More aggressive treatments like sclerotherapy and phlebectomy have been used to minimise the appearance of veins, but these may be unnecessary after volume restoration with hand fillers.
This is because hand volume restoration can address most signs of ageing. It has been shown to improve skin elasticity and reduce the appearance of wrinkles and protruding structures on the ageing hand.

Here we summarise the different dermal liners used to restore the youthful appearance of the hands.
Hand Fillers for Rejuvenating Ageing Hands
Before we look at hand fillers, let us briefly explain another method of restoring volume: autologous fat injection.
The method involves two steps: fat harvesting and fat injection. Fat harvesting, usually from the abdomen or thighs, is an invasive procedure that carries the risk of infection, bruising and scarring.
Fresh fat tissue is then injected into the patient's hands.
The goal is to help restore the tissue that so naturally depletes from your hands and create a more sculpted, natural look.
The downside is that there's the risk of the patient ending up with an uneven surface and the appearance of lumps after the treatment.

In addition, this procedure is very expensive and can cost 3-5 times the price of a hand filler.
Hand Fillers
There are several types of dermal fillers on the market, and they do not all offer the same results when it comes to rejuvenating ageing hands.
Collagen: In the past, collagen was often used as a dermal filler in non-surgical cosmetic treatments.
However, due to its consistency, lack of longevity and the resulting uneven skin surface, collagen has not proven successful in correcting the appearance of ageing hands.
Calcium hydroxyapatite (CaHA) is an inorganic component of bones and teeth that can also be used for soft tissue augmentation.
CaHA-based dermal fillers, such as Radiesse, combine high elasticity and viscosity with the ability to induce neocollagenesis (new collagen formation).
This ability allows CaHA to blend well with the skin and hide any protrusions of veins or tendons. The duration of hand volume restoration is 6 to 18 months..
Poly-L-lactic acid (PLLA) is a synthetic product that has been used for multiple medical applications such as surgical implants for the past 30 years.
The use of this product in rejuvenating ageing hands has already been documented to improve lost volume and stimulate collagen production.
Though PLLA treatment requires at least 3 separate injection sessions before patients start to see a difference. This can make it a costly option for some patients.
Hyaluronic Acid

Hyaluronic acid (HA) naturally found in the body is responsible for skin's hydration, biomechanical integrity and protection against oxidative stress.
Dermal fillers use cross-linked HA, which does not break down as quickly as native HA. Intradermal injection of HA fillers into the hands has been shown to increase dermal thickness and elasticity.
Due to the ability of HA to draw water into the skin tissue, this filler provides the greatest volume restoration among all the fillers on this list.
It is also the only filler that draws water into the skin rather than just adding shape and volume, so it is possible to replace lost collagen over time and restore volume over a longer period than most other filler products.
Due to this ability, it has been suggested that continued injections of hyaluronic acid may be able to increase the thickness of ageing hands over a period of 6 months or more, which is not possible with any other filler product on this list.

Unlike other filler treatments that are not reversible, hyaluronidase can also be used to reverse unwanted effects of HA dermal fillers if necessary. The result is expected to last 6-12 months.
Profhilo: An Alternative to Hand Fillers

Profhilo is a non-surgical alternative to hand fillers that is used by leading medical aesthetic clinics across the UK. The treatment is risk-free and there are no known side effects.

Many people confuse Profhilo with dermal fillers. It is true that there are many similarities between them, but there are also some crucial differences between the two.
This topic was covered in depth here.
Profhilo contains a high percentage of clinically concentrated hyaluronic acid, in fact the highest currently available on the market.
Profhilo also acts as a hydrator rather than a filler. Once injected, the Profhilo spreads naturally over the treatment area, gently penetrating the deep layers of the skin.
There it begins to boost and improve elastin and collagen production, resulting in a marked improvement in the overall tissue quality of the skin on your skin.
What's more, one gram of the hyaluronic acid contained in Profhilo can absorb up to 6 litres of water!
So you can bet that Profhilo will give the skin on your hands a good dose of hydration! This will helps to dehydrate and fill out winkled / crepe skin on hands.
For people who complain of dry, itchy or scaly skin on their hands, this is the treatment for you.
Schedule an Appointment for Hand Fillers with Dr Aesthetica

Fill out a consultation form here, or call us on 0121 769 0242. We will be happy to answer any questions you may have if you are considering filler injections for your hands or any other rejuvenating treatment.
Dr Aesthetica, with Doctor Farmah, welcomes patients from Birmingham, across the UK and abroad. Our medical aesthetics clinic office is located on Bristol Rd S, Birmingham in the United Kingdom
To see Doctor Farmah and his team in action, visit Dr Aesthetica's Instagram page.