While Juvederm and Restylane are some of the most popular wrinkle fillers in the market, they are not the only effective dermal fillers available. In fact, there are several other approved dermal fillers that are of excellent quality and achieve superb results. Most often, it comes down to the experience and skills of the doctor and which filler they feel has consistently offered the best results for their patients.
For us here at Dr Aesthetica, our preferred dermal filler brand is Intraline. And we are not the only ones who think Intraline offers fantastic dermal fillers. A lot of medical Aesthetic Clinics in the UK are reporting better and more consistent results for their clients with this lesser know dermal filler brand.
Here are some things you need to know about Intraline dermal fillers.
Intraline makes Hylauronic Acid based fillers.
Intraline manufactures premium hyaluronic acid-based dermal fillers (the most popular type of filler).
Hyaluronic acid (HA) is a naturally occurring sugar found in every tissue of the human body. Just a single gram of hyaluronic acid can hold up to six litres of water! This enables it to play the crucial role of hydrating and keeping your skin plump and elastic.
However, as you age, your skin cells regenerate at a slower rate, providing less HA and Collagen, causing the skin to thin and dry up.
Add in external factors such as sun exposure, gravity and repetitive facial movement, and you'll see why the skin loses volume, sags, and develops wrinkles.
If you want to replenish the diminishing hyaluronic acid levels and offset the signs of ageing, your best bet is HA dermal fillers treatments.  
Intraline is a leading filler brand that creates non-animal Hyaluronic Acid (HA) through a proprietary bacterial fermentation process. The result is high quality and pure Hyaluronic Acid identical to that found in the human body.
This makes it a completely natural and safe substance optimized to blend perfectly with a person's skin tissue with minimal risk of allergic reactions or long-lasting side effects.
Intraline launched the first-ever male-specific filler.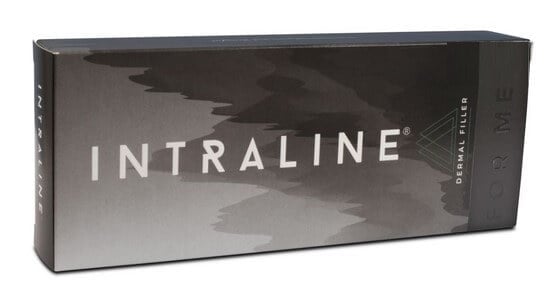 Not so many years ago, cosmetic enhancement was primarily the domain of female clients. However, these days men want to look their best every bit as much as women.
That said, you need a skilled and experienced injector who's able to customize each filler treatment, including selecting the most appropriate type and placement of filler. For male patients, the aim is to preserve a masculine facial structure. This often means using a thicker and more viscous filler to account for men's denser facial skin and larger bones.
Intraline saw a gap in the market, and in 2016, they launched a product designed exclusively for the male market--Intraline for Men. This filler is used to treat deep-set wrinkles, frown lines and nasolabial folds, as well as perform non-surgical facial contouring of the chin and non-surgical nose jobs in men.
The overall risk with this dermal filler is very low, and most men will be glad to see the subtle enhancements achieved straight away after treatment.
Intraline's new M Series product line has become a favourite among Aesthetic Practitioners.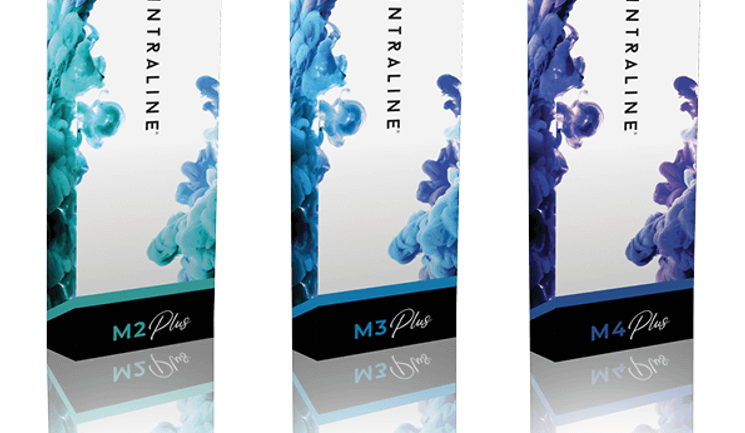 Intraline has been successfully marketing and selling its line of fillers in the UK since 2015. In the 6-7 years, Intraline has been in the UK market, the company has launched several dermal filler formulations.
One of them is the Intraline for Men mentioned above. Another is their most recent innovative line of dermal fillers is The M Series which was launched in 2020.
The response from clients in our clinic regarding Intraline's new range of fillers has been amazing. They love the smoother, overall more attractive and natural appearance achieved in comparison to other dermal fillers.
The M Series are highly customizable dermal fillers that allow the injector to achieve each patient's unique desires, regardless of what they are! For example, lip treatments are very common, but not all patients want their lips to look the same.
Using a filler that's easy to inject and manipulate allows the doctor to achieve the exact lip enhancement results desired by the patient.
And it doesn't end at lip fillers. The M Series offers 3 dermal fillers, each specifically formulated for one of the skin layers, covering virtually any application.
M2 Plus has the smallest particles and is used in the superficial dermis for the treatment of fine lines and wrinkles, such as tear troughs and subtle lip enhancements.
M3 Plus has medium-sized particles and is used in the mid dermis to treat medium to deep wrinkles on areas such as the nasolabial folds and marionette lines.
M4 Plus is a subcutaneous dermal filler and has the largest molecules. It's used in the treatment of deep wrinkles and facial contouring in areas such as the cheeks, chin, and jawline. It's also perfect for non-surgical rhinoplasty and achieving the highly sought after pout and defined lip definition.
All three M Series fillers contain lidocaine, a local anaesthetic mixed into the filler during production. Lidocaine is used to numb the treatment area to help reduce pain or discomfort caused by needle punctures. This means you'll only feel that initial pinch; subsequent injections are less painful as the lidocaine takes effect.
Intraline results fade consistently and naturally over time.
Intraline results are visible for up to 9-12 months after the initial treatment—the typical duration of most HA dermal fillers.
That said, due to the nature of Intraline dermal fillers: high levels of visco- elasticity, highest purity form of HA and low risk of product migration, the filler breaks down evenly with a natural, consistent finish.
This means as your body reabsorbs the hyaluronic acid filler, it does so in a way that doesn't negatively impact your results.
Simply put, you don't have to be worried that some parts of the filler will break down faster than others leaving you with an uneven appearance. The filler will break down evenly until no trace is left in your body.
If you want to keep the remarkable anti-ageing effect going, it's a simple as booking a repeat treatment once the results start fading or at your doctor's recommended schedule.
Book your Intraline Filler Treatment with Dr Aesthetica
To learn more about Intraline dermal fillers and how they can help you accomplish your desired aesthetic goals, you can book an appointment online or give us a call at 0121 769 0242.
During your personal consultation with Dr Farmah, you will be able to go over problematic areas and ageing symptoms that concern you. Dr Farmah will then guide you through the various types of filler treatments offered by the Clinic and help you determine which one will best fit your goals and expectation.
See you soon!