If you have been contemplating getting facial fillers (perfectly fine), you might have come across Juvederm and Radiesse. Maybe you saw someone mention them on a social media post or you came across them while scouring through articles online.
Either way, one thing that becomes clear quickly is that they are the most popular dermal fillers available today. Both are widely praised for their ability to rejuvenate and take years off an individual's face. But between Radiesse and Juvederm which is right for you?
In this post, we will take a deep dive into some similarities and look into a few critical differences. Armed with this information, you will make a better decision as to which of the two is best for you.
What is Juvederm?
Juvederm® is an outstanding collection of hyaluronic acid-based dermal fillers created by Allergan—the same guys who make Botox®.
If you have been reading any of our facial fillers articles, you already know that hyaluronic acid is a sugar molecule found naturally in our skin that holds water and helps keep it hydrated and plump.  Sadly, the body's natural production of hyaluronic acid decreases over time. This is one reason that the skin starts to lose volume over the years. 
Juvederm comes to the rescue with a modified version of hyaluronic acid extracted from plant sources. In fact, this filler is available in several formulations to allow for a tailored treatment to your unique needs:
Juvederm Ultra XC - first ever Juvederm product. It's was formulated for non-surgical lip augmentation aka lip filler.
Juvederm Ultra Plus XC - ideal for areas that need just a little bit more volume than the first Ultra can offer.
Juvederm Voluma XC - FDA approved to enhance cheek volume and restore contour to the midface.
Juvederm Volbella XC - ideal for soft, subtle enhancements across the lips and fine lines around the mouth
Juvederm Vollure XC - formulated to target severe folds and wrinkles including the nasolabial folds around the mouth.
If you are wondering what the XC stands for, it simply means that these products have lidocaine in them to help ease pain or discomfort during injection. This is the same stuff used to stop itching and pain from scrapes, minor burns, eczema, insect bites or other skin conditions.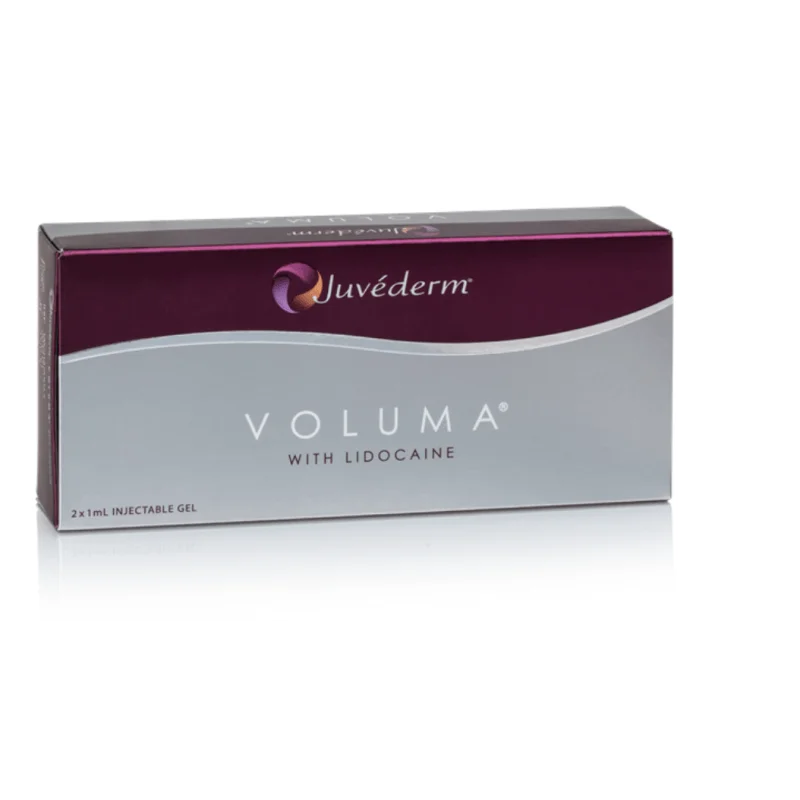 These Juvederm products have varying thickness and elasticity, which allows doctors to use them for a wide variety of non-surgical cosmetic procedures.
Since coming into the market back in 2006, the Juvederm has established itself as the #1 dermal filler brand in the world.
Several things set Juvederm apart from other hyaluronic acid fillers:
Juvederm has the highest concentration of non-animal, cross-linked hyaluronic acid (HA) of any dermal filler currently available. Cross linking makes HA firmer in its consistency, more durable and more water absorbent—all things you need for excellent results.
Juvederm has been around for 15 years with a proven safety and efficacy track record. Most of the Juvederm fillers are FDA approved the most recent being in 2020 when Juvéderm® Voluma™ XC became the first and only filler to receive FDA approval for the augmentation of the chin region.
Juvederm is developed using Allergan's proprietary Hylacross technology, which results in a malleable, smooth gel that allows for a high level of control and smooth-flowing injection into the skin. Other HA fillers utilise a gel particle suspension formulation, whose result may not be as ideal.
Juvederm is Dr Aesthetica's preferred hyaluronic acid (HA) dermal filler brand.
What is Radiesse?
Radiesse is another popular anti-ageing filler, but instead of hyaluronic acid, this injection uses a calcium-based solution to add facial volume while smoothing away moderate to severe facial wrinkles and folds. It's also used to restore volume to ageing hands.
Radiesse is made from synthetic calcium hydroxylapatite microparticles (similar to the calcium found in human teeth and bones) which are then suspended in a water-based, gel-like solution.
Increased volume, contouring and definition occurs immediately post-injection but Radiesse strongest selling point is its ability to triggering the body's collagen production.
Collagen is a protein that serves as one of the major building blocks for your bones, skin, hair, muscles, tendons... etc. it gives your skin volume, flexibility and strength. But as you age, the skin's natural collagen breaks down, resulting in the loss of facial volume.
This loss of elasticity and volume results in wrinkles, facial lines, and skin laxity that reduces your skin's youthful appearance.
Held in place by the gel, the calcium microparticles in Radiesse act like a scaffold upon which new collagen grows. This results in a longer-lasting volume in the skin even after the gel and the microparticles are absorbed by the body.
Simply put, this dermal filler gives an immediate lifting and firming effect on the skin while also helping the body take advantage of its own natural regenerative abilities.
Similarities Between Radiesse and Juvederm
Both Radiesse and Juvederm provide impressive yet subtle results, making the skin appear more youthful and rejuvenated.
Treatments are minimally invasive and are performed through a series of injections using an ultra-fine needle. Both formulations contain lidocaine to numb the injection site during the procedure.
Radiesse and Juvederm require no downtime. Patients who receive either filler can immediately return to normal activities directly after their treatment.
Both dermal filler brands are FDA-approved for non-surgical cosmetic procedures.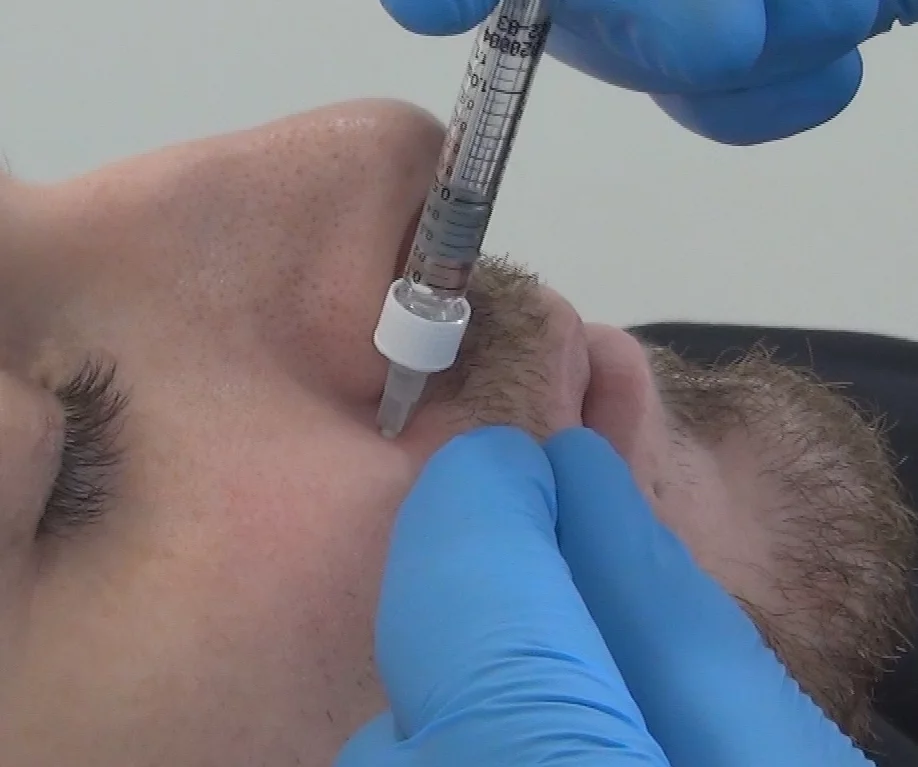 Difference Between Radiesse and Juvederm
Juvederm key component is hyaluronic acid (HA) while for Radiesse its Calcium Hydroxylapatite (CaHA). While both will provide significant results, your doctor will help decide which is best for you.
Radiesse typically lasts longer than Juvederm because of its ability to increase collagen production within the skin. Most patients will notice the results of Radiesse for 18-24 months (and possibly longer) while Juvederm results last for up to 1 year (18 months for Juvederm Voluma). To maintain the results, you will need a follow-up treatment.
Radiesse is typically more expensive than Juvederm. It's important to note that the final cost of any dermal filler treatment can differ from one person to the next. Price factors include their unique needs and the exact amount of filler needed to accomplish their goals.
Juvederm vs. Radiesse: Which is Better?
At this point, you already know that both fillers help fight against ageing. But which one is better? To that, we say both are equally great, but it really comes down to your unique needs. At Dr Aesthetica, we use both dermal fillers in our various non-surgical treatments.
Once we assess your individual need and goals we can determine which filler is best for you. Sometimes, a patient's ideal treatment plan may involve using both Juvederm and Radiesse to create the patient's desired end result. In other cases, using only one filler will be sufficient. At the end of the day, the vast majority find either Juvederm or Radiesse to be a highly effective and worthwhile treatment.
Book an appointment with our experienced and astutely knowledgeable aesthetics doctor, to start your anti-ageing journey and reclaim your youthful vibrant look.