If you're pregnant or thinking about getting pregnant, it might feel like the rules have suddenly changed on what you can and can't use.
The list of pregnancy no-nos stretches far and wide and touches on a whole slew of things from foods and activities to skincare ingredients and more.
It's only natural to start questioning everything.
There is a lot to think about before and after birth - including what you put on your skin.
You are already going through so many changes and finding new products to suit your existing and new skin concerns can be difficult and, frankly, a little stressful.
The good news is that there are a few steps you can take to make sure you stay on top of all the changes.
First, know what types of skin changes to expect.
Read our post Why Your Face Has Changed So Much From Pregnancy where we cover this topic in depth.
Second, cross off anything that will not work in the next few months while you are pregnant and nursing.
If you ever have any doubts about the safety of a product, it's probably a good idea to discuss your current skincare routine with your dermatologist or go-to medical aesthetician at the start of your pregnancy.
For example, ingredients such as salicylic acid, retinol and hydroquinone are not considered safe for pregnant and breastfeeding mothers and should be avoided.
Third, find safe alternatives to address existing or any new skin concerns that may arise during your pregnancy or when you are nursing.
With so many things to consider, all this can be quite overwhelming.
To help you navigate what is already a stressful time, read on to find out which active ingredients are safe for pregnant women and nursing mothers.
These are skincare products you can easily incorporate into your routine to keep your skin in great condition while ensuring you and your baby are safe.
Azelaic Acid & Glyolic Acid for Acne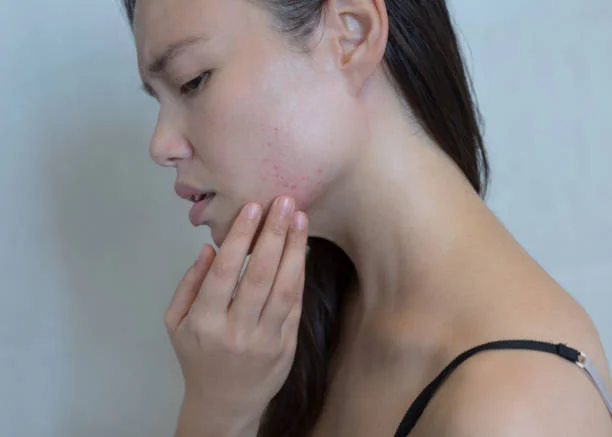 While pregnancy can leave some lucky ladies with radiant luminous skins (ahem....pregnancy glow) for others, all that extra hormonal activity can have the opposite effect, causing a variety of pregnancy skin problems.
Hands down, acne is the No. 1 skin problem to hit women during pregnancy.
So how should pregnant women deal with acne when many go-to products contain retinoids and salicylic acids and should be avoided during pregnancy?
Most recommend using azelaic acid, treatment for rosacea and a new star in the fight against acne. It's also microbial which works by killing bacteria found in the pores.
More than that azelaic acid helps to unclog pores, evens out your skin tone and lightens dark spots caused by acne.
But treating acne spots is not all azelaic acid can do. It can also help improve the appearance of rosacea, another common skin problem in pregnant women.
Prescription-level azelaic acid is available in 15% and 20% strengths, with many studies supporting its effectiveness.
That noted over-the-counter topical product with azelaic acid in strengths up to 10% combined with other acne-fighting ingredients is also a good option.
This way you gain better control over your skin without risking your pregnancy.
Glycolic acid is another skincare ingredient with an excellent safety profile for use during pregnancy and while breastfeeding.
Glycolic acid reduces skin breakouts by promoting the shedding of dead skin cells.
It also improves the signs of ageing, particularly photodamage, by increasing the production of collagen and hyaluronic acid in the epidermis.
This means your skin becomes firmer and more elastic as it plumps from the inside out.
The combination of azelaic acid and glycolic acid can significantly reduce the appearance of fine lines and wrinkles, improve skin texture and tone, reduce age spots and eliminate skin congestion.
All in all this combo offers a safe and effective option for tackling pregnancy acne and achieving clear glowing skin.
Hyaluronic Acid and Niacinamide for Dry or Dehydrated Skin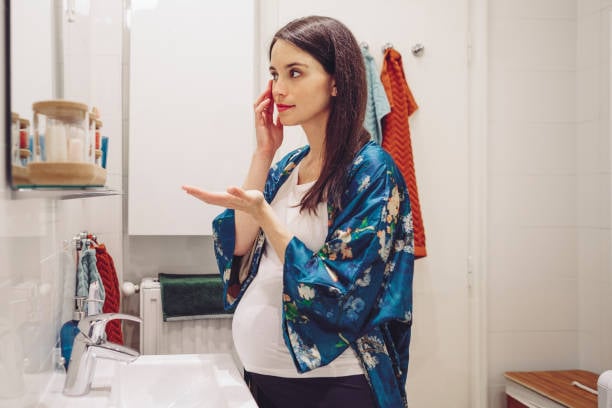 Those prone to extremely dry skin know that sometimes a moisturiser alone is not enough to provide the hydration they need.
In cases where a topical moisturiser is not enough, you can use a hydrating serum in conjunction with the moisturiser.
For particularly thirsty skin during pregnancy or breastfeeding, we recommend a high-quality hydrating serum such as Alumier MD Ultimate Boost Serum.
It contains sodium hyaluronate, a form of hyaluronic acid that moisturises by drawing water from deep in the skin to the outer layers, and niacinamide (vitamin B3), which increases ceramides and free fatty acids in the skin to strengthen the protective lipid barrier.
Both hyaluronic acid and niacinamide are completely safe for use as skin care ingredients during pregnancy or breastfeeding.
Hyaluronic acid is an active ingredient that has earned its lauded reputation for good reason.
It is a substance found naturally in our tissues and has the task of moisturising our skin from the inside out.
This is because it has the unique ability to attract and retain 1,000 times its weight in water.
Hyaluronic acid is not only a safe hydrator for pregnant and breastfeeding mothers, but it also has several other perks.
It is generally well tolerated and hypoallergenic and can therefore be used on all skin types, including sensitive skin.
The skin can become dry, itchy and inflamed during pregnancy. A serum with HA can counteract this.
To ensure that your skin benefits from all that the serum has to offer, you should look for a product that has different sizes of HA.
This is because while larger molecules cannot penetrate your skin, they do a good job of locking in moisture.
Smaller molecules, on the other hand, can penetrate your skin to hydrate it from within.
It is ideal to find a product that contains both of these hyaluronic acid molecules.
Niacinamide, on the other hand, is often used as an adjuvant ingredient. Adjuvant" means that it can enhance the effectiveness of other ingredients.
Niacinamide may not be the star of the show, but it does a great job, of helping other ingredients work at their best.
It also helps restore the skin's hydrolipid barrier to protect the skin from harmful bacteria and retains moisture in the skin to keep it supple.
Due to its anti-acne and anti-ageing effects, niacinamide can be a good substitute for retinol during pregnancy.
It can help lighten dark spots, which is good if you are struggling with troublesome pregnancy-related melasma.
Ferulic acid and Vitamin C & E for Dull Skin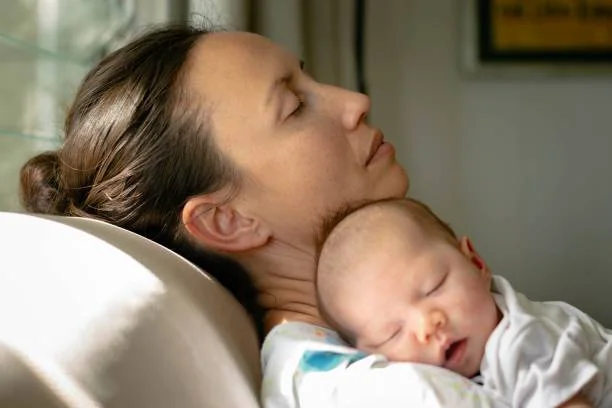 The period during and after pregnancy is often very stressful.
On top of the usual downsides of high stress, it has been proven that stress creates free radicals in the body that can damage the skin and accelerate the signs of ageing such as dark spots, fine lines and wrinkles.
You need all the help you can get to keep your skin in good condition! To that end, one skincare ingredient we recommend is ferulic acid.
Also known as hydroxycinnamic acid, this antioxidant compound is found naturally in the cell walls of certain fruits and grains, particularly apples, citrus fruits, oats, rice and bran.
Its main benefit is that it neutralises free radical damage to the skin, which is the main cause of many common skin woes.
The best part is that it fights three types of free radicals, while many other antioxidants only target one or two.
This makes it an effective treatment to fade blemishes and tackle dullness.
It has also been shown to reduce inflammation by reducing oxidative damage and protecting the skin from sun damage by absorbing some harmful UV rays.
All of these benefits work together to combat dull-looking skin that pregnant women often complain about.
That said, you will rarely see a product that contains ferulic acid as the only active ingredient.
Since ferulic acid is also able to boost the benefits of other ingredients, it is usually combined with other antioxidants such as vitamins C and E.
This is great news because research has shown that vitamin C & E are safe for pregnant women and nursing mothers.
Ferulic acid not only increases the antioxidant power of vitamins C and E but also stabilises them better to ensure maximum protection from free radical damage.
What is the best way to use these powerful antioxidants?
Generally, ferulic acid and vitamin C & E are formulated as serums, but can also be found in creams and lotions.
Our top recommendations are Alumier MD EverActive C&E™ + Peptide and Skinceuticals CE Ferulic.
When used consistently, both products give the skin visible radiance and luminosity, reduce redness, improve skin tone and make the skin much smoother.
It is best to apply the products after cleansing but before moisturising in the morning, as described in our product layering guide.
Final Thoughts
It can be difficult to find pregnancy-safe skincare products if you simultaneously treating acne, rosacea or post-inflammatory among a myriad of other pregnancy-related skin problems.
Fortunately, the ingredients presented here are a safe options with comparable efficacy to retinoids, benzoyl peroxide and salicylic acid (examples of ingredients you need to avoid during pregnancy).
That way you can continue to care for your skin worry-free.
Remember that every pregnancy is different.
Be sure to consult your doctor if you have any questions about using products with any of these ingredients during pregnancy or breastfeeding.