Do you feel like your eyes give away your age, even though you still feel so young and vibrant inside? If so, you are not alone. Fine lines, wrinkles and under-eye bags can make us look tired, aged, and less confident.
Fortunately, there are several non-surgical treatments available here in the UK to help rejuvenate the eye area and restore a more youthful appearance.
Two popular treatments that you may have heard of are Lumi Eyes and Tear Trough Filler. These treatments work to target wrinkles, dark circles, and under-eye bags, giving you a more refreshed and rejuvenated appearance.
But with different approaches and unique benefits, it can be challenging to decide which treatment is right for you.
At Dr Aesthetica along Bristol Rd S in Birmingham, UK, our team of licensed and fully qualified practitioners can help guide you through the decision-making process. We offer a range of non-surgical cosmetic treatments to help you achieve your desired results. Keep reading to learn more about these treatments and discover which one may be best suited to your needs.
Tear Trough Filler
Tear Trough Filler is a minimally invasive cosmetic treatment in which a hyaluronic acid filler is injected into the skin under the eyes using a fine needle or cannula.
The treatment gets its name from the tear trough, a deep crease between the lower eyelid and the upper cheek.
The tear trough can sometimes cast a shadow under the eyes, resulting in a tired appearance.
In some people, the tear trough is an inherited trait. In others, the tear troughs become more prominent with age. The area under the eyes can often appear hollow or sunken due to age, genetics or lifestyle habits such as lack of sleep or dehydration.
The goal of a tear trough filler is to reduce the depth of a tear trough. Most tear trough fillers contain hyaluronic acid (HA) because of its ability to attract and hold a large amount of moisture.
This makes it an effective way to restore volume and fullness to the skin.
When injected into the skin under the eyes, HA can help smooth out wrinkles and fine lines, add volume to correct the appearance of sunken eyes, reduce dark circles and create a more youthful, rested appearance.
HA fillers are particularly known to produce natural-looking results as they mimic the body's own HA.
Benefits of Tear Trough Filler
Reduces the appearance of dark circles
Restores volume and fills in hollows under the eyes
Smoothes wrinkles and fine lines
Strengthens the skin under the eye
Reduces sagging of the skin under the eyes
Hydrates and rejuvenates the skin
Boost collagen production
Lumi Eyes

Lumi Eyes is an injectable product designed for needle mesotherapy treatments around the eyes. This innovative treatment stimulates the skin under the eyes to regenerate itself, resulting in a more youthful and refreshed appearance.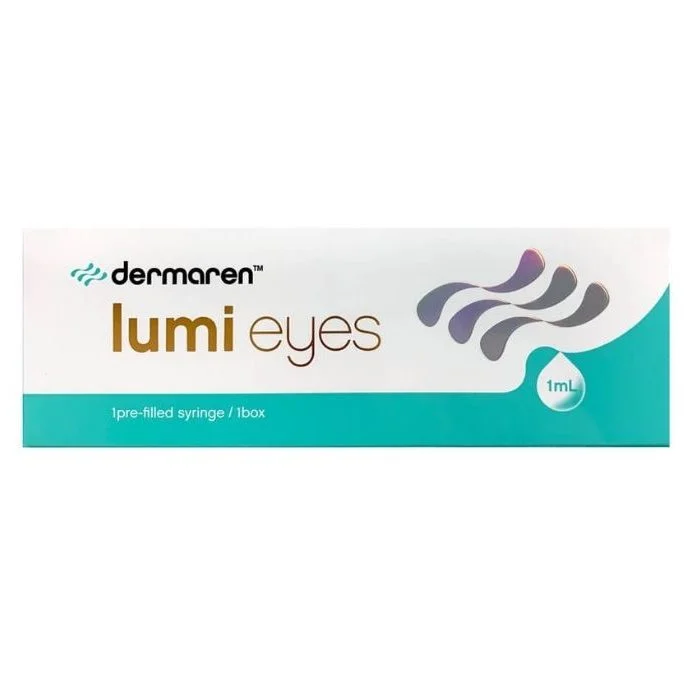 How is this achieved?
First, let's define needle mesotherapy. This is a non-surgical method in which a prescribed dose of a specific substance is injected directly into the skin.
In the case of Lumi Eyes, it' is a tissue stimulator called polynucleotide (derived from purified salmon milk DNA).
Clinical studies have shown that Polynucleotide (PDRN) is particularly effective in regenerating damaged tissue, hydrating and smoothing the skin.
This powerful substance also stimulates collagen synthesis, which helps to strengthen and lift the skin for a firmer, more toned look.
By stimulating tissue rejuvenation, Lumi Eyes gives your eye area the energy and freshness it needs to look and feel its best.
Related: Collagen: The Closest Thing to the Fountain of Youth
Lumi Eyes Benefits
Repairs and brightens the skin around the eyes
Revitalises the tear ducts
Reduces pigmentation from various causes (including post-traumatic)
Stimulates collagen and elastin synthesis
Reduces wrinkles on the face
Improves skin elasticity and tightens sagging skin
Similarities between Lumi Eyes and Tear Trough Filler:

Both treatments are minimally invasive, meaning they don't require general anaesthesia, incisions or stitches. This makes them a safer and more comfortable option for people who would prefer to avoid surgery.
Both Lumi Eyes and Tear Trough Filler are quick and easy treatments that can be performed in just a few minutes. Patients usually experience little to no discomfort during the procedure, and no recovery time is required. You can resume your normal activities immediately after the treatment.
As with all other non-surgical treatments that involve injections, you should expect mild side effects. Slight redness, bruising, irritation, swelling or discolouration in the area of application. These side effects are usually temporary and should resolve on their own within a few days.
Related: Long-term Side Effects of Injectables
Advantages of Lumi Eyes over Tear Trough Filler:
Collagen synthesis: Lumi Eyes help boost collagen production in the skin. Collagen is a protein that gives our skin its strength and ensures that it remains firm and smooth. By boosting collagen production, they can help reverse the appearance of fine lines and wrinkles. Though we have to point out that if collagen stimulation is your goal, radiofrequency skin tightening is a more effective option that's non-invasive. Since no needles are used, its risk factor is even lower than Lumi Eyes.
Minimal swelling: With Lumi Eyes, there is little risk of oedema (accumulation of lymphatic fluid under the eyes), which can sometimes occur with conventional dermal fillers. If such swelling occurs, it can be mitigated with simple filler aftercare protocols.
Skin brightening and rejuvenation: Unlike dermal filler, which acts as a buffer between the skin and the eye socket, Lumi Eyes goes a step further to repair and brighten the skin around the eyes. This skin brightening and rejuvenating feature is a great solution for people with dark pigmentation under the eyes.
This article was read and reviewed by the face of DR Aesthetica himself - DR Baldeep Farmah.
Advantages of Tear Trough Filler over Lumi Eyes:
Provides immediate results: Unlike Lumi Eyes, Tear Trough Filler delivers immediate results. This makes it a great option for people who want to see an instantaneous improvement in their appearance.
More customisable: Tear Trough Filler is a customisable treatment, meaning the amount of filler used can be tailored to each patient's individual needs. This ensures that the results look natural and proportionate.
More versatile: Can also be used to correct other problems: Dermal fillers can also be used to correct other problems, such as deflated cheeks or deep nasolabial folds, making the treatment more versatile.
Longer lasting: Tear trough filler lasts longer than Lumi Eyes. On average, 12 months compared to 6 months. This means that you need fewer follow-up treatments in the long run.
Fewer initial treatments: Lumi Eyes requires a series of 3-6 treatments 4-6 weeks apart to see a noticeable improvement. In contrast, tear-trough fillers only require one treatment, and you start to see results immediately after the treatment.
Greater volumising effect: The hyaluronic acid in the tear trough filler enables it to compensate for age-related volume loss. This makes tear trough filler a more effective treatment for deflation and wrinkling around the eye area. This is the most common complaint among patients who have previously received Lumi Eyes. It does little for the under-eye hollowing, so they still have to get a filler treatment.
Comparing the Price Between Tear Trough Fillers and lumi Eyes
Tear Trough Filler: Durable and Effective
Our Tear Trough Filler treatment, at £400, offers a swift solution to under-eye volume loss. This one-time procedure not only provides immediate visible improvement but also delivers lasting results for 9-12 months. It's an efficient and cost-effective method for those seeking to rejuvenate their appearance with minimal downtime and long-term benefits.
Lumi Eyes: Progressive Skin Rejuvenation
Lumi Eyes, priced at £250 per session, is our advanced treatment for enhancing skin quality around the eyes. To achieve the best results, a course of three sessions is recommended, spaced four weeks apart. This brings the total investment to £750. The treatment involves a series of procedures aimed at stimulating tissue regeneration, progressively improving skin texture and tone over the 12-week period.
Which To Choose: Tear Trough Filler or Lumi Eyes?
At Dr Aesthetica, we have a preference for tear-trough filler. While Lumi Eyes is a great treatment, under-eye filler is simply superior. Both the research and the results in our medical clinic clearly show that. You get better value for your money and more satisfactory results with tear trough filler vs Lumi Eyes.
But before you jump into a filler treatment, please note that when it comes to non-surgical cosmetic treatments, there is no one-size-fits-all solution. Everyone has different needs and preferences, and what is good for one person may not be right for another. This is especially true for treatments like Lumi Eyes and Tear Trough Filler that target the same area. That's why we recommend that you always go for a consultation with a qualified provider before getting any aesthetic treatment.
You can book one right here with Dr Aesthetica. We will give you all the information you need to make an informed decision about which treatment between Lumi Eyes and Tear Trough Filler is right for you. This is the best way to increase your chances of getting the best possible outcome and improve your overall result.
If you are convinced by tear trough fillers...
Do you want to discover more about the effectiveness of tear trough treatments in achieving a refreshed and youthful look? Are you wishing to say goodbye to tired, aged eyes and hello to a rejuvenated appearance?
Take action now and regain your confidence. Explore more about this tailored treatment option and embrace the opportunity to unlock a newfound sense of self-assurance. Start your transformation today by checking out our tear trough treatment page in order to take the first step to unveiling a revitalised you.