Your eyes are also the first thing that you notice when you look in the mirror… and the first thing others notice when they look at you. The sad news is that the skin around the eyes often tends to look older first. This thin, delicate skin is sensitive to stretching, sagging and dryness, so it matures faster than other parts of your face. In fact, crinkled, crepey skin can start to appear around the eyes as early as your 20s.
The skin under your eyes has a significant impact on how you look. Darker eye circles, under-eye bags and lax skin around your eye area can leave you looking puffy or tired all the time, even when you are well-rested. If your under-eye skin is crepey-looking, wrinkled, or shadowy in appearance, it'll also negatively impact your overall facial appearance. The good news is that there are steps you can take to improve the appearance of your eyes significantly.
Plump Up Your Skin with Hyaluronic Acid
Hyaluronic acid is one of the most well researched and powerful skin care product. Found naturally in the skin, hyaluronic acid draws in water, which helps to hydrate and plump the skin. The skin under the eyes is very prone to dryness which often results in tiny wrinkles forming. This is why dermal filler injections can greatly help improve the skin quality and texture under your eyes. At Dr Aesthetica, we offer a safe under-eye filler treatment that's been proven to produce great results for many of our patients. For your home care routine, try to find a quality eye cream or serum that contains hyaluronic acid. Point of caution: avoid rubbing and pulling the skin under your eyes when applying the eye cream as the delicate skin is easily damaged.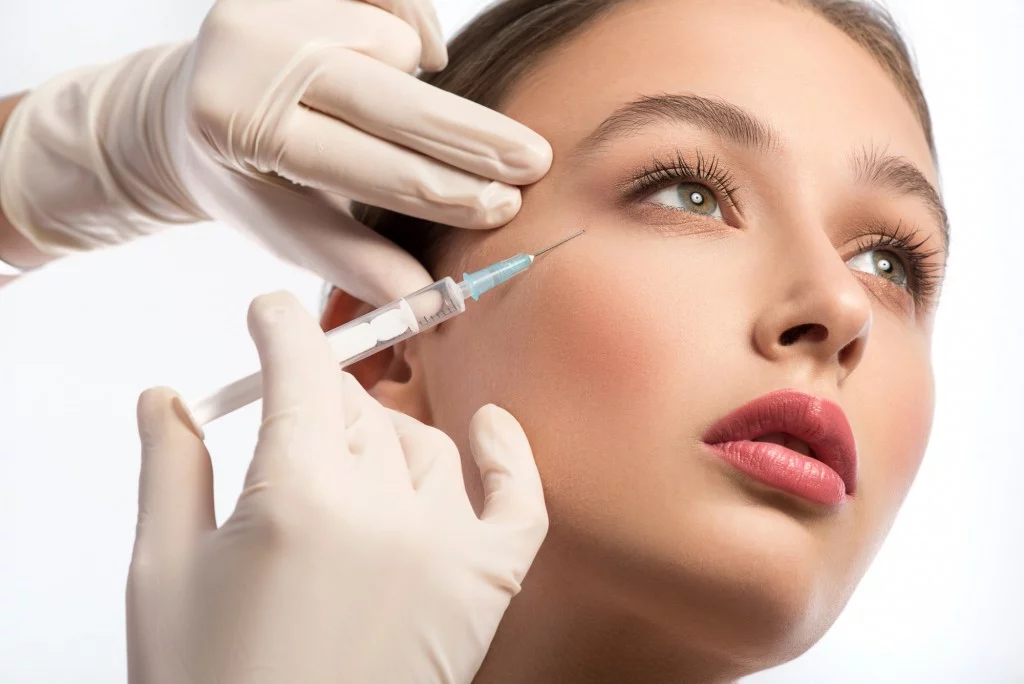 Protect Your Face From Sun Damage
While most of us enjoy spending time in the sun, it's no secret nothing ages the skin faster than excessive sun exposure(other than smoking, of course). This is because UV rays break down those two crucial proteins—collagen and elastin—that your skin needs to stay healthy and youthful. To protect your skin from the ageing effect of sunlight, you need to:
Use sunscreen every day, even if it's cloudy. Ensure it is a broad-spectrum sunscreen that protects against UVA and UVB radiation, is water-resistant, and has an SPF of 30 or higher.
Limit the amount of time you're in the sun between 10:00 AM and 4:00 PM. This is when the sun's rays are the most intense.
Accessorise with a hat that shades your face and a pair of sunglasses. that offers UV absorption to provide optimal protection to the skin around your eyes.
Smoothen Under Eyes Wrinkles with Chemical Peel
Chemical peels are another excellent solution for treating under eye wrinkles. However, these treatments are not your standard eye wrinkle creams and should only be performed by a board-certified dermatologist or esthetician. They are qualified to employ chemical solutions — often made with alpha hydroxy acid, glycolic acid or trichloroacetic acid — to deeply exfoliate the skin and eventually cause the top dermal layers to peel off. This is a recommended treatment for those who want to achieve glowing skin in addition to reducing their under-eye wrinkles.
Depending on which type of peel you get — options range from low-level superficial peels to deep peels that take several weeks to heal, meaning recovery time varies. That being said, no matter the chemical peel, we determine it most suitable for you; at Dr Aesthetica, we only use the highest quality products to ensure fantastic results for our clients. Our products are kinder to the skin since they don't contain any artificial scents, perfumes, or chemical preservatives such as parabens.
Use Medical Grade Skincare Solution (AlumierMD)
Our skin is subjected to daily pollution and environmental factors that increase the production of free radicals, which in turn attacks the skin cells and lead to premature ageing. This is why using quality skincare products is so vital. AlumierMD offers a range of home care products created with advanced cosmetic technology, ensuring an optimum concentration of active ingredients and excellent absorption by the skin.
AlumierMD is our preferred brand of advanced home skincare products. Whether it's under eye wrinkles, dryness or crepey skin, we can create a hyper customized skincare regimen that followed consistently is bound to produce good results. Talk to us today about your skin concerns!
Microneedling Under the Eyes
In case you too suffer from undereye issues such as dark circles and puffy eye, microneedling offers a safe and effective way of reducing fine lines and improving skin texture under the eyes. Microneedling involves minuscule needles that vertically penetrate the skin surface under the eyes—the microscopic punctures form of a controlled injury that stimulates the body to start its natural repairing process.
New skin cells will then alleviate the dullness and darkness under the eyes. It's important to note that you can start seeing changes just after the first session. But to see significant change, you might require 4 to 6 sessions spread over a period of 3 to 6 months.
Don't Settle For Anything But The Best
As with any beauty regimen, the best treatments to make your eyes look younger should be effective, easily available and have a proven safety track record. The five options we have shared today, check all the right boxes. We would love to talk about them all with you. So, you don't have to stay at home feeling discouraged every time you look at the mirror. Visit our clinic today or talk to one of our friendly staff if you want to achieve a fresh youthful appearance.