But first, here's a quick breakdown of microneedling.
During your microneedling treatment, your aesthetic provider will use a small handheld device to quickly and repetitively create thousands of precise micro-injuries on your skin surface. This procedure aims to stimulate a healing response in the body at the treated site by triggering new collagen synthesis and cell turnover. The scientific term for this process is collagen induction therapy.
Now, when people think about tiny punctures on their faces, pain immediately comes to their minds. However, a microneedling procedure should be comfortable and relatively pain-free. The doctor will apply a topical numbing agent to the skin before the treatment begins. As a result, most people report feeling just the slight vibration of the device during the procedure.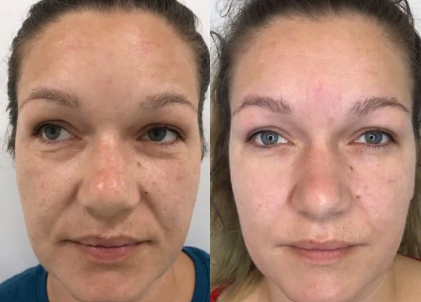 What is SkinPen?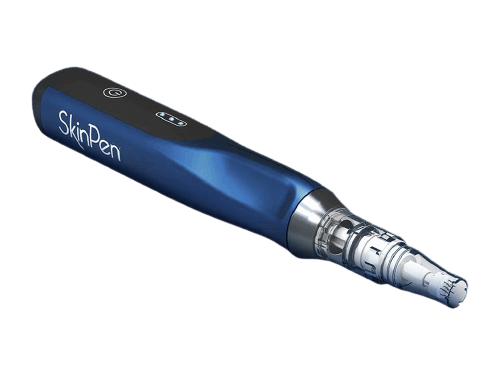 SkinPen is a popular brand of microneedling device produced and sold by Crown Aesthetics, a skincare technology company based in Dallas, Texas.
SkinPen is considered to be a medical-grade microneedling device i.e. it's made using the latest technology and can be adapted to your particular skin issues.
The device comes with a detachable cartridge unit fitted with 14 stainless steel surgical-grade needles. These can be calibrated to puncture the skin at different speeds and depths. As a result, the aesthetics provider is able to achieve high degrees of accuracy as well as customise the procedure to various body parts or skin conditions.
More importantly, is the safety feature. The SkinPen cartridge unit is designed for single-use, with a lock-out feature prohibiting re-installation of the cartridge after use. Simply put, it's "one cartridge, one patient". This eliminates the possibility of double usage and cross-contamination.
SkinPen Applications
Years of research have proven that collagen induction leads to cellular rejuvenation and cellular turnover. This means that you can address just about any skin concern imaginable with SkinPen.
Looking to improve the appearance of wrinkles?
Want to fade away from your acne scars?
Looking for a fix for your pigmentation condition?
SkinPen will take care of these skin concerns and much more. It's so effective that it was named "Favorite Microneedling Device" in the 2021 Aestheticians' Choice Awards that featured the best brands, products, devices and people in the industry.
What is DermaPen?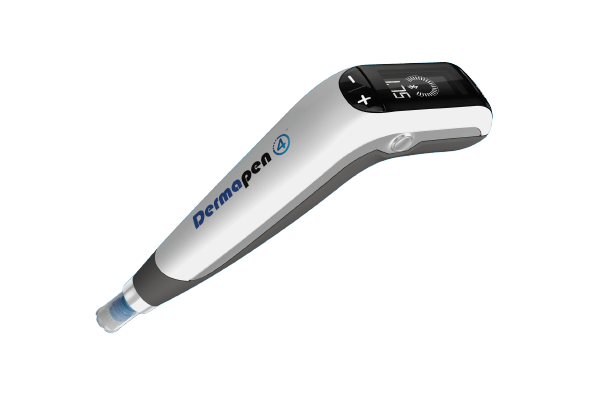 Dermapen is another popular microneedling device. It's sold under the brand name Dermapenworld, which belongs to Equipmed, a skincare and medical equipment company based in Melbourne, Australia.
The device is pen-shaped hence the name.
This microneedling device is on its fourth iteration, with the latest being Dermapen 4, which promises to offer greater patient comfort due to increased precision.
This device comes with a unique spring-loaded needle tip consisting of 16 ultra-fine sterile stainless steel needles. These deliver microscopic punctures to the top, superficial layers of the skin (only a few millimetres deep) to activate your skin's own renewal and repair responses. Similar to SkinPen, it has a safety feature that renders the tip un-usable after removal.
DermaPen Applications
This microneedling solution can offer many benefits, including:
• Minimizing enlarged pores
• Reducing the appearance of stretch marks
• Helping the skin to absorb skincare products more efficiently
Why SkinPen is Better than Dermapen
Both SkinPen and Dermapen are advanced micro-needling devices that use patented technology from their respective manufacturers.
That being said, at Dr Aesthetica, we recommend choosing SkinPen Over Dermapen. Here are the reasons.
SkinPen is the only microneedling device that's FDA cleared.
SkinPen has passed more than 90 validated tests for standards and quality. It has been thoroughly researched and scientifically proven to offer the safest method of collagen induction therapy.
In August 2019, the UK's Medicines and Healthcare Products Regulatory Agency (MHRA) banned the use of Dermapen 3, Dermapen 3 needle tips, and the Dermapen Cryo device.
If you want to experience the benefits of microneedling without the fear of an ineffective or even dangerous device, be sure to choose an aesthetic provider who offers the SkinPen. This is why Dr Aesthetica only uses SkinPen UK for all our clients micro-needling treatments.

At Dr. Aesthetica, we use SkinPen for our stem cell collagen treatment. For £250, you get it all, including our £75 growth factor which amplifies the skin's natural rejuvenation process, giving you a noticeable and lasting glow. Stem cells help by:
Boosting collagen production
Repairing and renewing skin
Enhancing skin's firmness
Creating a smoother, radiant look
If you have any questions regarding SkinPen, don't hesitate to get in touch with us using the details below.
Phone: 0121 769 0242
Email: [email protected]