Introduction
Chin filler has gained significant popularity in recent years as a non-surgical option for enhancing the appearance of the chin and jawline. However, with any cosmetic procedure, it is important to consider the safety aspects and potential risks involved. In this comprehensive article, we will delve into the topic of chin filler safety, addressing common concerns and providing authoritative information to help you make an informed decision.
Understanding Chin Filler
Chin filler, also known as chin augmentation or chin enhancement, involves the use of injectable dermal fillers to reshape and contour the chin area. These fillers are typically made of hyaluronic acid, a substance naturally found in the body that helps provide volume and structure to the skin. By strategically injecting chin filler, it is possible to achieve a more balanced and defined chin profile.
The Safety of Chin Filler
Chin filler, when performed by a skilled and experienced healthcare professional, is generally considered safe. However, it is essential to choose a reputable injector and undergo the procedure in a medical setting to minimise potential risks. Let's explore the safety aspects of chin filler in more detail:
1. Qualified Practitioners
To ensure the highest level of safety, it is crucial to seek treatment from a qualified practitioner with expertise in facial aesthetics. Look for healthcare professionals such as dermatologists, plastic surgeons, or cosmetic doctors who have specialised training and experience in administering dermal fillers.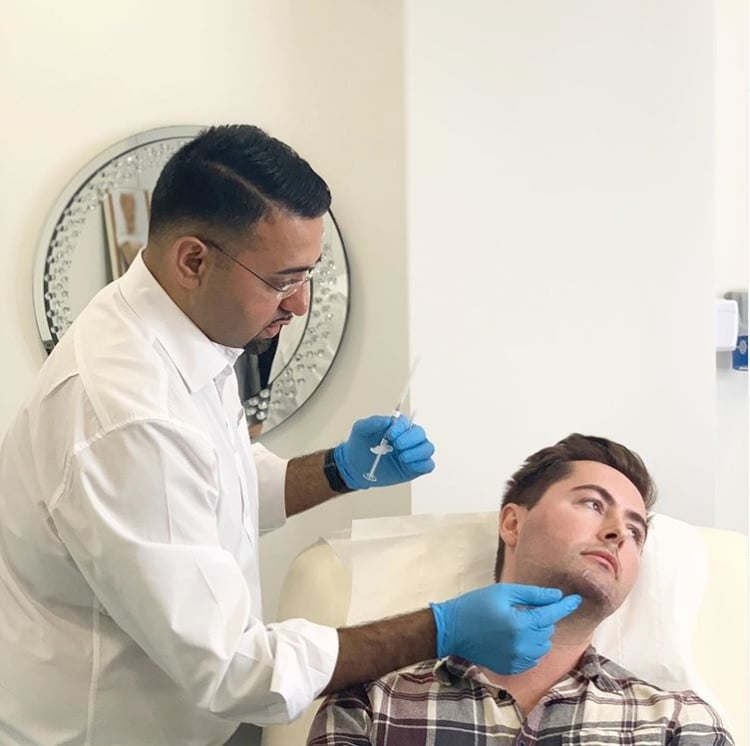 2. Proper Assessment and Individualised Treatment
A responsible practitioner will conduct a thorough assessment of your facial anatomy, medical history, and aesthetic goals before recommending chin filler treatment. They will customise the procedure to your specific needs, ensuring that it is appropriate and safe for you.
3. Quality Products
Using high-quality, FDA-approved filler products is paramount for safety and efficacy. Reputable practitioners source their fillers from trusted manufacturers and adhere to strict quality standards. Be sure to inquire about the products being used during your consultation.
4. Injection Technique
The skill and technique employed during the injection process significantly impact the safety and natural-looking results of chin filler. A well-trained practitioner will have a deep understanding of facial anatomy and use proper injection techniques to minimise discomfort, bruising, and the risk of complications.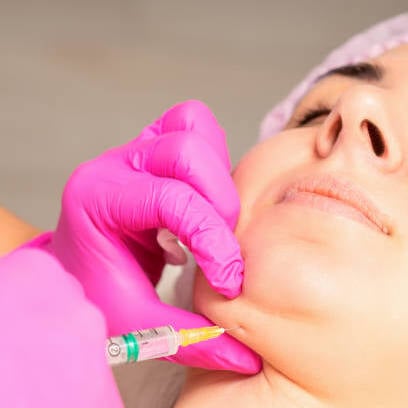 5. Potential Risks and Side Effects
While chin filler is generally safe, it is important to be aware of potential risks and side effects. These may include temporary swelling, bruising, redness, and tenderness at the injection site. These effects are typically mild and subside within a few days to a week. Serious complications such as infection, allergic reactions, or vascular issues are extremely rare when the procedure is performed by a skilled professional.
6. Longevity and Reversibility
Chin filler is not a permanent solution, and its effects can last anywhere from several months to a couple of years, depending on the specific product used. It is worth noting that hyaluronic acid-based fillers can be partially or fully reversed using an enzyme called hyaluronidase, providing an additional safety measure.
This article was read and reviewed by the face of DR Aesthetica himself - DR Baldeep Farmah.
FAQs about Chin Filler Safety
1. Is chin filler painful?
The injection process may cause mild discomfort, but healthcare professionals often use topical numbing creams or incorporate anaesthesia techniques to minimise any pain or discomfort.
2. Are there any age restrictions for chin filler?
There is no specific age restriction for chin filler. However, it is important to have a fully developed chin structure before considering the procedure. A qualified practitioner can assess your suitability based on individual factors.
3. How long does the recovery period last?
Recovery time can vary, but most individuals can resume their regular activities immediately after the procedure. Temporary swelling and bruising may occur, but these usually resolve within a few days.
4. Can chin filler be combined with other treatments?
Yes, chin filler can be combined with other cosmetic treatments such as Botox or facial contouring procedures to achieve more comprehensive results. Your practitioner can guide you on the best treatment plan for your specific goals.
5. Are there any long-term side effects?
Long-term side effects from chin filler are extremely rare. However, it is essential to follow post-treatment instructions provided by your injector to minimise any potential risks.
6. What should I do if I experience unusual symptoms or complications?
If you experience any unusual symptoms or complications following chin filler treatment, feel free to contact us immediately. We will be able to assess your situation and provide appropriate guidance and treatment if necessary.
Conclusion
In conclusion, chin filler, when performed by a qualified practitioner, is generally safe and can provide satisfying results for chin enhancement. By choosing a reputable injector, adhering to proper injection techniques, and understanding the potential risks and side effects, you can ensure a safer experience. As with any cosmetic procedure, thorough research, consultation, and individual assessment are key to achieving the desired outcome while prioritising your safety and well-being.
Do you want to learn:
How to maximise the benefits of your chin filler
Promote a healthy healing process
And minimise any potential complications?
If that's so then check out our next article for you here - Chin Filler Aftercare: A Full Guide