First, there was the invention of facial filters on popular social platforms like Instagram, Snapchat and TikTok, which showed us what was possible with our facial features.
Then the pandemic left people locked behind closed doors, working from home for months at a time.
This gave rise to the "zoom boom" As a result, in recent years, we've seen people take a major shift towards improving their appearance.
One area of the face that seems to get a lot of attention is the jaw
You may have never thought about it before, but our brains are subconsciously wired to make judgments based on facial features like jawline structure.
We typically associate a weak, soft and round jawline with weakness and inferiority, while a well-defined jawline signals vitality, health and youthfulness. Sad, but it's true.
That's the effect of thousands of years of human evolution. So what do you do if you are not happy with how your jawline looks like?
First, the days when surgery was the only option are long gone. I do not know about you, but the thought of a scalpel slicing through my jaw does not an image I like at all.
The best option is to turn to less invasive cosmetic procedures that can help you achieve a more defined jawline.
This is where jawline fillers come into play.
Traditionally, dermal fillers have been used to conceal depressions in soft tissue (think smile lines and volume loss around the mouth and cheeks) and fill in deep wrinkles.
As technology has advanced, fillers have become more robust, allowing the facial structure to be augmented as well.
Bony augmentation is now possible in facial areas such as the brows, cheekbones, chin and jawline.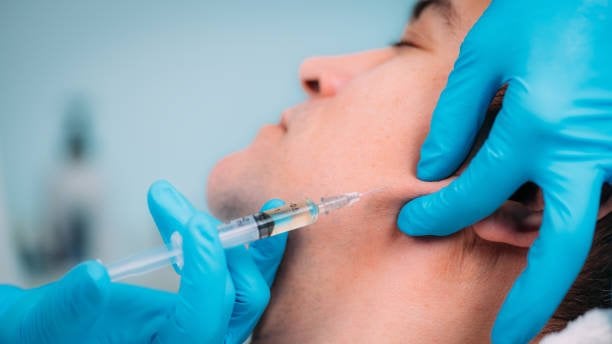 Jawline Fillers
A jawline filler procedure, also called jawline contouring, is a minimally invasive procedure performed by licensed dermatologists, plastic surgeons, and cosmetic doctors.
They use a gel-like product that is injected into the jaw to define and add volume to the skin in the area.
The filler can be injected around the chin to enhance projection or sharpen the transition between the jawline and neck.
Closer to the ear, the filler can be placed to fill a common depression at the "angle" of the jaw and improve the contour in this area.
The injections can also stimulate collagen and hyaluronic acid production in the skin, which helps to lessen the appearance of sagging skin, elasticity issues, and excess fat in the area.
Jawline filler injections are used to effectively sculpt and reshape the jaw to create balance and symmetry in the lower face.
Although this does not make the fat on the neck disappear, it does make the neck look more lifted and therefore slimmer.
Patients who undergo this procedure usually want to achieve a slimmer face and sharper jawline.

In general, jaw fillers help with:
Reducing volume loss in the lower face.
Achieve a more oval-looking facial structure
Eliminate the appearance of jowls
Contour the lower face and give the jawline a more angular appearance
Straighten an asymmetrical jawline
Help give the chin more proportion
Frame the face in more symmetry

Many people are shocked when they realize how much the filler has transformed their faces. Suddenly, their jawline has a well-defined angle from ear to chin.
The chin also looks more pronounced, and the face appears more angular and sculpted.
And the best part is that the result is so subtle that no one would notice it just by looking at you.
But the difference is definitely there.
What Are the Recommended Jawline Fillers?
While some people are born with a jawline they are not happy with, in most cases the appearance of the jawline is affected by the ageing process, mainly in two ways.
As the skin loses elasticity and begins to sag, the jawline starts to appear soft and loses its definition.
The loss of fatty tissue often leads to the formation of two depressions along the jawline known as the pre-jowl sulcus.
This results in a 'wobbly' and undefined jawline and, if left untreated, can lead to the formation of marionette lines and a sad-looking, downturned mouth. ⠀⠀⠀⠀⠀⠀⠀⠀⠀
⠀⠀⠀⠀⠀⠀⠀⠀⠀
In these cases, dermal fillers are used to fill in wrinkles, replenish lost volume, provide a lifting effect and conceal the appearance of the cheeks with strategically placed fillers.
This procedure can also be combined with a skin tightening treatment such as radiofrequency skin tightening.

The type of filler used depends on your goals and the anatomy of your skin.

In addition, not every type of filler available has been approved by medical regulatory authorities. Currently, the best options are:
HA Filler (Juverderm, Restylane, Intraline)
Surprisingly, HA fillers still aren't currently approved for use in the jawline. Just recently, did HA fillers like Juvéderm Voluma XC and Restylane Defyne earned FDA approval in the US for chin augmentation.
The good news is that there are several HA fillers with a unique formulation that integrates seamlessly into your skin without disrupting the natural contours of your face. Each of these fillers also has a different consistency. Some of the fillers have a thicker consistency so they last longer in the jawline area
Consequently, savvy and experienced doctors have been using these HA fillers off-label to balance the lower face and address jaw-related cosmetic concerns.
CaHA Filler (Radiesse, Radiess Plus)

Originally developed by Merz Aesthetics in 2006, Radiesse has long been a popular alternative to hyaluronic acid fillers.
Radiesse is made from calcium hydroxylapatite (CaHA). It offers both immediate volumising results and long-term benefits by stimulating collagen production in the skin.
The Radiesse+ version comes with lidocaine to numb treatment areas, minimizing patient discomfort and increasing patient satisfaction.
Over time, your skin will form new, natural collagen in the areas where the CaHA filler has been injected.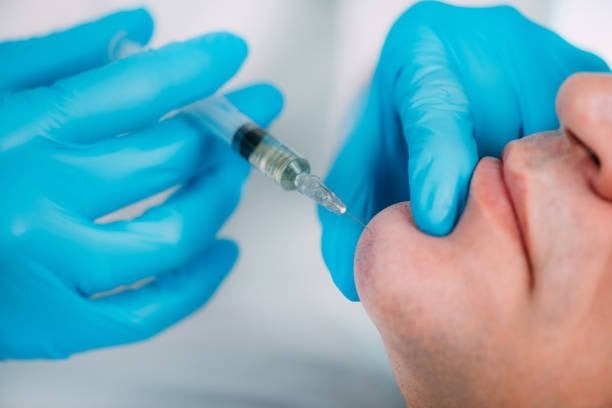 How do Jawline Fillers Differ From Chin Filler?
Before chin fillers were available, the only way to get a sharper chin was to get a chin implant. However, since chin fillers have been on the market, they have become the easier and more popular option.

Chin fillers differ from jawline fillers in their purpose.

Chin fillers, unlike jawline fillers, are injected into the chin tissue only. The goal is to enhance the shape and size of your chin, give you a distinctive profile, as well as improve symmetry.

With chin fillers, you can change the size, length, and shape of your chin. They can also help reduce the appearance of a double chin or pebbled chin.
But your jawline will largely remain unchanged.

That being said, you will find that the terms jawline fillers and chin fillers are used interchangeably. This is because most filler providers prefer to address both areas as one. For instance, an experienced injector will not treat the jawline.
Often the best course of action is to create structure first by filling in the volume of the mid-face and lateral cheeks.
Treating only what is seen without addressing the face as a whole would not result in a balanced, harmonious final look. The work must transition seamlessly from one area to another to look natural and unobtrusive.
Only after the midface structure is in place will we treat the jawline and chin. That's when the slightest but optimally placed filler injection will make a big difference.
Do you want to:
See the transformative effects of chin fillers
See the remarkable changes in facial contours
And Observe the captivating outcomes of chin filler?
If that's so then check out our next article for you here - Chin Filler Before and After: Transforming Your Appearance
Best Chin Filler Near Me and Best Jawline Filler Near Me
To get the best results, always seek certified practitioners. If looking in Birmingham, UK, Dr Aesthetica ranks among the top chin and jawline filler treatment providers!
Fill out a consultation form here, or call us on 0121 769 0242.
We will be happy to answer any questions you may have if you are considering jawline filler treatments for men.
Our medical aesthetics clinic office is located on Bristol Rd S, Birmingham in the United Kingdom
To see Doctor Farmah and his team in action, visit Dr Aesthetica's Instagram page.