Double chins are an enemy we all fear. That stubborn little pad of fat under our chin that, no matter how we try to conceal it, always appears at the most inopportune time.
When looking in the mirror to shave or put on makeup, when laughing at a joke or yelling at our kid for not keeping their socks on.
Men have been known to grow full beards to hide the shame of their double chins. We all hate it, but is there really anything we can do about it?
A double chin can be genetic or caused by excessive skin sagging that occurs with age. Excess fat on the neck can also cause a double chin.
Diet and exercise, while an important part of everyday life, do not necessarily eliminate stubborn fat deposits like a double chin.

So what can you do if you want to get rid of your double chin? Well, conventional wisdom says that you need to consult a plastic surgeon who specializes in facial cosmetic procedures.
The idea is to get rid of your double chin through liposuction or a surgical neck lift. However, those days when going under the knife was the only option are long gone.
Fortunately, there are solutions you can use to permanently (non-surgically) eliminate your double chin.
Today we will discuss and compare the top two: dermal fillers and Aqualyx fat dissolving injection.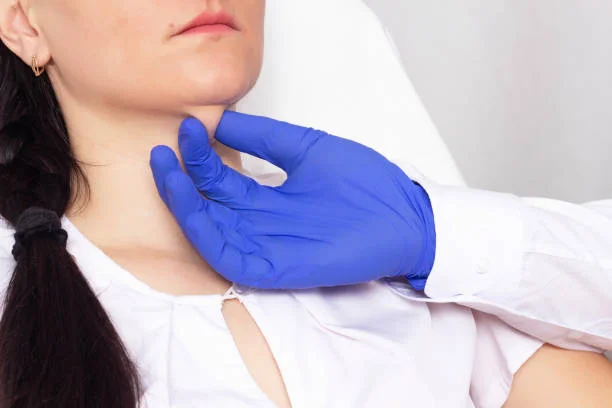 What is Aqualyx and How Does It Get Rid of Double Chins?
What is Aqualyx?

Aqualyx is an enzyme-based aqueous solution designed for non-surgical reduction of localised fat under the skin in areas such as thighs, abdomen, chin and knees.
This injectable product breaks down the wall of fat cells and releases lipids, which are then processed by the body's lymphatic system and eliminated naturally.
Essentially, Aqualyx® liquefies the fat cell and permanently destroys it. This makes Aqualyx® one of the best methods to reduce double chin fat without the need for surgery (liposuction).
Aqualyx® was developed by renowned plastic surgeon Professor Motolese and has been available internationally since 2009. It is sometimes referred to as 'Motolese's Solution'.
Today, AQUALYX is manufactured by the Italian company Marllor Biomedical. It was first launched in the UK in 2013 and is currently distributed here by Healthxchange Pharmacy.
The Treatment
Aqualyx injections should only be performed by a physician or surgeon. Specially designed long flexible cannulas are used and each physician receives special training before offering Aqualysis™.
Two injection sites are usually required for each area to be treated. Patients report that they tolerate the treatment well. That said a numbing cream is applied and a lidocaine solution is usually added before the injection to increase comfort.
The number of treatments needed range between two and eight times, depending on the extent of small fatty tissue deposits to be reduced. Injections are then repeated every three to four weeks until the recommended course is completed.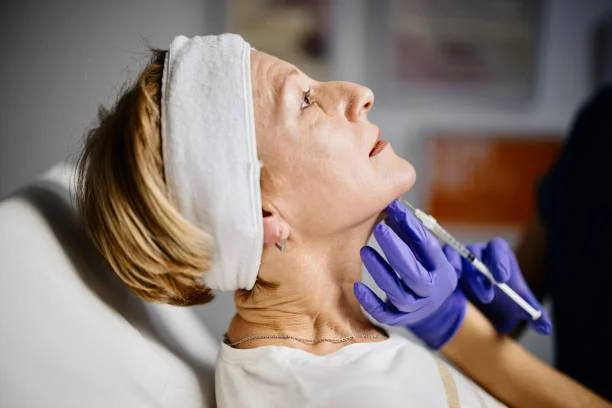 After each treatment, patients should expect significant swelling, redness, skin irritation and tenderness in the treated area.

Expect your double chin to increase in size! In fact, the swelling is a 'good' sign that the treatment is working. So you do not need to take any medication to reduce the swelling.
After a few days, the swelling will subside. By the end of one week, you can go back to your usual schedule. We recommend that you take at least 2-3 days off from work post-treatment.
With the right number of treatments, you can expect a significant reduction in sub-mental fat (double chin fat).
Chin Filler For Double Chin
Many patients are shocked when we tell them that they can get a slimmer, more defined chin and jawline simply by getting soft tissue fillers.
How can you make the chin appear slimmer by adding something? That's the question they ask. Well, it's a common misconception that fillers are only an option if you want to add more volume in certain areas of your face.
While it's true that fillers are a fantastic way to replace lost facial volume, that's not their only role.
A strong, chiseled chin and streamlined lower face are staples of attractiveness that add definition and balance to facial features.
Many people with a weaker chin or more rounded lower facial structure have sought these characteristics but still fail achieve them through exercise and diet alone.
They need an alternative solution, and chin filler treatment might just be the solution.
This type of treatment is a proven and effective way to define and bring balance and harmony to their facial structure. It also offers a less risky option to fat dissolving injections.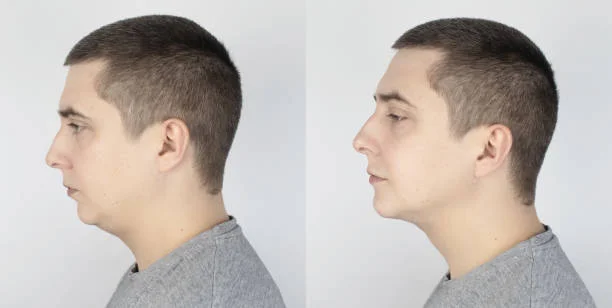 That's because sometimes a double chin is not always due to localised fat deposits. Sometimes it's because of poor bone structure. Due to the recessed chin being visible from side profile the patient actually needs a treatment that can help support the tissue better. That can be achieved with something as quick and simple as fillers.
Chin fillers are an affordable option that does not require surgery or downtime, which many people want to avoid if possible.
The Treatment
Dermal fillers do not eliminate fat like Aqualyx does. Much like a steel beam with concrete, it changes the way the face was built up without removing anything.
The end result is a more contoured or slimmer look by creating a better distinction between the face and neck.
As for the type of filler we recommend, you need a structural filler that is not malleable and will stay where it is strategically placed.
As a result, thicker HA fillers like Voluma or CaHa fillers like Radiesse are best for this treatment. Click here to learn more about fillers for chin and jawline augmentation.
Comparing Dermal Fillers to Fat Dissolving Injection (Aqualyx)
| | | |
| --- | --- | --- |
| | Dermal Filler | Fat Dissolving Injection |
| Type | Non-Surgical Injectable | Non-Surgical Injectable |
| Goal | Add structure and definition | Dissolve localised fat |
| Outcome | Immediate | 1-3 months |
| Side effects | Minimum or No Swelling and Bruising | Extreme Swelling |
| Downtime | None | 1 week |
| No of Treatment | One | Two to Six |
| Longevity | 12 to 18 months | Permanent (unless extreme weight gain) |
Dr Aesthetica Treatment For Double Chin
Fill out a consultation form here, or call us on 0121 769 0242. We will be happy to answer any questions you may have if you are considering dermal filler or fat dissolving injection for double chins
Dr Aesthetica, with Doctor Farmah, welcomes patients from Birmingham, across the UK and abroad. Our medical aesthetics clinic office is located on Bristol Rd S, Birmingham in the United Kingdom
To see Doctor Farmah and his team in action, visit Dr Aesthetica's Instagram page.
Do you want to:
See the transformative effects of chin fillers
See the remarkable changes in facial contours
And Observe the captivating outcomes of chin filler?
If that's so then check out our next article for you here - Chin Filler Before and After: Transforming Your Appearance