Generally, we talk about menopause as an overarching concept, but it is actually a three-part phase: perimenopause, menopause and postmenopause.
Let's quickly describe each and then transition to our top skin care tips.
Perimenopause
Perimenopause refers to the time when a woman's body makes the natural transition to menopause, marking the end of her reproductive years.
The menopausal transition usually begins between the ages of 45 and 55, but some women notice the changes as early as their mid-30s.
Menopause usually lasts about seven years, but can last up to 14 years.
The exact duration can depend on lifestyle factors such as smoking, age at the onset of perimenopause, race and ethnicity.
During perimenopause, the body's production of oestrogen and progesterone, two hormones produced by the ovaries, fluctuates greatly, which in turn affects each woman in different ways.
For example, menstrual cycles may lengthen or shorten, and some women may find that their ovaries do not release an egg.
This condition, called anovulation, is not uncommon for women approaching menopause (perimenopause).
You may also experience other menopause-like symptoms such as hot flushes, vaginal dryness and skin problems (more on this later).
Menopause

Although the menopausal transition is commonly called "menopause", true menopause actually refers to the one-year period after a woman stops having periods.
It is a normal part of ageing and marks the end of a woman's fertile, reproductive years.
The average age of menopause for women in the UK is 51.
Menopause can also be triggered by a hysterectomy or surgical removal of the ovaries. This is called surgical menopause.
If your uterus or ovaries have been surgically removed and you are not receiving hormone replacement therapy (HRT), you will experience symptoms of menopause immediately.
Some women have no problems with menopausal symptoms and are even relieved that they no longer have to worry about painful periods or pregnancy.
For other women, the transition to menopause is associated with hot flushes, sleep disturbances, pain during sex, mood swings and irritability, depression or a combination of skin problems.
Once you hit menopause, the estrogen deficiency is more aggressive and, as a result, the skin changes are much more pronounced,
The good news is that you can talk to your doctor about lifestyle changes or medication to treat the symptoms.
Postmenopause

The time in a woman's life after menopause is called postmenopause. This period starts 12 months after your last period. Women are considered postmenopausal if they have not had their period for a whole year.
During this time, many of the bothersome symptoms that a woman had before menopause gradually go away. However, this is not always the case.
For example, most women experience hot flashes for 6 months to 2 years.
For others, however, the hot flushes can last up to 10 years, and for a few women even indefinitely.
Sleep disturbances also tend to increase with age. This is because progesterone has a natural calming and anxiety-relieving effect that helps regulate the sleep cycle.
Decreased progesterone levels can make it difficult to fall asleep.
The same goes for skin symptoms such as sagging and wrinkles.
Other factors such as years of sun exposure and photo-ageing, not to mention the decline in collagen levels in the skin, only make the skin concerns worse.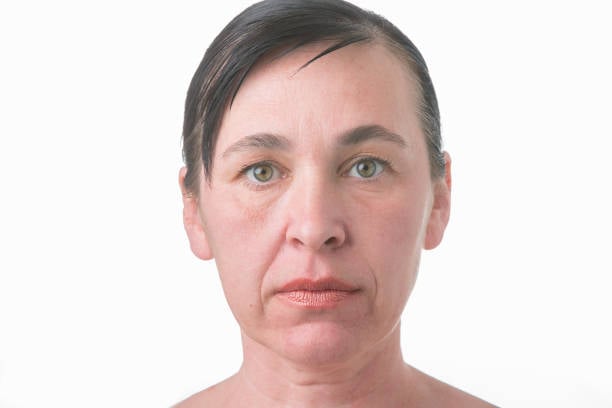 What Skincare Changes To Make As You Go Through the Various Stages of Menopause?

One of the side effects of menopause that does not get much attention compared to the others is skin ageing.
In fact, most women have no idea that perimenopause could be the cause of the extreme skin changes they experience in their 30s.

Fluctuating hormone levels cause our skin to produce less collagen and become thinner, which can lead to the appearance of wrinkles.

The hormonal imbalance that comes with menopause also causes acne, which can be cystic and take longer to heal. The result is more scarring and post-inflammatory spots.
The decreasing collagen levels in the skin leads to a loss of elasticity (resulting in sagging skin), and then there is also the loss of hyaluronic acid which leaves the skin dry and dehydrated
So what can you do?
With the right adjustments to your skincare regime and a good relationship with a dermatologist or medical aesthetician, you can mitigate the effects.
If you have read our post How To Read a Skincare Lable Like a Pro, you know that when it comes to clearing and restoring menopausal skin, you need to pay attention to ingredients first.

Topical Products with Active Ingredients

Products with active ingredients such as vitamins C and E, niacinamide and peptides can help alleviate the effects of fluctuating and declining hormone levels on your skin.
We also recommend using a powerful antioxidant serum (our top recommendation is AlumierMD EverActive C&E) during the day to help fight inflammation, protect against further damage and repair damage already done.
If you are not already using a vitamin A derivative like retinoids or retinol, now is the time to add it to your skincare routine.
Most skin experts swear by retinol resurfacing serum, applied several times a week to boost skin cell turnover.
In other words, the retinoid helps shed dead skin that can clog pores. This makes room for new, healthier skin.
During perimenopause and menopause, your skin loses the ability to retain water as effectively as it used to.
Therefore, proper hydration is an essential part of your skincare routine. Forgo light gel and lotion formulations in favour of richer creams like HydraDew Moisturiser.
What if I am prone to blemishes?
HydraSmooth Moisturiser is an ultra-light, non-comedogenic moisturiser that restores clarity to acne-prone skin, absorbs quickly and effectively and leaves no residue.
Dry skin does not stop at the face. It occurs all over the body and can cause itching. In fact, dry, itchy skin is a very common complaint during menopause.
To combat this, use a gentle, nourishing cleanser followed by a thick moisturiser when your body is still damp. For itchy skin, we recommend a cool compress or oatmeal bath to soothe and calm the irritation.
Above all, use sunscreen consistently.
During and after menopause, you need sun protection more than ever. Your skin is thinner and more sensitive, so it's important to protect it from the sun.
Use a sunscreen with SPF 30 (or higher - the SPF factor is a measure of protection from UVB light).
To be sure you are protected against UVA, make sure the label says 'broad spectrum'.
We recommend AlumierMD sunscreens, which offer the best and longest-lasting protection.
Microneedling

Microneedling is one of the easiest, most affordable and most effective ways to regenerate your skin.
At Dr Aesthetica, we use a microneedling device (we use the world-famous SkinPen) to carefully and precisely create channels in your skin.
Our experts are able to select the type and depth of micro-channels to treat different areas of your face and body. With microneedling, we can tighten, firm and smooth your skin:
Face
Neck
Décolleté
Hands
Scars
Microneedling breaks up tired, old collagen and elastin strands that no longer support your skin. Your body then flushes away the debris and sends fibrins and stem cells to rebuild the skin.
During the process of collagen remodelling, your skin produces brand new, stronger strands of the building block proteins collagen and elastin.
The interlocking collagen strands form a strong, supportive matrix that makes your skin thicker and more youthful. New elastin gives your restored skin more elasticity so it holds its shape better.

New collagen formation contributes significantly to improving the appearance, tone and texture of your skin. These are the results you can expect:
Healthier glow
Firmer skin
Smaller pores
Less sagging
Fewer lines and wrinkles
Immediately after your microneedling treatment, we infuse your skin layers with antioxidant-rich growth factors that accelerate wound healing and tissue rebuilding. Microneedling allows the growth factors to penetrate deep into the skin.

Thanks to increased collagen and elastin production, the improvements to your skin are long-lasting.

Radiofrequency skin tightening

Radiofrequency skin tightening stimulates new collagen and elastin to be produced in the skin. The old and damaged skin is replaced with new and healthy skin cells. These cells are also naturally firmer and tighter, but they are not created overnight.
You will not get an RF treatment on Monday afternoon and look completely different by the weekend.
Most patients want gradual improvements because they want to look like themselves, only better. They want subtle improvements rather than dramatic changes, and radio frequency skin tightening delivers exactly those results.

The treatment also softens the fine lines that add years to your face. Each subsequent RF session builds on the last, so you'll look younger and younger as you progress through your treatment plan.

Botox, Filler & Profhilo

A combination of neurotoxin injections (i.e. Botox® and Azzalure®) and hyaluronic acid dermal fillers can be a great way to restore fullness to menopausal skin and reduce the appearance of wrinkles.
Dr Aesthetica uses small amounts in a way that replaces the lost volume, rather than exaggerating a feature that was not there before.
This way, the patient feels more comfortable with the results without worrying about looking like she has has some work done.

Another great treatment is Profhilo.

This is definitely one of the best non-surgical cosmetic treatments of the 21st century.
When Profhilo is injected into carefully selected areas of the face, hyaluronic acid is slowly deposited in the facial tissues over the following weeks. This has a double impact.

First, given that hyaluronic acid (HA) is a powerhouse ingredient that can hold up to 1,000 times its weight in water, you can expect a strong hydrating effect.
Profhilo far outperforms the best moisturisers on the market. Secondly, Profhilo helps stimulate extra production of collagen and elastin, so your skin looks more youthful, firm and rejuvenated.
All of this together makes your skin radiant and glowing and provides a significant decrease in wrinkles and skin sagging.
Profhilo can also be used to rejuvenate ageing hands.
Lifestyle Is Important

If you are reading this article and are in your twenties and thirties, congratulations - there are steps you can take now that will benefit your skin down the road.
Good habits in your twenties and thirties will pay off in your forties and fifties.
A healthy diet with omega-3 fatty acids and green vegetables will put you in a better position when you reach menopause.
It goes without saying that smoking, excessive alcohol consumption and too much sun exposure will harm your skin and age it prematurely.
As we mentioned earlier, perimenopause can set in some women as early as their mid-thirties or early forties.
So it's never too early to start taking care of your skin (both internally and externally).
Is menopause causing you problems with your skin? Dr Aesthetica is happy to help you with all your skin-related concerns.